What an Insanely HUGE Day for NIA!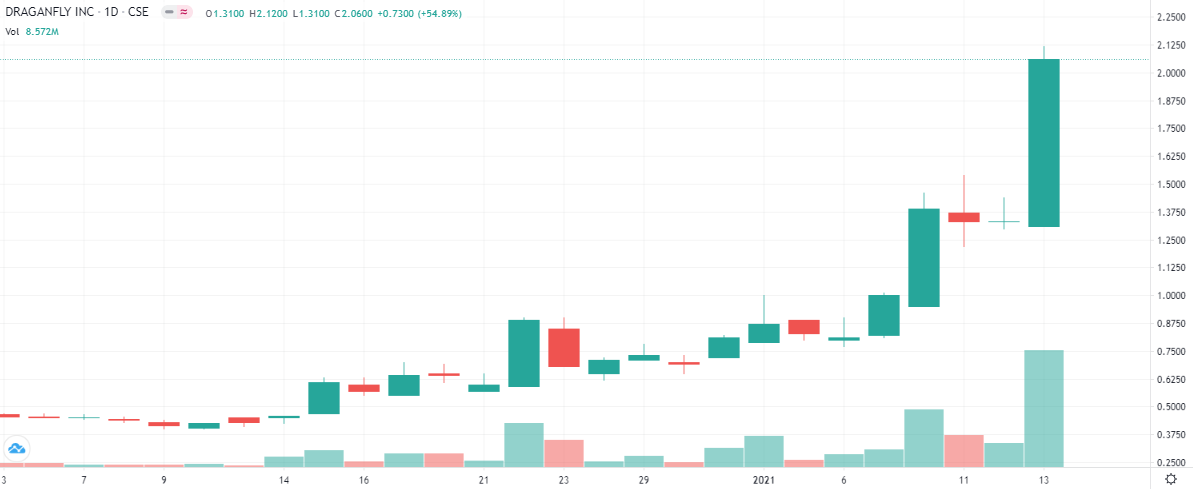 On Monday morning at 9:20AMEST, NIA sent out an alert entitled, 'Focus on DFLY this Week!'. NIA explained that it was more bullish on DFLY for this week than any other stock. DFLY was today's #1 largest percentage gainer on the CSE with a market cap of CAD$50 million or higher!
DFLY gained by 54.89% today to $2.06 per share on record volume of 8,571,869 shares. DFLY hit a new all-time high today of $2.12 per share for a gain of 236.5% since NIA announced DFLY on December 18th as its #1 favorite technology stock at $0.63 per share!
This morning at 5AMEST, NIA sent out one of its most important alerts in history. NIA's alert this morning featured four companies. NIA said that it was extremely bullish on Ehang Holdings (EH), Essential Energy Services (TSX: ESN), and GoldMoney (TSX: XAU) while being extremely bearish on Blink Charging (BLNK).
EH gained by 20.96% today to $37.98 per share. From EH's opening price this morning of $33.58 per share, EH gained as much as 16.05% to hit a new all-time high of $38.97 per share. EH is the Tesla (TSLA) of the Autonomous Aerial Vehicle (AAV) space.  General Motors (GM) desperate to look cool and make a big splash at CES as TSLA leaves GM in its dust, decided to steal/copy EH's idea by falsely presenting it as GM's own idea. Investors responded to GM's fake animated video of its so-called "future concept" by sending GM's market cap upward by $9 billion so far this week. EH actually has working Ehang AAVs that they are beginning to sell today making it the world's first electric passenger-grade AAV, providing safe, eco-friendly, and smart Urban Air Mobility solutions that will serve as an effective way to relieve current traffic congestion pressures in large cities around the world! EH is the only pure publicly traded AAV play and we look for EH to breakout above $50 per share and reach $100 per share in the near-future!
ESN gained by 5.77% today to $0.275 per share. In year 2000 during the last technology bubble, investors who accumulated out of favor stocks in the oil sector made a fortune during the following years. Eventually, rising price inflation will force the Fed to raise interest rates, causing the technology bubble to burst. To prepare for this, we suggest researching ESN, because it will prosper when price inflation/interest rates rise and could easily become a 10-bagger. Exactly two years ago, ESN had net debt of CAD$22.8 million. Today, ESN has net cash of CAD$6.48 million for a positive two-year improvement of CAD$29.28 million during a worst case scenario for the oil sector! ESN consistently generates HUGE free cash flow and has seen no dilution in recent years!
XAU gained by 9.68% today to $3.06 per share. We are more confident about XAU than any other stock for the upcoming weeks. We suggest opening up their latest quarterly report and looking at the pictures they chose to display of the GoldMoney platform and think about what they are trying to tell us.
BLNK declined by 2.87% today to $50.81 per share. It is about to crack downward and it isn't going to be pretty for BLNK shareholders (dumb money from Robinhood). Luckily for NIA members, on Monday we suggested the BLNK February 26, 2021 $50 put option. The biggest crash downward for BLNK will be after ChargePoint officially begins trading on February 11th.
NIA's last option suggestion from August 25th the Teucrium Corn Fund (CORN) January 15, 2021 $13 call option hit a new all-time high today of $3.83 for a gain of 447.14% from NIA's suggestion price of $0.70. NIA said on August 25th that its CORN call option suggestion had potential to gain by 500% and it has come very close to doing so with two days left until expiration! NIA's President sold 650 contracts after the price tripled in value but he does still own 87 contracts!
Early Tuesday morning at 1:30AMEST, NIA sent out a major update on its #1 Crypto stock suggestion for 2020 Voyager Digital (CSE: VYGR) at a price of $5.80 per share. NIA said that it remains extremely bullish on VYGR because it is by far the #1 highest quality and strongest publicly traded Crypto company. NIA explained that VYGR is the one company that is benefiting greatly from the volatility in Crypto prices!
VYGR gained by 11.92% today to $7.51 per share. VYGR hit a new all-time high today of $7.62 per share for a gain of 1,170% from NIA's June 10th suggestion price of $0.60 per share! NIA has sent more alerts about VYGR over the last seven months than any other company!
Past performance is not an indicator of future returns. NIA is not an investment advisor and does not provide investment advice. Always do your own research and make your own investment decisions. This message is not a solicitation or recommendation to buy, sell, or hold securities. NIA's President has purchased 45,000 shares of XAU in the open market. He intends to sell these shares in the future for a profit and can sell them at any time without notice. NIA has received compensation from VYGR of USD$60,000 cash for a one-year marketing contract. NIA has received compensation from DFLY of USD$30,000 cash for a six-month marketing contract. NIA's President purchased 737 CORN January 2021 $13 call options in August 2020. He currently owns 87 contracts. This message is meant for informational and educational purposes only and does not provide investment advice.