NIA Sent 16 MXC Alerts Since February 16th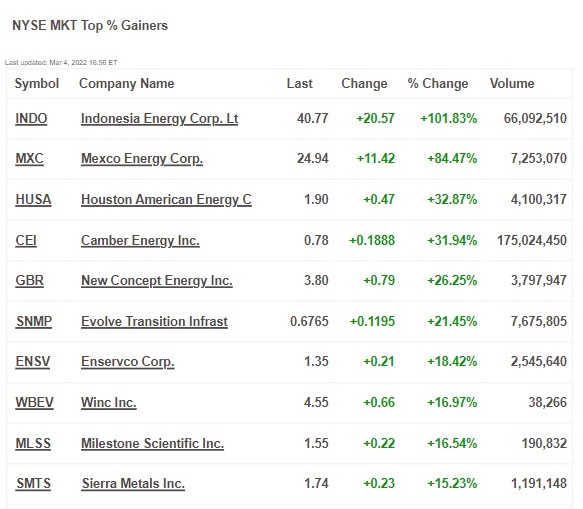 On February 16th, NIA said, "we believe Mexco Energy (MXC) could become the #1 hottest producing oil company!"
Later that day, NIA said, "Mexco Energy (MXC) is in a league of its own as far as being a low market cap oil producer with extremely high profit margins, two consecutive quarters of record net profits, no debt, very little dilution going back for decades, and many new oil wells about to be drilled."
Later that evening, NIA said, "MXC deserves to be trading in the $15-$20 per share range immediately."
On February 17th, NIA said, "Mexco Energy (MXC) gained by 4.54% today to $11.395 per share and looks ready to make a massive breakout."
On February 21st, NIA said, "MXC is extremely undervalued and will breakout big into the $15-$20 per share range."
On February 23rd, NIA said, "Keep an eye on Mexco Energy (MXC) for a huge breakout."
Later that day, NIA said, "NIA's latest brand-new stock suggestion Mexco Energy (MXC) gained by 7.06% today to $11.98 per share and is beginning to make a HUGE breakout!"
Later that evening, NIA said, "as ARKK bounces by 40% stocks like Mexco Energy (MXC) will gain by over 100% and North Peak Resources (TSXV: NPR) will gain by over 400%."
On February 24th, NIA said, "NIA's latest brand-new stock suggestion Mexco Energy (MXC) will breakout above $15 per share within days and $20 per share within weeks."
Later that day, NIA said, "Over the next 6-8 weeks, North Peak Resources (TSXV: NPR) will become the #1 largest percentage gainer in the entire market! Mexco Energy (MXC) will also make massive gains in the weeks ahead!"
Later that evening, NIA said, "NIA's latest brand-new stock suggestion Mexco Energy (MXC) surpassed its key breakout point today of $12 per share and gained by 6.34% to $12.74 per share."
On February 28th, NIA said, "Mexco Energy (MXC) will break $15 per share and explode in the upcoming days."
Later that day, NIA said, "Mexco Energy (MXC) gained by 12.09% today to $14.18 per share and appears ready for an explosive short-term rally!"
On March 1st, NIA said, "Mexco Energy (MXC) is about to explode higher as crude oil just hit $100 per barrel several minutes ago! Fundamentally, MXC deserves to be trading right now for $25 per share!"
Later that day, NIA said, "Mexco Energy (MXC) will be one of the market's largest gainers in the upcoming days and could breakout above $20 per share VERY quickly... but between now and the end of March the market's #1 largest gainer will be North Peak Resources (TSXV: NPR)."
Later that evening, NIA said, "Mexco Energy (MXC) hit a high this morning of $16.25 per share for a gain of 51.73% since NIA announced MXC as its latest brand-new stock suggestion less than two weeks ago on February 16th at $10.72 per share. Maybe MXC dips as low as $13.50, but its next move after the profit takers finish selling will be to $20+ per share!"
Mexco Energy (MXC) was Friday's #2 largest percentage gainer on the NYSE American exchange gaining by 84.47% to $24.94 per share on massive volume of 7,253,070 shares!
North Peak Resources (TSXV: NPR) is getting ready to make a massive breakout deep into double-digits.
NPR's U.S. OTC symbol is BTLLF.
Past performance is not an indicator of future returns. NIA is not an investment advisor and does not provide investment advice. Always do your own research and make your own investment decisions. This message is not a solicitation or recommendation to buy, sell, or hold securities. NIA's President has purchased 211,000 shares of NPR in the open market and intends to buy more shares. This message is meant for informational and educational purposes only and does not provide investment advice.