NIA is 1,000% Confident E Going A LOT Higher!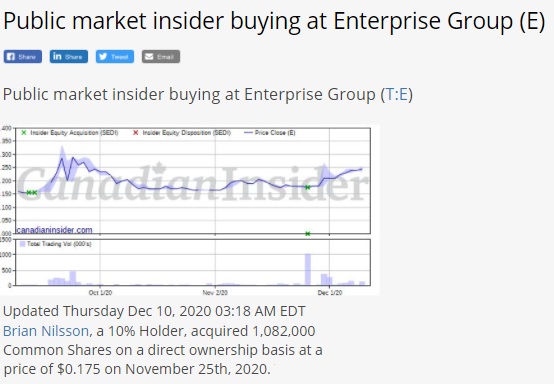 When NIA initially suggested Enterprise Group (TSX: E) on September 18th at $0.16 per share and it made a three-day gain of 112.5% to a short-term peak of $0.34 per share, it couldn't hold up at $0.34 per share and continue rising back to its tangible book value of $0.747 per share due to one major seller.
We believe the seller that was preventing E from returning to its tangible book value is now gone for good. We believe this seller exited what was left of his E position on November 25th.
We found out literally seconds ago that two weeks ago on November 25th, an investor by the name of Brian Nilsson purchased 1,082,000 E shares in the open market! Although we never knew this before, Nilsson had already owned 4,996,466 E shares that he purchased back in 2017. At the time, E had 55.65 million shares outstanding so Nilsson wasn't required to file as a 10% shareholder. As of September 30th, E's shares outstanding had declined to 49.78 million due to E's massive buybacks in recent years! With Nilsson buying 1,082,000 E shares on November 25th he now owns 6,078,466 shares or 12.2% of the company and filed his disclosure a few minutes ago!
In addition, we just found out that E itself repurchased an additional 350,000 E shares on that same day of November 25th! These repurchased shares have already been cancelled thereby further reducing E's shares outstanding!
We believe these large purchases from November 25th have removed the one major seller from the stock! Therefore, E will rapidly return to its fair value in the weeks ahead!
Past performance is not an indicator of future returns. NIA is not an investment advisor and does not provide investment advice. Always do your own research and make your own investment decisions. This message is not a solicitation or recommendation to buy, sell, or hold securities. This message is meant for informational and educational purposes only and does not provide investment advice.