Gold Net Long Position Lowest Since May 2019
Hedge Funds remain net long gold but by only 17,034 contracts, which is their lowest net long position since May 21, 2019, when gold was trading for $1,283.60 per oz.
Gold's low on May 21, 2019, of $1,283.60 per oz is a price that gold has never returned to. Over the following 14 weeks, gold rallied by 22% to $1,566.20 per oz at the start of September 2019. Gold continued trending higher over the following eleven months to reach a new all-time nominal high at the start of August 2020 of $2,089.20 per oz.
The last time Hedge Funds were net long gold by less than 17,034 contracts, gold rallied by 62.76% in less than 15 months!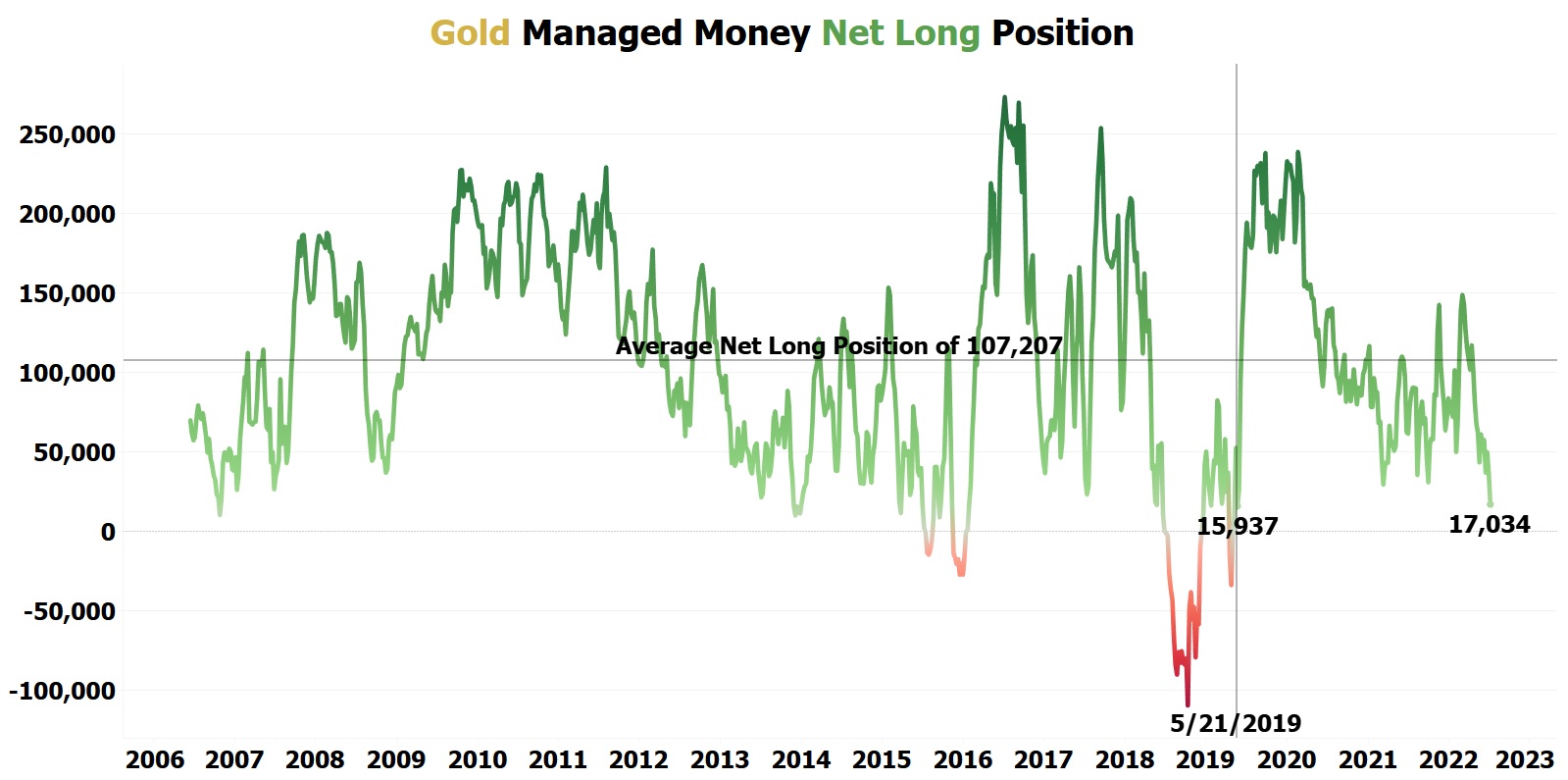 If history repeats itself, gold will be $2,800+ per oz by October 2023! By then, Augusta Gold (TSX: G)'s newly acquired fully permitted Reward Gold Project will likely be ready to enter production... but almost no other Nevada gold projects will be entering production between now and then! G being backed by a billionaire is the only publicly traded gold company with a market cap of less than US$100 million with the ability to easily raise the funding to develop their projects! G is likely to have a US$1 billion+ market cap by October 2023!
Over the last 16 years, Hedge Funds have averaged a net long gold position of 107,207 contracts.
Their current net long gold position ranks at a percentile of 7.40%. This means... Hedge Funds since 2006 have been net long gold by MORE than 17,034 contracts 92.60% of the time!
Past performance is not an indicator of future returns. NIA is not an investment advisor and does not provide investment advice. Always do your own research and make your own investment decisions. This message is not a solicitation or recommendation to buy, sell, or hold securities. NIA's President has purchased 174,200 shares of G in the open market and intends to buy more shares. This message is meant for informational and educational purposes only and does not provide investment advice.