NPR's Chart is Setup Perfectly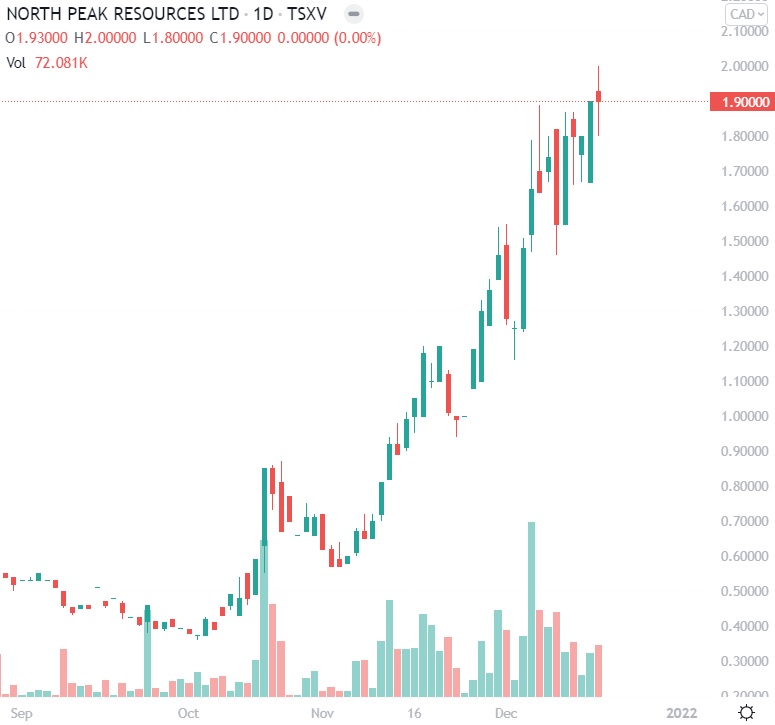 North Peak Resources (TSXV: NPR)'s chart is setup perfectly. It would be impossible for us to draw a more perfect chart. We hit $2 per share this morning but saw some healthy profit taking down to a low of $1.80 per share, before bouncing to finish the day unchanged at $1.90 per share. We don't want NPR to rise too far too quickly. NPR has been rising at a perfect pace.
There is zero chance of NIA's President selling a single NPR share until it is trading SIGNIFICANTLY higher. We are not a Crypto cult encouraging you to "hodl" you are free to take profits any time you want... but please understand NOTHING has even happened yet. The transaction closed three days ago! Prior to this week, NPR was basically a shell with cash. NPR's "placeholder" property that it optioned last year was a brilliant move by Brian because it allowed the "change of business transaction" with a three-month trading halt to take place eighteen months ago! By NPR already transforming itself from a Blockchain company into a gold company eighteen months ago, the TSX Venture gave NPR final approval for Black Horse within one week of the Definitive Agreement being signed!
NPR is way ahead of where we were expecting them to be at this point. We weren't expecting the Definitive Agreement to be signed until mid-next week (a few days before Christmas) and we were estimating that it would take the TSX Venture three weeks to give final approval due to the Holiday season. We circled on our calendar January 12, 2022 as to when NPR would be likely to close on the transaction... and amazingly it closed on December 13th almost a full month earlier than we anticipated!
NPR said on Monday that the drilling permit submissions were already underway and they will, "issue additional press releases related to its progress on exploration of the Property and other material information as it becomes available."
The next BIG move in the stock is likely to occur immediately AFTER Christmas. Last year in December we were focused on CurrencyWorks and between the Final 5 Trading Days of 2020 and the first trading day of 2021, CWRK achieved a total six-day gain of 232%!
When you see your family/friends this holiday season BE SURE to tell them to SELL all Crypto assets before Celsius goes bust. We would be shocked if Celsius lasts another month. When it defaults there WILL be contagion that results in the destruction of many Crypto firms including Tether and Crypto brokers that are secretly operating on a fractional reserve basis.
Be sure to tell your family/friends to research NPR and follow the company very closely. Even if they don't invest you can at least brag and take credit in a few months when NPR is trading in the $12-$15 per share range.
Past performance is not an indicator of future returns. NIA is not an investment advisor and does not provide investment advice. Always do your own research and make your own investment decisions. This message is not a solicitation or recommendation to buy, sell, or hold securities. NIA's President has purchased 200,000 shares of NPR in the open market. NIA has received compensation from CWRK of USD$30,000 cash for a six-month marketing contract. This message is meant for informational and educational purposes only and does not provide investment advice.