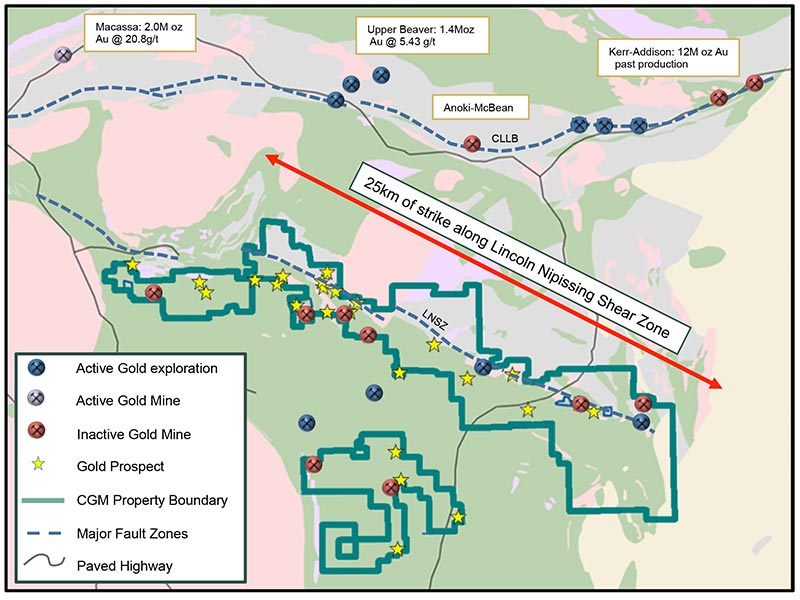 Transition Metals (TSXV: XTM) is not going to become a near-term producer of near-surface, low-cost, high-grade gold like North Peak Resources (TSXV: NPR).
XTM will not become a $500M-$1B market cap company in the near future like NPR.
However, the founders/management of NPR previously achieved their biggest success at Kirkland Lake Gold (KL), where they discovered the South Mine Complex - the world's most significant gold discovery of the last 25 years. After KL, the largest landholder in the Kirkland Lake Gold Mining Camp is a privately held company Canadian Gold Miner.
Canadian Gold Miner owns near complete coverage of the Lincoln Nipissing Shear Zone (LNSZ) – one of two major gold controlling structures in the Kirkland Lake Gold Mining Camp. Canadian Gold Miner's camp scale property hosts over 20 zones of gold mineralization exposed in bedrock, pits and underground workings.
XTM is the #1 largest Canadian Gold Miner shareholder with a 23% stake in the company and Canadian Gold Miner is expected to IPO in 2022. XTM at $0.13-$0.15 per share is similar to Benton Resources (TSXV: BEX) last year when we announced that NIA's President purchased 1 million shares at $0.055 per share. A few months later, BEX hit $0.295 per share for a gain of 436.36%.
We don't think XTM will hit $0.50-$1 per share until the second half of 2022. NPR will be the largest percentage gainer on the TSX Venture exchange in the early months of the year.
Past performance is not an indicator of future returns. NIA is not an investment advisor and does not provide investment advice. Always do your own research and make your own investment decisions. This message is not a solicitation or recommendation to buy, sell, or hold securities. NIA's President has purchased 200,000 shares of NPR in the open market. This message is meant for informational and educational purposes only and does not provide investment advice.