XAU's MENE Gains BIG on Strongest Volume of 2021!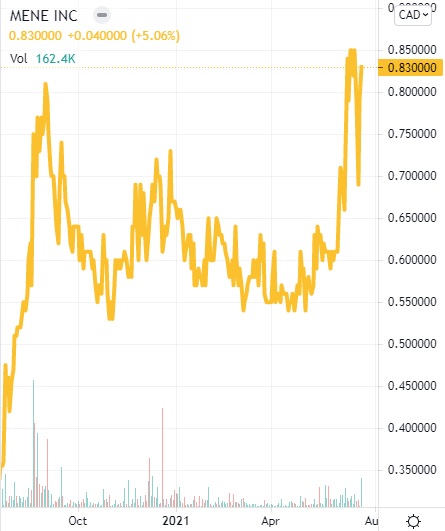 GoldMoney (TSX: XAU)'s recent spinoff company Mene (TSXV: MENE) gained by 5.06% today to $0.83 per share on its strongest volume of 2021! XAU's 93,692,949 MENE shares are now worth $77.765 million and we estimate that XAU's current cash+gold position to be $89.89 million for total cash+gold+MENE shares of approximately $167.655 million when XAU's market cap at $2.71 per share is only $204.85 million. This means XAU is currently receiving only $37.195 million in total value for their core GoldMoney business with nearly US$2 billion in assets under management, their SchiffGold business that they felt compelled to buy to avoid being slandered by a competitor, and their brand new Totenpass business that will announce the launch of its disruptive technology in beta by the end of this month!
To get an idea of how huge Totenpass alone is going to be... we strongly suggest taking a few seconds to Google the following: "Elon Musk" AND "Nova Spivack"
There are now 8,190 results of web sites/articles discussing both Elon Musk and Nova Spivack.
Nova Spivack is a close friend of Elon Musk and the co-founder of Galactic Legacy Labs, which has selected the Totenpass proprietary gold storage drive technology as the backbone for its space commercialization ventures! XAU's Totenpass will be earning an 18% stake in Galactic Legacy Labs!
Past performance is not an indicator of future returns. NIA is not an investment advisor and does not provide investment advice. Always do your own research and make your own investment decisions. This message is not a solicitation or recommendation to buy, sell, or hold securities. NIA's President has purchased 45,000 shares of XAU in the open market. He intends to sell these shares in the future for a profit and can sell them at any time without notice. This message is meant for informational and educational purposes only and does not provide investment advice.