What an Unbelievably HUGE Monday for NIA!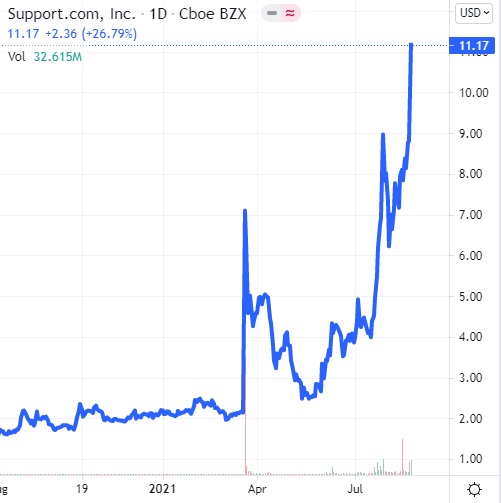 Morien Resources (TSXV: MOX) gained by 6.52% today to $0.245 per share on volume of 535,855 shares or 11.43X above average! MOX has so far gained by 32.43% since NIA's May 28th suggestion at $0.185 per share and we believe MOX has a good chance of becoming NIA's next 1,000% gainer!
Support.com (SPRT) gained as much as 30.53% today to a new 92-month high of $11.50 per share for a gain of 480.8% since NIA announced SPRT as its confidence rating of 100 stock suggestion less than one year ago on September 8th at $1.98 per share! In recent weeks, SPRT has been the #1 largest gaining Bitcoin play in the entire market!
GoldMoney (TSX: XAU) gained by 8.37% today to $2.72 per share and is becoming a perfect storm situation! XAU will become the market's new #1 largest gaining Bitcoin play in the weeks ahead! The launch of Totenpass and XAU's new Bitcoin/Blockchain platform is imminent! At the same time, major corporations like Palantir are beginning to diversify their cash positions into gold and XAU is the #1 leader in this space with technology that allows businesses to accept gold as an online payment method!
TAAT Global Alternatives (TOBAF) gained by 11.38% today to $3.62 per share! TOBAF has just announced a brand new purchase order worth CAD$1,075,000 from a wholesaler who will be the exclusive distributor for TAAT™ in the United Kingdom and Ireland!
Essential Energy Services (TSX: ESN) gained by 18.64% today to $0.35 per share and is now up by 34.62% since NIA announced ESN as its #1 favorite oil stock suggestion on January 13th at $0.26 per share!
Past performance is not an indicator of future returns. NIA is not an investment advisor and does not provide investment advice. Always do your own research and make your own investment decisions. This message is not a solicitation or recommendation to buy, sell, or hold securities. NIA has received compensation from TOBAF of USD$50,000 cash for a six-month marketing contract. NIA's President has purchased 45,000 shares of XAU in the open market. He may buy additional shares or sell his shares at any time. This message is meant for informational and educational purposes only and does not provide investment advice.