What a HUGE Week for CYBN and VUI!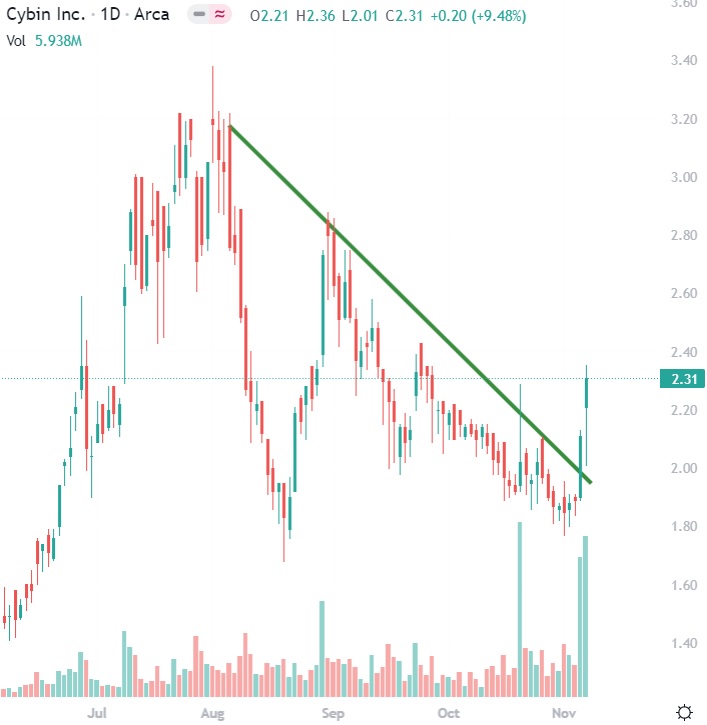 On October 26th, NIA alerted its members about Cybin (CYBN) at $2.02 per share and how the company received Investigational New Drug authorization from the FDA to proceed with their feasibility study using Kernel's Flow technology to measure ketamine's psychedelic effect on cerebral cortex hemodynamics. NIA sent out a follow-up alert explaining how Kernel's Flow technology was developed by Bryan Johnson, the entrepreneur who founded Braintree the company that owned Venmo and built it into the world's #1 most popular financial payment app. After turning down offers from Google and Square, Johnson agreed to sell Braintree/Venmo in 2013 to PayPal for $800 million. Today, Venmo processes $200 billion in mobile payments per year.
On Thursday, CYBN received a Schedule I manufacturing license from the U.S. DEA. The DEA license is a federal requirement for any investigators intending to study, produce or analyze Schedule I substances. Before obtaining the license, CYBN conducted much of its R&D work through globally-licensed research organizations in the U.S., Canada, and the U.K. CYBN will now have the ability to conduct its R&D work internally to support innovative drug discovery and delivery involving Schedule I compounds. CYBN broke out big on Thursday/Friday and finished this week at $2.31 per share where it has so far made a gain of 14.36% from NIA's October 26th alert price!
CYBN's chart is setup perfectly and we believe it is positioned to become the #1 highest market cap company in the psychedelic space. One year from Monday on November 8, 2022 will be the mid-term elections and if volunteers collect enough signatures by March 15, 2022 the California Psilocybin Legalization Initiative will be on the ballot in CA! Back in 2016 when the California Cannabis Legalization Initiative made it onto the ballot in CA, cannabis stocks became the largest percentage gainers of 2016!
On September 15th, NIA announced Virginia Energy Resources (TSXV: VUI) at $0.475 per share as its #1 favorite uranium stock suggestion. Last month, with the prediction markets giving Glenn Youngkin only a 20% chance of winning the Virginia Gubernatorial Election, NIA sent out a series of alerts explaining why Youngkin actually had a 90.9% chance of winning the election. NIA predicted that not only would Youngkin win, but VUI would become the market's #1 largest percentage gainer on November 3rd.
NIA was right! Youngkin won Tuesday's election and VUI became Wednesday's #1 largest percentage gaining stock in North America, with VUI gaining by 42.86% in a single day! On Thursday, VUI hit a new eight-year high of $0.90 per share for a gain of 89.47% from NIA's suggestion price!
After a healthy dip on Thursday to $0.73 per share, VUI bounced strongly on Friday to finish this week at $0.79 per share. VUI is likely to reach $4-$8 per share by the time uranium prices rise to $64 per lb. VUI's Coles Hill has America's largest undeveloped uranium resource with an indicated 132.93 million lbs plus an inferred 30.41 million lbs. VUI is currently being valued at only $0.25 per lb of uranium in the ground when most other uranium exploration stocks are trading at valuations of between $2-$4 per lb of uranium in the ground! When Youngkin takes office in mid-January, VUI will most likely already be trading at a significantly higher multiple.
Past performance is not an indicator of future returns. NIA is not an investment advisor and does not provide investment advice. Always do your own research and make your own investment decisions. This message is not a solicitation or recommendation to buy, sell, or hold securities. NIA has received compensation from CYBN of USD$100,000 cash for a one-year marketing contract. This message is meant for informational and educational purposes only and does not provide investment advice.