What a Day for EH, GGG, DFLY, and XAU!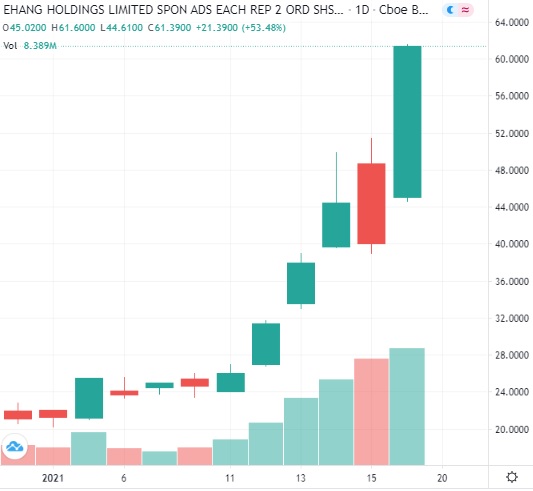 NIA's latest stock suggestion Ehang Holdings (EH) gained by 53.48% today to finish at a new all-time closing high of $61.39 per share on record volume of 8.337 million shares! EH has already gained by 95.5% in 4 trading days since NIA announced it on January 13th as the market's "Next Mega Bubble Stock" and NIA's #1 favorite flying car play!
G6 Materials (TSXV: GGG) gained by 61.54% today to finish at a new 3-year closing high of $0.21 per share and has now gained by 180% since NIA's recent suggestion at $0.075 per share! We alerted you to GGG breaking out this afternoon after it hit $0.185 per share when its volume had reached 1.4 million. GGG's total volume today was 2.583 million shares! GGG's market cap is still only CAD$20.35 million so it has much more upside!
NIA's #1 favorite technology stock DraganFly (CSE: DFLY) gained by 20% today to finish at a new all-time closing high of $2.10 per share for a gain of 233.33% since NIA's initial suggestion one month ago at $0.63 per share! DFLY traded huge volume today of 3.711 million shares! The FAA has just approved fully-automated commercial drones and DFLY's CEO Cameron Chell was a guest yesterday on FOX Business with Charles Payne! DFLY has just posted the segment to YouTube, which you can watch right now by clicking here!
NIA's #3 overall pick for 2021 GoldMoney (TSX: XAU) gained by 6.5% today to close at $3.44 per share. After hitting a new 32-month high on Thursday of $3.75 per share, XAU experienced a healthy profit taking dip and bottomed yesterday at $3.07 per share. XAU has bounced by 12.05% from yesterday's low and closed today with a very healthy 14-day relative strength index of 64.22. XAU's chart is setup perfectly for an explosive breakout! XAU's breakthrough decentralized Totenpass technology will disrupt the way American individuals and corporations store their precious data! We predict XAU will list on the NYSE or NASDAQ later this year! We expect XAU's latest quarterly results early next month to be extremely strong!
Past performance is not an indicator of future returns. NIA is not an investment advisor and does not provide investment advice. Always do your own research and make your own investment decisions. This message is not a solicitation or recommendation to buy, sell, or hold securities. NIA has received compensation from DFLY of USD$30,000 cash for a six-month marketing contract. NIA's President has purchased 45,000 shares of XAU in the open market. He intends to sell these shares in the future for a profit and can sell them at any time without notice. This message is meant for informational and educational purposes only and does not provide investment advice.