WBE Hits New All-Time High of $0.61!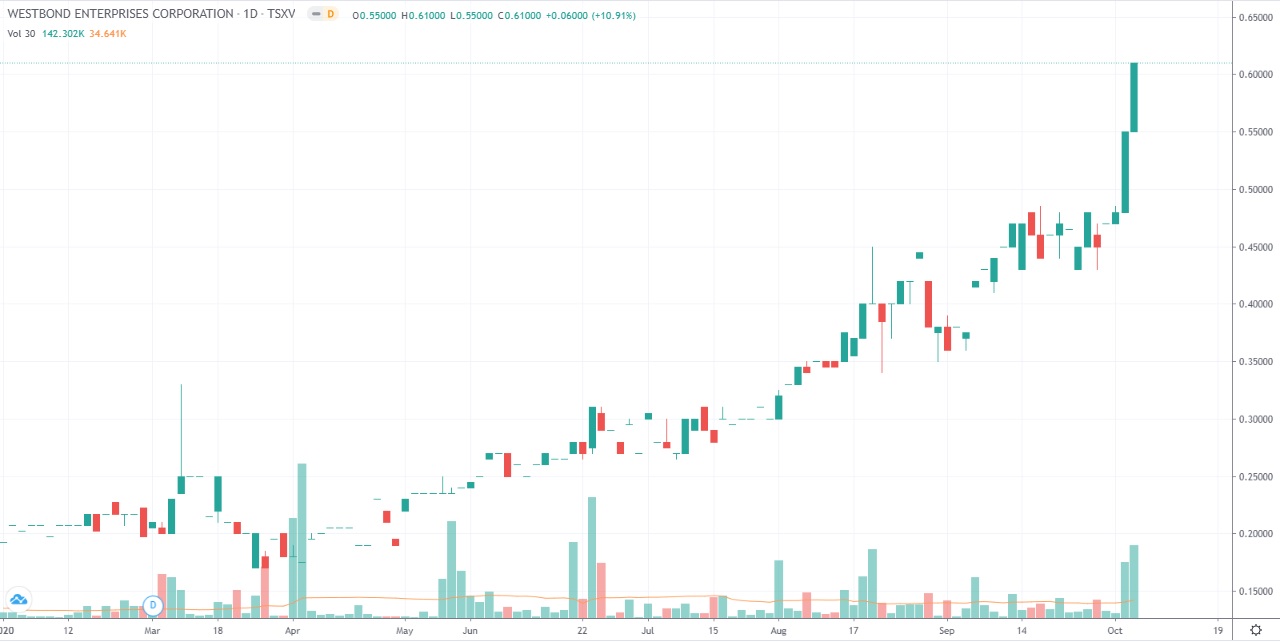 NIA's #1 favorite COVID-19 protection play Westbond Enterprises (TSXV: WBE) gained another 10.91% on Monday to close at a new all-time high of $0.61 per share on volume that was 4.93X above average! WBE has already gained by 27.08% from NIA's alert this past Friday morning at 11:30AMEDT entitled, 'The Only COVID-19 Play Worth Researching' with WBE at $0.48 per share. WBE is also up by 130.19% from NIA's initial alert on the evening of June 18th at $0.265 per share entitled, 'A Gift for NIA Members: WBE'.
With only 35.52 million shares outstanding, WBE's market cap is still only CAD$21.67 million (USD$16.35 million). Look for WBE to potentially reach $1+ per share prior to its upcoming earnings report likely to be released during the third week of November. With Clorox Disinfectant Wipes and Lysol Disinfectant Wipes sold out across all of North America, WBE's ViroBan Plus disinfectant wipes which began shipping one month ago - will immediately become WBE's bestselling product!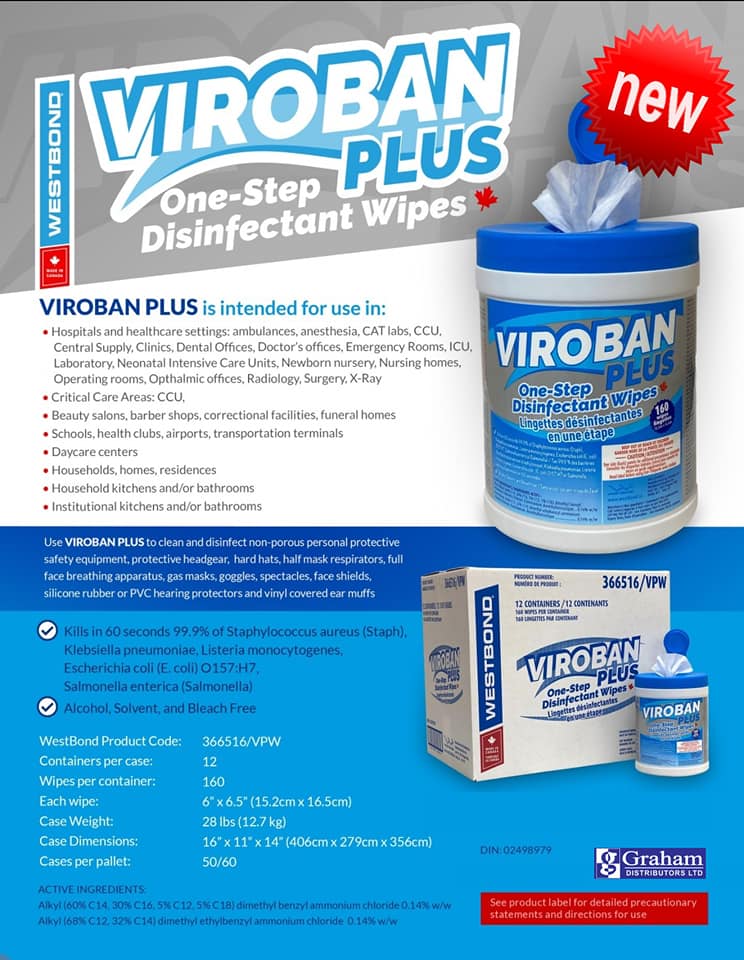 ViroBan Plus is a one-step disinfectant wipe used to clean and disinfect non-porous personal protective safety equipment, protective headgear, hard hats, half mask respirators, full face breathing apparatus, gas masks, goggles, spectacles, face shields, silicone rubber or PVC hearing protectors and vinyl covered ear muffs. ViroBan Plus is meant for use in hospitals, healthcare centers, critical care areas, schools, gyms/fitness centers, beauty salons/barber shops, daycare centers, airports, etc.
WBE has grown revenue from $6.079 million in 2012, to $6.324 million in 2013, to $6.599 million in 2014, to $7.349 million in 2015, to $7.788 million in 2016, to $8.969 million in 2017, to $9.829 million in 2018, to $11.36 million in 2019, and to $11.67 million in 2020!
WBE has grown operating cash flow from $0.516 million in 2016, to $0.988 million in 2017, to $1.294 million in 2018, to $1.524 million in 2019, and to $1.676 million in 2020!
WBE has grown net income from $53,000 in 2016, to $161,000 in 2017, to $298,000 in 2018, to $421,000 in 2019, and to $591,000 in 2020!
WBE expects their revenue and profits to increase significantly as a result of ViroBan Plus!
Past performance is not an indicator of future returns. NIA is not an investment advisor and does not provide investment advice. Our initial suggestion of WBE along with our continued coverage of the company was, is, and will continue to be completely unbiased. Always do your own research and make your own investment decisions. This message is not a solicitation or recommendation to buy, sell, or hold securities. This message is meant for informational and educational purposes only and does not provide investment advice.