WBE Hit $1.20 on Friday Up 353% Since NIA's Suggestion!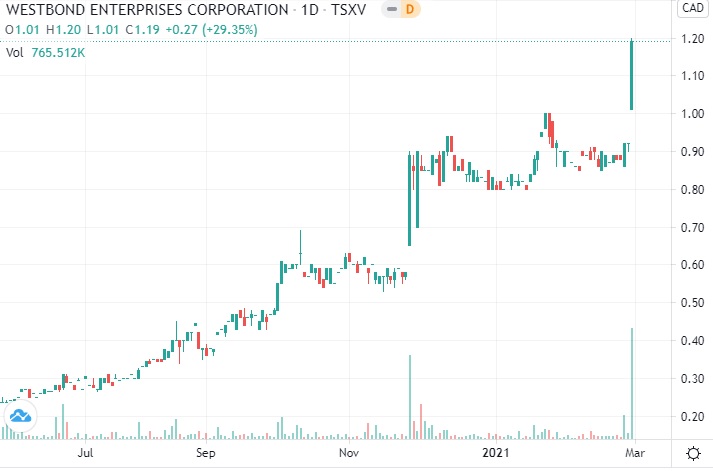 NIA's Westbond Enterprises (TSXV: WBE) gained by 29.35% on Friday to $1.19 per share and hit a new all-time high of $1.20 per share for a gain of 352.83% since NIA's initial suggestion on June 19th at $0.265 per share.
Initially on June 19th, NIA sent out a brief alert entitled, 'A Gift for NIA Members: WBE' explaining that we wanted to lock in an initial suggestion price for WBE of $0.265 per share and would have further details on the company in the upcoming days.
On June 23rd, NIA sent out a follow-up alert explaining, "Westbond Enterprises (TSXV: WBE) currently $0.27 per share with a market cap of less than CAD$10 million is about to launch sales of ViroBan Plus in the coming weeks. ViroBan Plus is a Health Canada approved disinfectant wipe, which will be sold through WBE's extensive medical distributor network and directly to government procurement agencies. Currently, all retail stores as well as online retailers like Amazon are completely sold out of disinfectant wipes."
On August 19th with WBE trading up to $0.40 per share, NIA sent out another follow-up alert saying, "Any day now, WBE will launch a new disinfectant wipe product called ViroBan Plus, which we expect to become a huge seller being that disinfectant wipes remain SOLD OUT throughout the U.S. and Canada. Despite the company having no news in recent weeks, WBE very quietly surpassed its short-term key breakout point of $0.33 per share last week."
On October 2nd with WBE trading up to $0.48 per share, NIA sent out an alert entitled, 'The Only COVID-19 Play Worth Researching' explaining, "WBE could easily reach $1+ per share within weeks, in anticipation of strong 3Q 2020 results set to be announced next month along with the possibility of guidance for a record breaking fourth quarter 2020 and full year 2021!"
On Thursday evening, WBE announced that it earned a record net profit during the quarter ended December 31st of $1,850,241 for a year-over-year increase of 1,128% from a net profit in the year-ago quarter of only $150,656 due to huge sales of ViroBan Plus, exactly like NIA has been predicting for months! WBE's revenue for the quarter of $6,157,646 increased by 106.7% from revenue in the year-ago quarter of $2,978,487!
Past performance is not an indicator of future returns. NIA is not an investment advisor and does not provide investment advice. Always do your own research and make your own investment decisions. This message is not a solicitation or recommendation to buy, sell, or hold securities. This message is meant for informational and educational purposes only and does not provide investment advice.