VYGR Looks Like it Bottomed!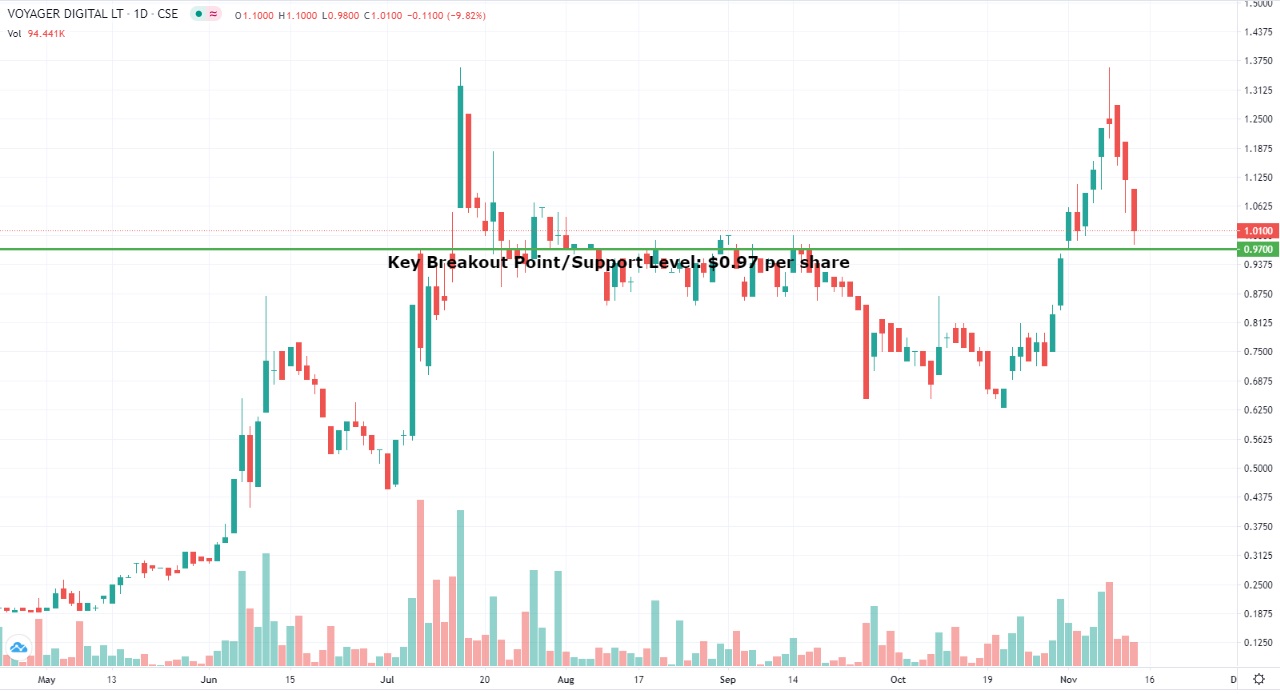 Voyager Digital (CSE: VYGR) or VYGVF on the U.S. OTCQB was trading for $1.03 per share earlier when we sent out an alert predicting it would bottom today at $0.97 per share, which was VYGR's key breakout point and has now become a major support level. VYGR just dipped to $0.98 per share a minute ago and then immediately recovered to $1.01 per share. It's possible that the bottom is now in! Bitcoin is continuing to rally big this afternoon and is currently up by $346.54 to a new 33-month high of $16,054.43!
VYGR has been growing at a rate that we normally only see in privately held venture capital backed tech start-ups. We don't remember the last time we have come across an opportunity like this that was public! VYGR is an innovative and disruptive technology company in the #1 hottest industry and their Voyager platform is loved by its rapidly growing customer base. VYGR has many similarities to two of the largest fintech unicorns, Robinhood and Coinbase, both likely to go public in early 2021! VYGR's shareholders include some of the wealthiest, most well-known, and successful investors in all of fintech including Susquehanna, Streamlined Ventures, Market Rebellion, and the legendary Najarian Brothers who most people would agree are the smartest, most well-respected, and trusted traders on all of CNBC.
VYGR's management team is second to none in the Crypto space. VYGR CEO Steve Ehrlich previously founded and was CEO of Lightspeed Financial, which became famous for its lightning-fast executions making it the online broker of choice among professional active equity traders, proprietary trading groups and hedge funds. After launching Lightspeed in 2006, the company grew rapidly and by 2009 it was doing 450,000 trades per day making it the third largest brokerage in the U.S. covering approximately 1.25% of the daily US equities market, while also executing approximately 1% of daily US options volume. In 2011, Barrons gave Lightspeed its highest rating in the best for frequent traders category.
With Voyager, Ehrlich isn't targeting pro traders but is attempting to capture the largest part of the crypto market by delivering the widest range of services and products to the mass market so they can adopt crypto and start creating their own wealth off of digital and crypto assets. Voyager has established itself as a broker that aggregates liquidity in the crypto space. The problem with today's crypto exchanges is that if you open an account with an exchange, there's only one point of liquidity. If the exchange happens to be offline or they run out of liquidity, you can't trade that asset anymore. Voyager solves all of this so that it never goes offline and has the deepest liquidity!
Past performance is not an indicator of future returns. NIA is not an investment advisor and does not provide investment advice. Always do your own research and make your own investment decisions. This message is not a solicitation or recommendation to buy, sell, or hold securities. NIA has received total compensation from VYGR of USD$60,000 cash for a one-year marketing contract. This message is meant for informational and educational purposes only and does not provide investment advice.