VYGR Hits $15.33 for Gain of 2,455%!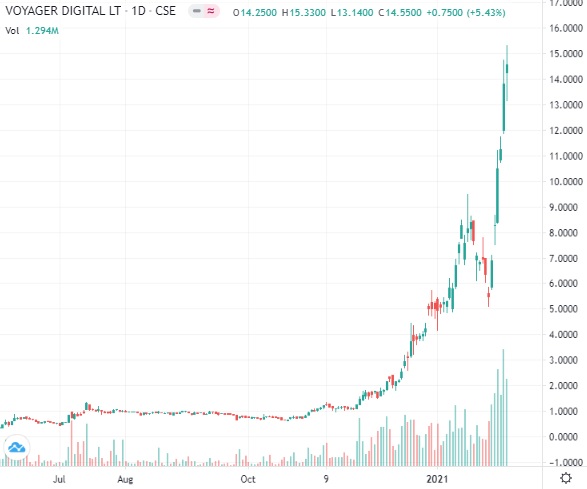 Voyager Digital (CSE: VYGR) rose for a 6th straight day today! VYGR gained by 5.43% to a record closing high of $14.55 per share! VYGR hit a new all-time high today of $15.33 per share for a gain of 2,455% since NIA announced VYGR on June 10th at $0.60 per share as its official #1 favorite Robinhood play!
Over the last eight months, NIA has sent a total of 62 VYGR alerts to its members! On average, NIA has alerted its members about VYGR once every 2.4 trading days!
Never before in history have we updated NIA members about any stock so frequently... but it shows you how NIA's President Gerard Adams was 1,000% confident that VYGR would become one of NIA's biggest successes of all time! Although we are not allowed to make price predictions for a company that we are under contract with, when NIA officially suggested VYGR for the first time on June 10th at $0.60 per share, an employee of NIA's President asked Gerard, "If you had to bet your dog GiGi on whether or not VYGR hits $5 per share by this time next year, would you bet yes or no?" Without hesitation... Gerard replied, "Yes."
In October, when Bitcoin began breaking out, Gerard received emails from multiple Crypto mining companies that wanted to be featured by NIA (knowing that during the previous Crypto bull run in 2017, NIA was the first to suggest Mr. Frank Giustra's Hive Blockchain at $0.74 per share prior to it rising by 812.16% to $6.75 per share). NIA's President decided to contact VYGR's CEO offering him an opportunity to extend NIA's contract to a full year and NIA would agree not to suggest any Crypto mining companies. The truth is, NIA's President had already decided that there was a 0% chance of NIA suggesting any Crypto mining companies because it's a capital intensive business that requires a cheap/free electricity source and because Crypto mining requires the least amount of work to get into where literally any publicly traded shell with cash can order overpriced Antminers from Bitmain, do a name change to Lazy Executive Bubble Chasing Crypto Mining Corp., then put out a press release announcing, "Smokin Joe Cannabis Corp. Announces Name Change to Reflect Transformation into a Crypto Mining Company".
Very few people realize that Steve Ehrlich co-founded VYGR with Oscar Salazar, who previously co-founded Uber with Travis Kalanick and Garrett Camp. Salazar was Uber's first Chief Technology Officer (CTO) and Architect of its original Uber platform/app! Salazar created the #1 most successful, life-changing mobile app in world history! Click here to see Uber's official U.S. patent, which lists Salazar as the inventor of Uber!
In 2009 during a severe U.S. economic recession, at the same time that VYGR co-founder Oscar Salazar was patenting the technology behind Uber, VYGR co-founder & CEO Steve Ehrlich was CEO of America's third largest stock brokerage Lightspeed Financial executing an average of 450,000 trades per day! Years later they co-founded Voyager during a Crypto bear market when everybody else was leaving the Crypto space and insulted them for entering a dying industry!
Past performance is not an indicator of future returns. NIA is not an investment advisor and does not provide investment advice. Always do your own research and make your own investment decisions. This message is not a solicitation or recommendation to buy, sell, or hold securities. NIA has received compensation from VYGR of USD$60,000 cash for a one-year marketing contract. This message is meant for informational and educational purposes only and does not provide investment advice.