VYGR Gains for 5th Time in 6 Days!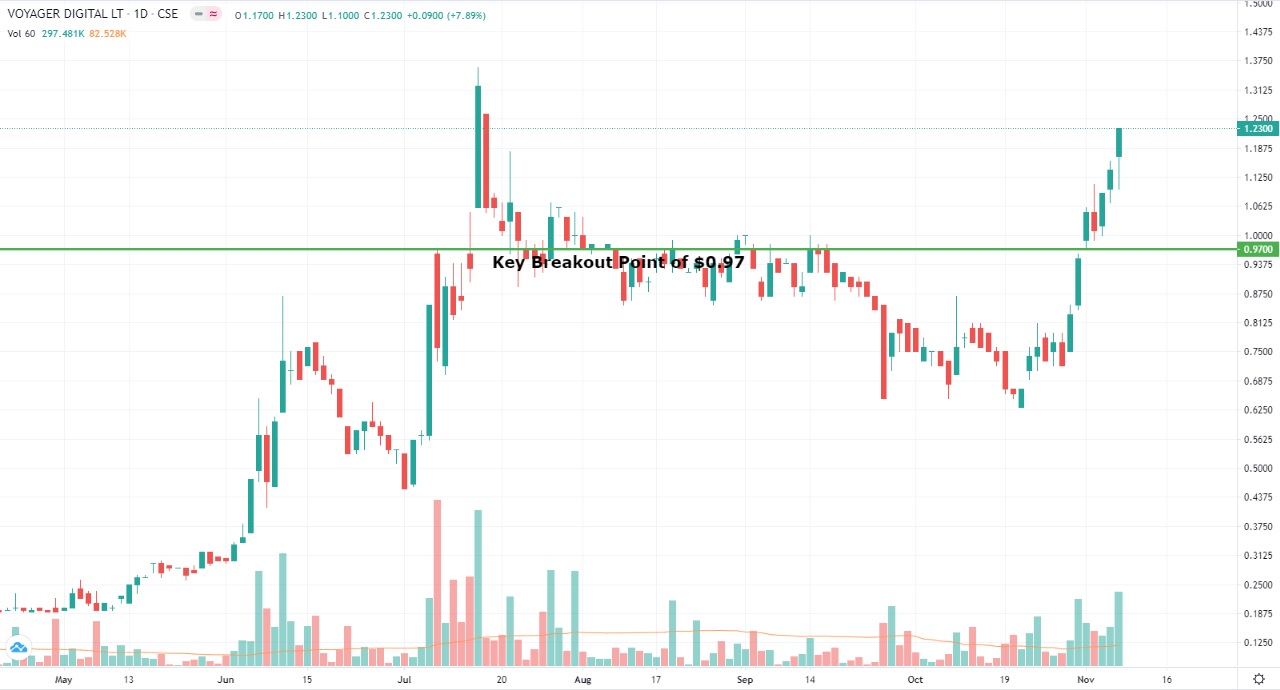 Voyager Digital (CSE: VYGR) gained on Friday for the 5th time in 6 trading days, rising by $0.09 or 7.89% to close at $1.23 per share on volume of 297,481 shares its highest volume day in over three months. VYGR has already gained by 38.2% since we announced it on October 30th at $0.89 per share as our latest stock suggestion and #1 favorite Bitcoin stock suggestion for the remainder of 2020 and early 2021. VYGR's average volume over the last six trading days of 192,270 shares is more than double its average volume during the previous six trading days of only 95,144 shares.
We said on October 30th that VYGR's key breakout point would be $0.97 per share. Since surpassing its key breakout point of $0.97 per share on Monday, VYGR has rallied by an additional 26.8%! After closing Thursday at $1.14 per share and gapping up Friday morning to $1.17 per share, VYGR made a healthy profit taking dip to a low at 10:24AMEST of $1.10 per share. Immediately afterwards, VYGR began to bounce and reentered positive territory at 10:40AMEST. At 1:43PMEST, VYGR hit $1.21 per share where it faced some resistance, but at 3:25PMEST a block buy order for 36,200 shares took out VYGR's $1.21 resistance. VYGR rallied into the close to finish at its high of day/high of week!
Past performance is not an indicator of future returns. NIA is not an investment advisor and does not provide investment advice. Always do your own research and make your own investment decisions. This message is not a solicitation or recommendation to buy, sell, or hold securities. NIA has received total compensation from VYGR of USD$60,000 cash for a one-year marketing contract. This message is meant for informational and educational purposes only and does not provide investment advice.