VUI's HUGE Support from Powerful Senators in Washington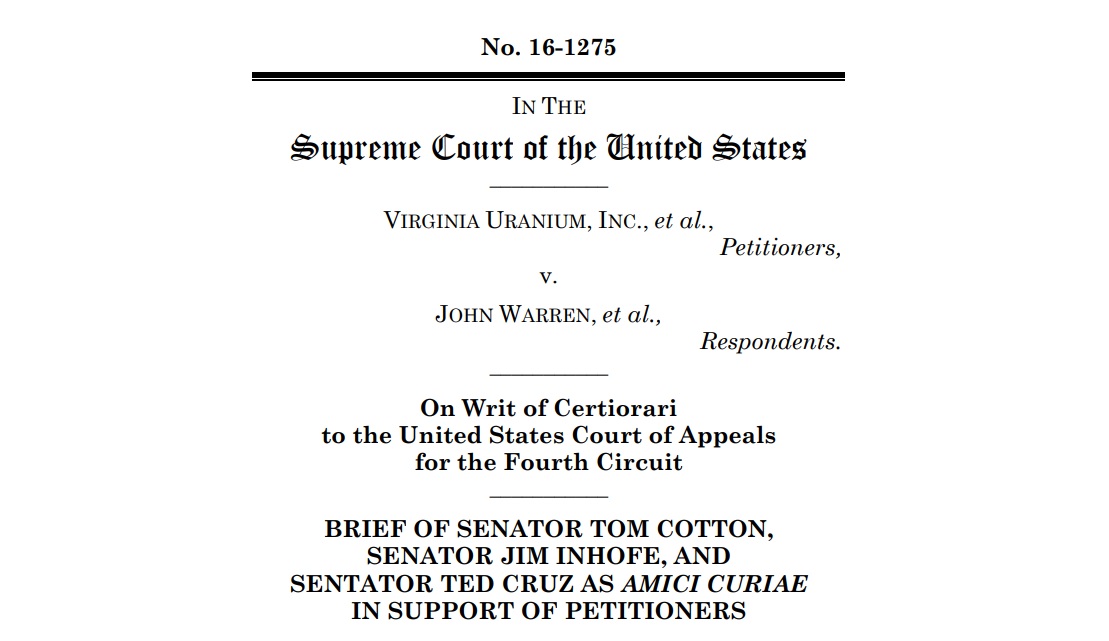 In 2018, Virginia Democrat Governor Northam took office and vowed to veto any bills passed by the General Assembly to regulate uranium mining. Virginia Energy Resources (TSXV: VUI) had a choice to either do nothing for four years while hoping for a Republican to get elected in the future or they had the ability to fight in court in an attempt to use the Federal Atomic Energy Act as a way to override state law. Not knowing if a Republican would ever be elected in Virginia again, VUI decided to fight all the way to the U.S Supreme Court, knowing that the odds were against them but worst case scenario if they lost and a Republican got into office in the future they could always go back to working with the state to get the uranium regulation bill signed into law.
Although VUI's long shot case in the U.S. Supreme Court was unsuccessful, they gained HUGE support from U.S. Senators Ted Cruz and Tom Cotton, who have both become Virginia Governor-Elect Glenn Youngkin's two closest friends in Washington with both Cruz and Cotton helping raise funds for Youngkin and campaigning alongside Youngkin during his Virginia Governor's Race. When Youngkin takes office in January, we expect him to be a strong supporter of VUI's Coles Hill Uranium Project, just like his close friends Senators Cruz and Cotton.
Cruz and Cotton are such strong supporters of VUI's Coles Hill Uranium Project that on July 26, 2018, they wrote an amicus brief to the Supreme Court of the United States in support of VUI's wholly owned Virginia Uranium subsidiary!
Cruz and Cotton said in the amicus brief, "Not only is a domestic supply of uranium critical to the United States' security and defense strategy, it also affects the Nation's status as an independent and forward-looking leader on the global stage. The availability and development of uranium, and particularly, the domestic production of uranium, is integral to the Nation's security. International treaty obligations prohibit the use of imported foreign enriched uranium, or uranium enriched on U.S. soil using foreign technology, for defense purposes. Any uranium used for defense purposes must be produced by and procured from domestic sources using U.S. enrichment technology."
Cruz and Cotton explained, "Domestic production of uranium has plummeted since the Cold War due to market pressures from heavily subsidized European enriched uranium and the importation of low-enriched uranium from Russia under the Megatons to Megawatts Program. In 2017, domestic production of uranium concentrate, which came from just seven facilities in three states, fell 16% year-over-year and was the lowest annual production level since 2004. In 2018, domestic uranium production is expected to drop even further, to approximately 0.7 million pounds, the lowest production since 1949 and less than 2% of the uranium required to power U.S. reactors. Even though the Coles Hill uranium deposit provides a significant, legally viable source of uranium— indeed, it is the largest such deposit in the United States—Virginia's blanket ban precludes any development that might aid in the Nation's defense."
Cruz and Cotton warned, "While some experts suggest that the United States has sufficient high-enriched uranium and depleted material to meet its defense needs in the near future, they acknowledge that stockpiles of low-enriched uranium, used to produce the quick-decaying tritium that is essential for several military applications, are far more limited. Although high-enriched uranium can be downblended to produce low-enriched uranium, because the United States no longer has any capacity to produce high enriched uranium to replace consumed material, the availability of high-enriched uranium for this purpose is unknown, and most high-enriched stocks are reserved primarily for defense program strategic reserves and for production of fuel for the U.S. Navy. Significant dependence on foreign uranium creates a serious national security concern."
Cruz and Cotton continued, "Moreover, the demand for high-enriched uranium is likely to increase, further depleting critical domestic uranium stores. The Navy is increasing its oceanic surveillance as a very critical element of U.S. national security and the U.S.'s ability to influence and ensure that vital interests are protected throughout the world. In January 2017, the Pentagon approved a $128 billion executive program to build a brand new fleet of 12 nuclear submarines, which garners significant support from amici and other members of the Committee on Armed Services. However, expansion of the Navy's nuclear fleet faces major obstacles including the limited ability of nuclear fuel producers to ramp up the supply of fuel."
Cruz and Cotton further explained, "The limited availability of homegrown enriched uranium also damages the Nation's ability to implement its nuclear nonproliferation agenda. The United States has a significant stake in preventing the proliferation of foreign enrichment facilities, because those facilities can easily be converted to produce weapons-grade uranium. To reduce foreign powers' need to develop their own enrichment technology, the United States has previously sold certain countries uranium, already enriched, with the condition that it be used solely for peaceful purposes. In so doing, the United States has used market power to strengthen its nonproliferation efforts by backing up its policy objectives with a means to achieve them. But as domestic production and export of uranium decline, the United States risks losing market leverage and becoming increasingly dependent on foreign powers such as France and Russia to lead in negotiations with countries seeking to develop enrichment capabilities. Reversing this trend is crucial to preserving U.S. influence in shaping global nonproliferation policy."
Cruz and Cotton pointed out, "Aside from military and defense concerns, there are also significant economic and geopolitical interests at stake. Domestic mining comprises just a small fraction of the fuel used in domestic reactors, and the Nation's nuclear fuel production capacity is insufficient for domestic needs. Indeed, 93% of the uranium purchased by domestic utilities is imported, 32% of which comes from Russia, Kazakhstan, and Uzbekistan. Because the United States is the world's largest consumer of nuclear energy, the gap between what domestic uranium producers can deliver and what consumers require represents an unrealized domestic economic benefit that is instead exported to countries such as Russia, Kazakhstan, and Uzbekistan."
Cruz and Cotton later explained, "Industry experts further predict a significant expansion of global nuclear power, with China, India, and Russia making up nearly 40% of the world's fleet of nuclear reactors by 2030. The expansion of the global nuclear market will likely result in higher fuel costs as domestic owners and operators compete with new foreign entrants. Notably, in the last five years, five nuclear power plants have shut down for economic reasons. The shuttering of domestic nuclear facilities will force utility companies either to replace lost capacity with alternative sources, such as domestic fossil fuels, or to import electricity from other countries, frustrating national efforts to both reduce foreign energy dependence and to encourage private investment and development of nuclear energy. Given that nuclear plants generate nearly 20% of the nation's electricity overall and 63% of its carbon‐free electricity, even a modest increase in electricity demand would require significant new nuclear capacity by 2025."
After Youngkin enters office in January and publicly expresses support for VUI's Coles Hill Uranium Project we expect VUI to immediately rise to its fair value of $8+ per share!
Past performance is not an indicator of future returns. NIA is not an investment advisor and does not provide investment advice. Always do your own research and make your own investment decisions. This message is not a solicitation or recommendation to buy, sell, or hold securities. This message is meant for informational and educational purposes only and does not provide investment advice.