VUI Hits New All-Time High of $0.98!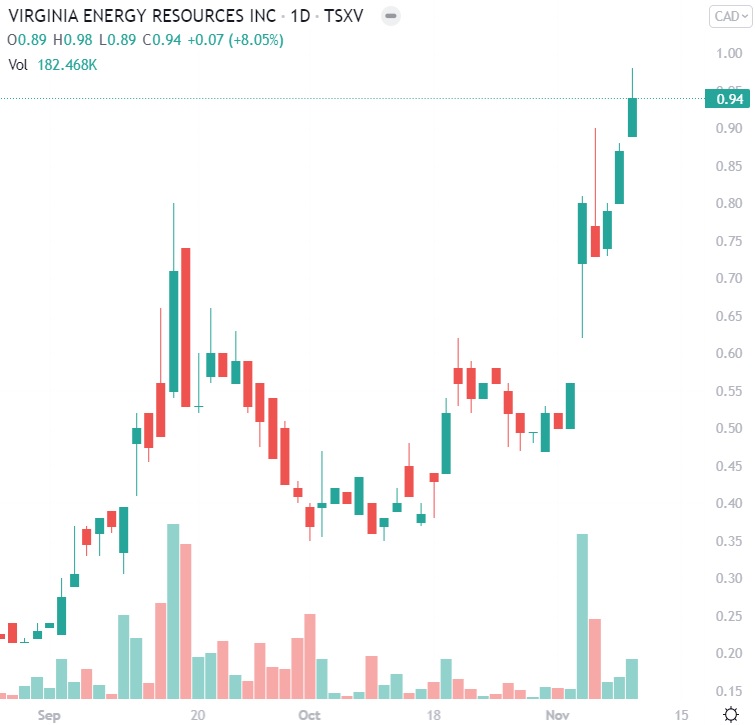 NIA's #1 favorite uranium stock suggestion Virginia Energy Resources (TSXV: VUI) hit a new all-time high today of $0.98 per share for a gain of 106.32% already since NIA's September 15th announcement at $0.475 per share! VUI finished today up by 8.05% to a record closing high of $0.94 per share on strong volume! Since NIA's initial suggestion of VUI it has been the world's #1 largest gaining uranium stock, but it still has A LOT of catching up to do with other uranium stocks. VUI is likely to continue being the #1 best performing uranium stock for many more weeks to come!
Almost all uranium stocks are being valued today as if uranium is already trading for $65-$85 per lb. From NIA's experience, it is extremely rare for the stocks of a commodity (both exploration and mining) to rally so far ahead of the commodity itself, but when it occurs the commodity always explodes higher and rapidly catches up in value within weeks! For VUI only to price in a very conservative $64 per lb uranium it will need to rise to $8+ per share to reflect the Net Present Value (NPV) of VUI's 100% owned Coles Hill Uranium Project, which contains America's #1 largest untapped uranium resource with an indicated 133 million lbs of uranium plus an inferred 30 million lbs of uranium!
VUI is about to breakout above $1 per share and explode, we are 100% sure of it! If uranium is trading for $64 per lb or higher when Virginia Governor-Elect Glenn Youngkin enters office on January 15th, NIA is 99% confident that VUI will be trading that day for at least $4 per share. After Youngkin makes his first public comments as Virginia Governor in support of signing uranium mining regulations into law, VUI is likely to rise immediately to $8+ per share!
Click here to read NIA's alert from late this afternoon providing full details about how Virginia Governor-Elect Glenn Youngkin's two closest friends in Washington - Senators Ted Cruz and Tom Cotton - are extremely strong supporters of VUI's Coles Hill Uranium Project! Both of these well-respected, powerful Republican U.S. Senators want VUI to develop Coles Hill and bring it into production ASAP for countless crazy reasons!
Past performance is not an indicator of future returns. NIA is not an investment advisor and does not provide investment advice. Always do your own research and make your own investment decisions. This message is not a solicitation or recommendation to buy, sell, or hold securities. This message is meant for informational and educational purposes only and does not provide investment advice.