VUI Breaking Out as NIA Prepares In-Depth VUI Report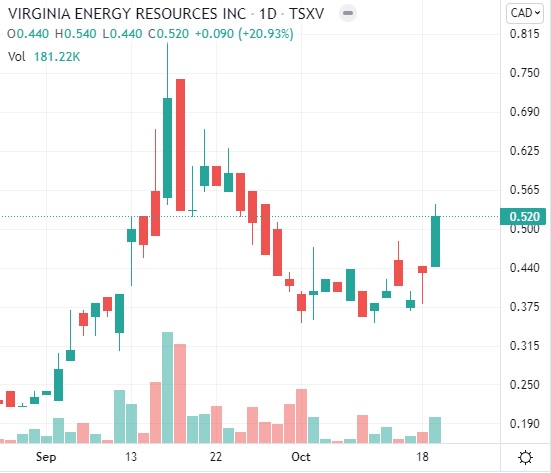 This morning, NIA sent out an important update on its #1 favorite uranium stock suggestion Virginia Energy Resources (TSXV: VUI). VUI rallied big this afternoon and closed up by 20.93% from NIA's morning alert price!
NIA is preparing an in-depth report explaining why Glenn Youngkin (despite polls showing him tied with Terry McAuliffe) actually has a 90.9% chance of winning the Virginia Gubernatorial Election exactly two weeks from today. NIA's report will provide overwhelming evidence about why a Governor Youngkin is likely to support the implementation of a regulatory framework that will allow VUI to develop Coles Hill the #1 largest U.S. uranium deposit and bring the mine into production!
A Youngkin win on November 2nd would likely result in VUI making triple digit percentage gains on November 3rd.
As investors become educated about Youngkin's high likelihood to win on November 2nd and why he would make it a priority to pass a regulatory framework for uranium mining, VUI will continue trending upward towards its Coles Hill Uranium Project Net Present Value (NPV).
NIA's in-depth VUI report will be released during tomorrow's trading hours!
Past performance is not an indicator of future returns. NIA is not an investment advisor and does not provide investment advice. Always do your own research and make your own investment decisions. This message is not a solicitation or recommendation to buy, sell, or hold securities. This message is meant for informational and educational purposes only and does not provide investment advice.