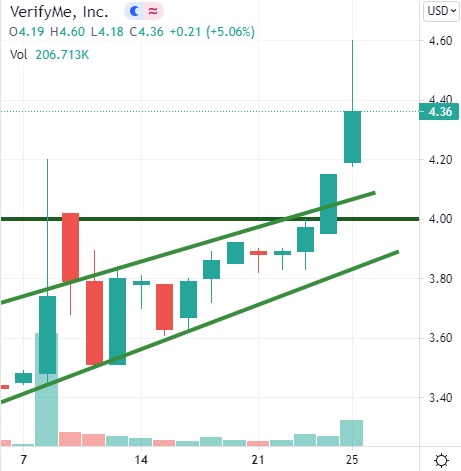 VerifyMe (VRME) gained by 5.06% today to close at $4.36 per share on very strong volume of 206,713 shares. Today was VRME's highest volume day since our initial suggestion on June 8th when VRME traded 911,976 shares, which was its second highest volume up day of 2021. At 2:30PMEDT this afternoon, VRME hit a new 3-month high of $4.60 per share where it was up by 21.05% from NIA's initial June 8th suggestion price.
On May 17, 2021, HP launched the new HP Indigo 6K Secure label and flexible packaging press, the first HP Indigo machine designed especially for the security printing market, featuring multi-security layers printed in one pass in a secure environment. It uses the newly launched HP Indigo Secure platform, which includes hardware, software, media, and inks for security printing and brand protection, based on proprietary HP Indigo LEP technology and industry-leading partner solutions.
VRME's RainbowSecure, powered by HP Indigo, is a patented and proprietary, covert anti-counterfeiting solution. It is based on infrared converting pigments made of rare earth pigments which appear invisible to the human eye, but can be activated using authentication devices specifically tuned to the unique frequency of each batch of ink. RainbowSecure is an ideal solution for any company or government body looking to covertly protect goods and documents. It adds an invisible mark that is too difficult for counterfeiters to emulate or reproduce, providing an uncompromised layer of protection. Printers and manufacturers can use customized devices to view the non-visible pigment characteristics used to produce covert item level serialization to support their supply and distribution chain security.
HP's launch of its new HP Indigo Secure platform is likely to fuel continued explosive revenue growth for VRME.
Past performance is not an indicator of future returns. NIA is not an investment advisor and does not provide investment advice. Always do your own research and make your own investment decisions. This message is not a solicitation or recommendation to buy, sell, or hold securities. This message is meant for informational and educational purposes only and does not provide investment advice.