Very Important NIA Monday Morning Update!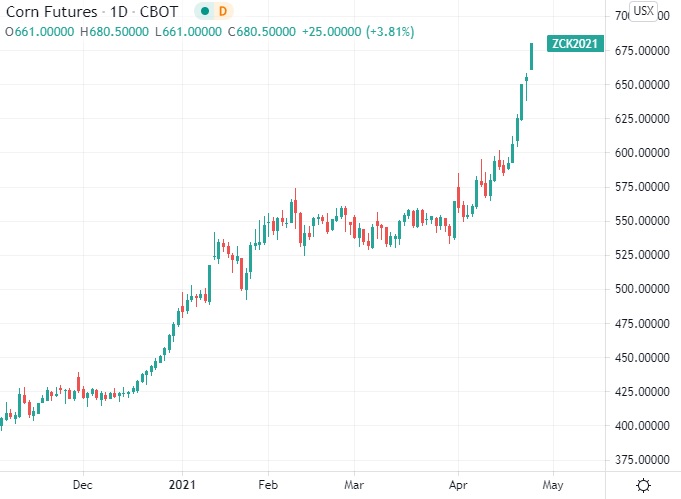 Telson Mining (TSXV: TSN) had HUGE news this morning following their very important news from Friday evening! We will release a major TSN report this afternoon!
On Friday afternoon at 3:25PMEDT, NIA announced its first call option suggestion of 2021 the September 17th Mosaic (MOS) $35 call option. During the final 35 minutes of Friday's trading day, NIA's new call option suggestion traded 533 contracts and closed up to $3.35, which means investors loaded up on $178,555 worth of this MOS call option contract. MOS reports its 1Q 2021 results one week from today on Monday, May 3rd after the close of trading. The average U.S. DAP Fertilizer export price during 1Q 2021 was $512.92 vs. $364.88 during 4Q 2020 for a QoQ increase of 40.57%! MOS is likely to report stronger than expected revenue, gross margins, and profits... and will likely raise guidance significantly for the remainder of 2021!
NIA's last call option suggestion was the Teucrium Corn Fund (CORN) January 15th $13 call option that NIA suggested on August 25th at $0.70. NIA's CORN call option suggestion gained by 471.43% to hit a high of $4 in less than five months!
This morning... corn is up by 3.66% to a new 8-year high of $6.795 per bushel (its 6th straight up day), wheat is up by 2.7% to a new 7-year high of $7.315 per bushel (its 6th straight up day), and soybeans are up by 1.55% to a new 8-year high of $15.395 per bushel (its 10th straight up day)!
Historically, rising corn prices and to a lesser extent rising wheat and soybean prices... always lead to rapidly rising DAP fertilizer prices. For every 1 tonne of DAP fertilizer produced by MOS it requires 1.656 tonnes of Phosphate Rock, 0.40 tonne of Sulfur, and 0.26 tonne of Ammonia. Typically, Phosphate Rock prices slightly lag behind rising DAP fertilizer prices with almost a delayed reaction... but when Phosphate Rock prices finally breakout they usually end up rising a lot more than corn and DAP!
Morocco is the largest producer of Phosphate Rock but they only update their price once per month. For the month of March 2021, Morocco Phosphate Rock gained by 9.213% to $96.25 per tonne for its largest monthly increase in 7 years! This was the 8th consecutive month-over-month increase for Morocco Phosphate Rock, but prices are no where near historical highs!
When corn first reached its current price of $6.795 per bushel on June 11, 2008 it continued rising to hit a new all-time high on June 27, 2008 of $7.79 per bushel where it was up by 126.62% from its price exactly one year earlier of $3.4375 per bushel! During this same twelve month time period, MOS exploded from a low of $34.23 per share in June 2007 to a new all-time high in June 2008 of $163.25 per share for a year-over-year increase of 376.86%! In comparison, DAP fertilizer was $387.88 per tonne in June 2007 and gained by 158.87% to $1,004.10 per tonne in June 2008!
Most impressively, Phosphate Rock was $44 per tonne in June 2007 and gained by 331.82% to $190 per tonne in June 2008, and Phosphate Rock continued rising for another four months by gaining an additional 136.84% to reach a new all-time high in October 2008 of $450 per tonne!
All together, Phosphate Rock rallied from $44 up to $450 for a gain of 922.73%! This is why Arianne Phosphate (TSXV: DAN) is our #1 agriculture stock suggestion and we truly believe no other agriculture stock is in the same league as DAN to capitalize on rising Phosphate Rock prices! DAN's Green Phosphate Rock will sell at a significant premium above Morocco Phosphate Rock, which is high in toxic heavy metals!
Past performance is not an indicator of future returns. NIA is not an investment advisor and does not provide investment advice. Always do your own research and make your own investment decisions. This message is not a solicitation or recommendation to buy, sell, or hold securities. NIA has received compensation from TSN of USD$100,000 cash for a one-year marketing contract. NIA's President purchased 1 million shares of TSN in its most recent private placement. NIA has received compensation from DAN of USD$30,000 cash and expects to receive options to purchase 100,000 shares of DAN stock with an exercise price based on the closing price of the stock on the day before the options get issued for a six-month marketing contract. This message is meant for informational and educational purposes only and does not provide investment advice.