TRT Gains by 10.15% to New 52-Week High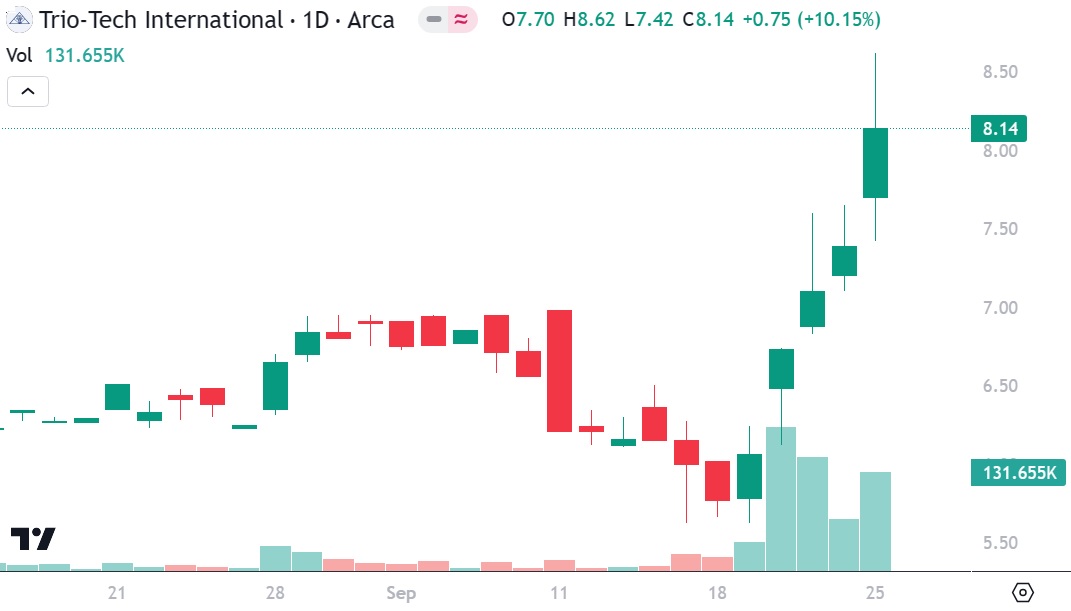 Trio-Tech International (TRT) gained by 10.15% today to $8.14 per share and hit a new 52-week high of $8.62 per share where it was already up by 29.04% since NIA's recent suggestion at $6.68 per share!
The only two publicly traded companies in the business of semiconductor testing for EVs are Trio-Tech International (TRT) and AEHR Test Systems (AEHR).
TRT remains insanely undervalued relative to AEHR!
TRT is going MUCH higher but won't gain nearly as much as the highest quality gold exploration stocks! Nobody is in the same league as NIA because we research thousands of companies per year. Our imitators are phony/fake. They wouldn't know how to discover a company like TRT if they tried to, but they don't try to because they care only about lining their own pockets at the expense of their followers!
A high percentage of NIA's stock suggestions become massive percentage gainers and TRT will be no different...
TRT has developed a new Dynamic High Temperature Operating Life Test (HTOL) System for Silicon Carbide (SiC) / Gallium Nitride (GaN) Power Modules used in the electric vehicle market. Designed to comply with AQG 324 automotive guidelines, TRT's Dynamic HTOL System won an initial $1,000,000 order from a lead customer with which TRT is working closely to achieve their test requirements and validation of TRT's newly developed semiconductor testing systems. TRT is also actively engaging several new potential customers for similar applications. In light of the strong global growth projections for the GaN & SiC power semiconductor market, TRT believes that its new test system has the potential to significantly contribute to TRT's long-term growth and profitability!
Past performance is not an indicator of future returns. NIA is not an investment advisor and does not provide investment advice. Always do your own research and make your own investment decisions. This message is not a solicitation or recommendation to buy, sell, or hold securities. This message is meant for informational and educational purposes only and does not provide investment advice.