THMG's Fair Value Hits $0.34, Currently Only $0.20!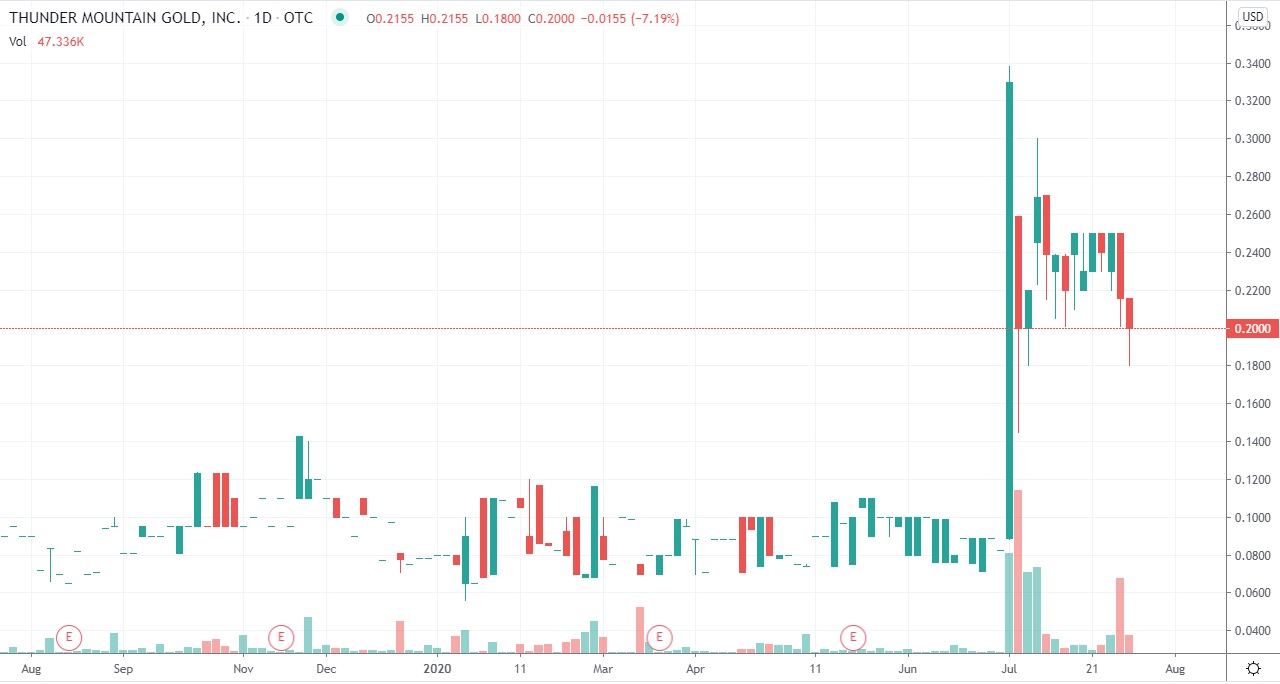 On July 8th at 3:42PMEDT we announced Thunder Mountain Gold (THMG) as our brand new confidence rating of 100 stock suggestion at $0.09 per share. THMG rallied by 266.67% during the final 18 minutes of trading to close July 8th at a new 9 year high of $0.33 per share. On the following day of July 9th, we explained that THMG got ahead of itself and didn't yet deserve to be trading at $0.33 per share. We predicted that, "THMG won't deserve to trade at prices of $0.33 or higher for at least another 2-3 weeks."
We have a very specific way of calculating THMG's fair value. On July 8th when we initially suggested THMG at $0.09 per share it had a fair value of $0.24 per share. Over the last 2 1/2 weeks, THMG's fair value has increased to $0.34 per share. Currently, THMG is trading for only $0.20 per share. Look for THMG to rally by 70% and reach $0.34 per share in the days ahead!
THMG has a total NI 43-101 resource of 2.841 million oz of silver grading 182.72 g/t. However, once we include THMG's other precious/base metals (based on current metals prices), THMG has a total NI 43-101 resource of 10.655 million oz of silver equivalent grading an extremely high 685.30 g/t.
THMG only has 60.15 million shares outstanding for a current market cap of USD$12.03 million. THMG is only being valued at $1.129 per oz of silver equivalent in its NI 43-101 resource, which is insanely low considering how extremely high its grades are!
Past performance is not an indicator of future returns. NIA is not an investment advisor and does not provide investment advice. Always do your own research and make your own investment decisions. This message is not a solicitation or recommendation to buy, sell, or hold securities. Never make investment decisions based on anything NIA says. This message is meant for informational and educational purposes only and does not provide investment advice.