TCAN is NIA's #1 California Cannabis Play!
NIA sent out an urgent alert on Transcanna (CSE: TCAN) late in the day on Friday after it surpassed its key breakout point of $2.90 per share. TCAN was trading for $3 per share at the time of NIA's alert and rallied an additional $0.04 into the close to finish at $3.04 per share up a total of 5.56% for the day on very strong volume of 119,385 shares (its highest volume day in over two weeks)!
We expect TCAN to make a very big rally beginning this week. TCAN is currently in the process of completing a $10 million private placement, which will allow it to move forward on executing its recently obtained option to purchase a 196,000 square foot warehouse on a 7 acre property in Modesto, California. In addition, TCAN recently signed a lease on a 10,000 square foot building currently being built in Adelanto, California.
In 2018, Canadian cannabis stocks were the biggest plays in the entire market, leading up to Canada's legalization of cannabis in October 2018. In 2019, NIA expects California focused cannabis stocks to become the biggest gainers in the market. TCAN is the California cannabis play that NIA believes has the greatest short-term upside potential!
With former Speaker of the House John Boehner recently joining the Board of Acreage Holdings (CSE: ACRG), there is now major momentum towards the legalization of cannabis in the U.S. on a Federal level. ACRG already has a market cap of CAD$700 million, primarily due to Boehner's involvement in the company. In comparison, TCAN's market cap at Friday's closing price of $3.04 per share is only CAD$55.2 million or less than 1/12th the market cap of ACRG. In our opinion, TCAN has much greater upside potential!
When TCAN first faced resistance at the $2.90 per share level on February 19th, its 14-day relative strength index (RSI) rose above the critical overbought warning level of 80. Over the following two days, TCAN dipped back down to a February 21st low of $2.18 per share, causing its RSI to return to a healthy level of 67. Almost immediately, TCAN bounced strongly to retest its $2.90 per share resistance on February 25th.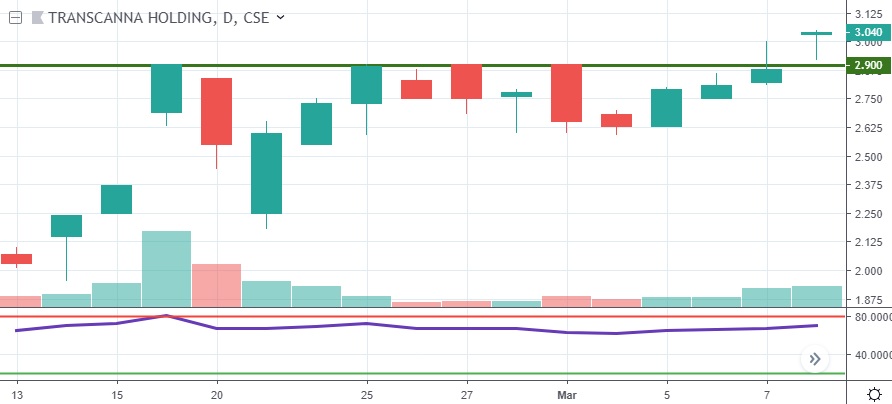 Although TCAN was unsuccessful at breaking its $2.90 per share resistance on February 25th, most weak hands were already gone and TCAN remained in a tight trading range. TCAN made additional attempts to surpass its key breakout point on both February 27th on March 1st, but because these attempts were on very light volume, TCAN once again failed to  break through.
After a false start on Thursday where TCAN briefly touched $3 but closed back below $2.90, we waited until late in the day on Friday to issue our initial alert on TCAN, when we were 100% confident that its resistance was gone for good! After rallying into the close on Friday to finish the week at $3.04 per share, TCAN's RSI at Friday's close was just above 70 or 10 points below its level from back on February 19th.
TCAN has major room to rise significantly higher in the upcoming days before it once again encounters any meaningful resistance. Look for TCAN to explode continuously higher in the days ahead until its RSI once again reaches the overbought warning level of 80.
Past performance is not an indicator of future returns. NIA is not an investment advisor and does not provide investment advice. Always do your own research and make your own investment decisions. This message is not a solicitation or recommendation to buy, sell, or hold securities. NIA has received compensation from a third-party ROK Marketing of $40,000 cash for a one-month TCAN investor relations contract. Never make investment decisions based on anything NIA says. This message is meant for informational and educational purposes only and does not provide investment advice.