TCAN Gained 148% in 32 Days - Urgent Update!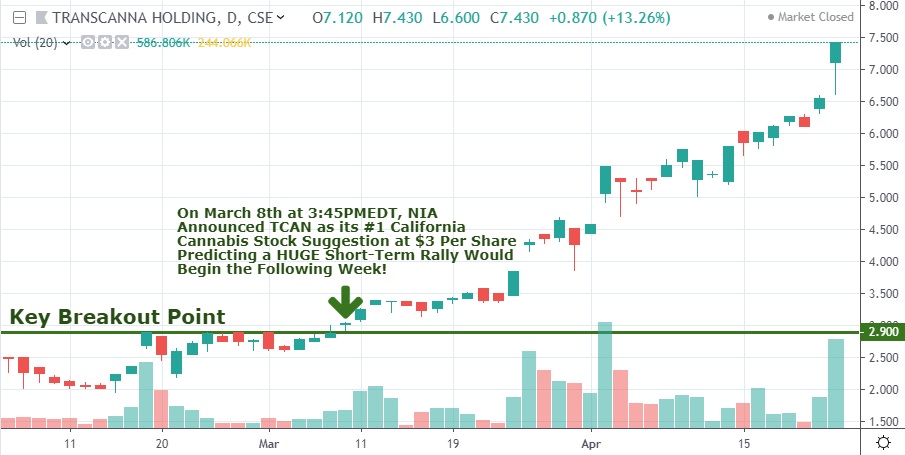 NIA's #1 cannabis stock suggestion Transcanna (CSE: TCAN) gained another $0.87 or 13.26% yesterday to close at a new all-time high of $7.43 per share on HUGE volume of 586,810 shares! TCAN has now gained by 147.67% since NIA's initial TCAN announcement 15 minutes prior to the close of trading on Friday, March 8th at $3 per share! NIA's timing of TCAN was absolutely impeccable, with NIA discovering that the stock had just surpassed its $2.90 per share key breakout point in a convincing way - following weeks of failed attempts!
NIA predicted that a MAJOR rally would begin for TCAN during the following week of trading. On the morning of Monday, March 11th, NIA compared TCAN to another California focused cannabis company that it was closely following called Acreage Holdings (CSE: ACRG). NIA explained that TCAN was trading for only 1/12th of ACRG's market cap and NIA considered TCAN to have MUCH greater upside potential than ACRG!
One week ago, the world's largest cannabis company Canopy Growth (CGC) announced that it will be acquiring ACRG for $3.4 BILLION - the largest cannabis deal in U.S. history (because CGC is now trading on a major U.S. exchange the deal will close automatically as soon as Federal legalization of cannabis takes place)! This deal 100% confirms NIA's prediction that the California cannabis market will be the biggest boom industry of 2019! Amazingly, NIA picked the absolute #1 best performing California cannabis stock. WIth TCAN gaining by 147.67% in 32 trading days, it has been the #2 largest gaining cannabis stock in the world between March 8th and April 24th!
NIA explained one week ago following the CGC/ACRG news why it believes TCAN now deserves a higher valuation than NIA initially anticipated on March 8th. After TCAN closed one week ago at a new all-time high of $6.13, NIA predicted that TCAN could gain as much as $3.06 or 49.92% more to reach a price of $9.19 per share before peaking, TCAN has already gained by $1.30 or 21.2% over the past week. TCAN may still have another $1.76 or 23.69% of upside left, but it won't hurt to begin taking profits immediately because at some point a major correction will occur. We will most likely be announcing a much BIGGER cannabis play sometime within the next week or two that hasn't yet run but a run like TCAN could be imminent!
On April 2nd, NIA discussed how demand for TCAN's private placement was absolutely overwhelming - the company had to repeatedly delay its closing to increase the amount being raised. NIA explained that TCAN was only 48 hours away from closing the deal, which would raise the company an unbelievable $16 million or 60% more than the initial $10 million it planned to raise! NIA predicted that new record highs for TCAN were imminent and the stock exploded by 19.87% on April 2nd to close at $4.91 per share on record volume of 703,470 shares!
After closing on the $16 million private placement on April 4th, TCAN successfully executed on all of its major plans that NIA members were looking forward to for the past seven straight weeks! On April 16th, TCAN completed the purchase of its 196,000 sqft vertically integrated cannabis facility located on a 7 acre property in Modesto, California. On April 18th, TCAN executed the lease agreement for its 10,000 sqft facility located in Adelanto, CA, which is the first of up to five planned satellite offices to be strategically located throughout California in support of its main Modesto facility. TCAN's Adelanto satellite office is located in a completely fenced complex with armed security guards present at all times.
TCAN now has its entire cannabis organizational foundation successfully built and is perfectly positioned to rapidly begin rolling out its planned portfolio of 15 major California brands of cannabis products. As NIA discussed in its initial TCAN alert, immediately after TCAN's January IPO, the company signed an LOI to acquire Goodfellas Group, LLC, a very valuable California cannabis brand that NIA believes will quickly explode throughout the California cannabis market. Along with TCAN planning to market/sell multiple Goodfellas cannabis products throughout California, the acquisition of Goodfellas is also transferring to TCAN the ownership of another valuable California cannabis brand called Simple - producer of The Simple Kit, which is a unique, one-of-a-kind product designed to assist first time cannabis consumers to experience cannabis in a positive way.
NIA is pleased to confirm with all NIA members that we expect TCAN to announce the closing of its Goodfellas Group, LLC acquisition less than one month from today on May 20th! This will undoubtedly be the BIGGEST event in TCAN's history!
Just like how TCAN's private placement took forever to close but for positive reasons related to overwhelming demand that allowed TCAN to raise 60% more than expected as major institutions rushed to invest due to FOMO, TCAN's GoodFellas deal may be taking longer to close than expected, but this once again is for extremely positive reasons! NIA has just learned that the GoodFellas deal has been expanded and will now include a third major California cannabis brand called Daily Cannabis Goods. The Daily brand consists of three quality half gram pre-rolls which are attractively packaged/priced!
NIA has been saying for weeks that it won't announce another new cannabis stock suggestion until it finds something that NIA believes has an extremely good likelihood of experiencing short-term success that is equal to or greater than TCAN's recent success! NIA cares MORE about once again discovering/suggesting the market's next BIG cannabis winner for its members than anything else in the world! NIA's President is in California right now only meeting with the absolute MOST BRILLIANT cannabis businessmen on earth!
Past performance is not an indicator of future returns. NIA is not an investment advisor and does not provide investment advice. Always do your own research and make your own investment decisions. This message is not a solicitation or recommendation to buy, sell, or hold securities. NIA has received compensation from a third-party ROK Marketing of $40,000 cash for a one-month TCAN investor relations contract. Never make investment decisions based on anything NIA says. This message is meant for informational and educational purposes only and does not provide investment advice.