Take Profits on KNR, Focus on SPRT!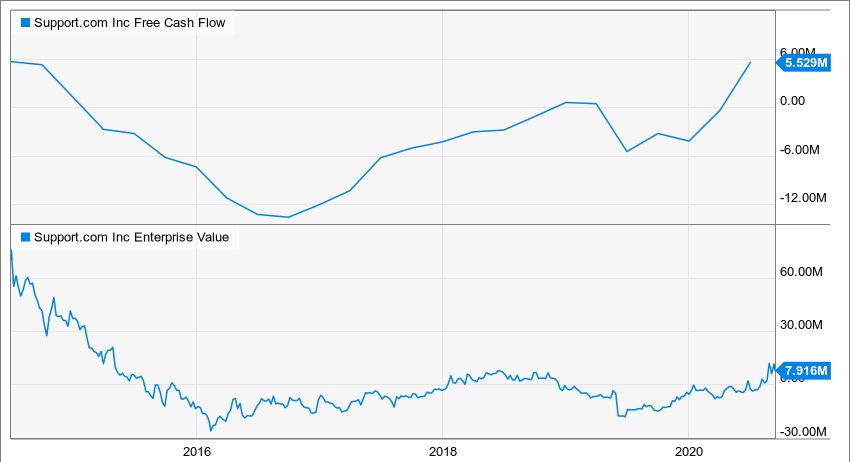 It looks like we were 100% right about Kontrol Energy (CSE: KNR) outperforming all other cannabis plays in the entire market following our May 28, 2019 suggestion at $0.71 per share. KNR hit a new all-time high this morning of $6.64 per share for a gain of 835.21% from our suggestion price! Remember, when you are up 835.21% on a stock... no matter what you must take profits! We have major concerns about this new COVID-19 real-time air testing device because KNR has spent zero dollars on R&D in recent quarters... something doesn't seem right with that! We suggested KNR last year as our #1 way to capitalize on a bursting cannabis bubble and have absolutely no knowledge about this COVID-19 technology... but our gut feeling is that it seems too good to be true.
In our opinion, Support.com (SPRT) is the much bigger opportunity here with much less downside risk. SPRT ended last quarter with $29.69 million in cash and only $133,000 in debt - for net cash of $29.56 million! With 19.08 million shares outstanding, SPRT has a current market cap at $2 per share of $38.16 million. If we subtract SPRT's net cash position it equals an enterprise value of only $8.6 million. SPRT's trailing twelve month free cash flow is now up to $5.529 million.
The last time that SPRT had higher trailing twelve month free cash flow was six years ago. Following the release of SPRT's 2Q 2014 results after the close on July 30, 2014, it closed the following day at $7.14 per share with an enterprise value of $52.8 million or 9.39X free cash flow. Six years ago, SPRT had 17.98 million shares outstanding. The company's shares outstanding have only increased by 1.1 million or 6.1% over a 6 year period. Today, an enterprise value/free cash flow ratio of 9.39 would value SPRT at $4.27 per share!
Past performance is not an indicator of future returns. NIA is not an investment advisor and does not provide investment advice. Always do your own research and make your own investment decisions. This message is not a solicitation or recommendation to buy, sell, or hold securities. NIA received compensation from KNR of USD$30,000 cash for a one-month marketing contract which has since expired. Never make investment decisions based on anything NIA says. This message is meant for informational and educational purposes only and does not provide investment advice.