SPRT Continues to Breakout Big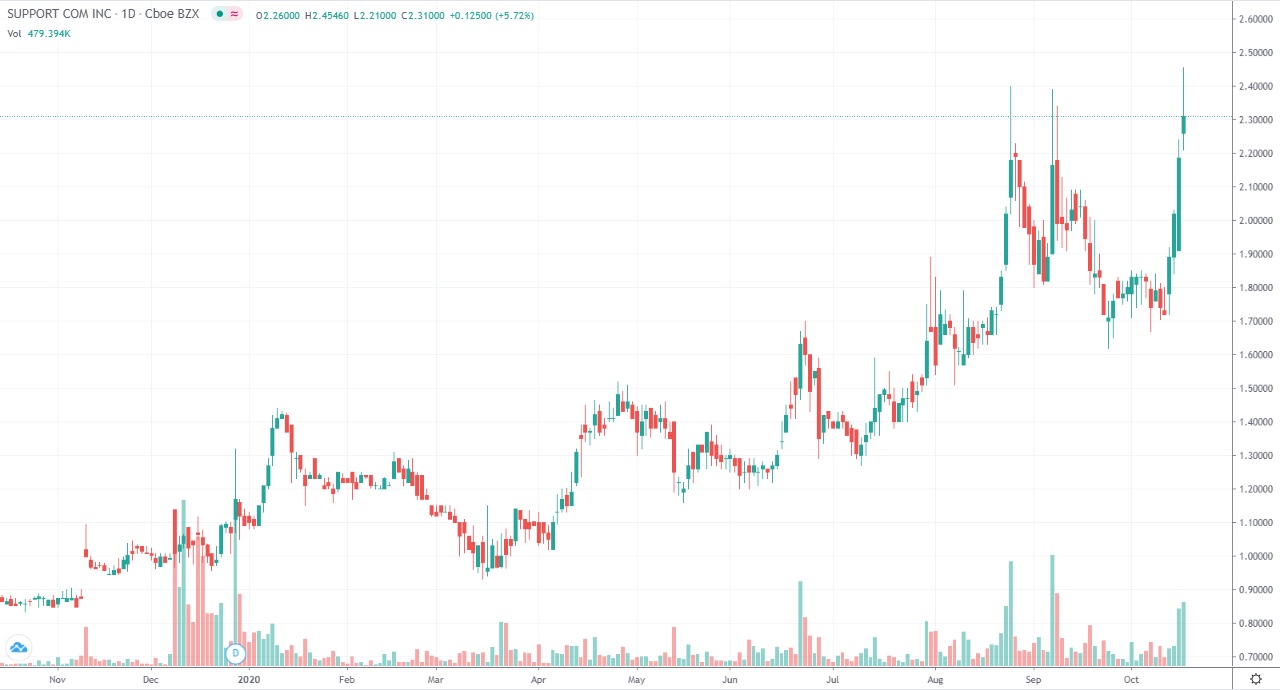 Support.com (SPRT) continues to breakout big and is rallying for the fourth straight day. It is currently up $0.125 or 5.72% to $2.31 per share on strong volume of 479,394 shares.
At $2.31 per share, SPRT has a market cap of only $44.07 million when SPRT is sitting on a HUGE cash position of $29.69 million, which actually values their business at only $14.38 million when over the last twelve months, SPRT generated revenue of $51.56 million with operating cash flow of $6.445 million and free cash flow of $5.529 million!
If SPRT were to conservatively trade at an enterprise value of just 1X revenue or 10X free cash flow, which would still be low compared to other companies in this space, it would have an enterprise value of $51.56 million to $55.29 million. This would value SPRT with a market cap of $81.25 million to $84.98 million. With 19.08 million shares outstanding, SPRT would be worth between $4.26-$4.45 per share.
Considering SPRT's brand new CEO Lance Rosenzweig previously co-founded and was CEO of a very similar publicly traded company PeopleSupport, which he grew to $150 million in revenue before selling the company in 2008 for $250 million in cash, we believe the market is about to begin permanently valuing SPRT at a valuation multiple that is much more appropriate for a company that has been in business for 20 years and owns SUPERAntiSpyware, which has been downloaded 65 MILLION times! Traffic to SUPERAntiSpyware.com has doubled in recent months. The editor of CNET one of the Internet's most trusted product review web sites has just rated the new free version of SUPERAntiSpyware as the #1 best free anti-spyware software on the Internet with a perfect rating of 5 stars. In comparison, CNET's editor only rated Malwarebytes 4 1/2 stars. After people begin using SUPERAntiSpyware and see how light weight and effective it is, SPRT upsells them to purchase the Pro X edition that includes artificial intelligence machine learning technology for $39.95.
A few days ago, the former CFO of PeopleSupport Caroline Rook also joined SPRT to become its brand new CFO. See for yourself by clicking here!
We believe SPRT is likely having a very strong quarter due to the remote learning boom.
Past performance is not an indicator of future returns. NIA is not an investment advisor and does not provide investment advice. Always do your own research and make your own investment decisions. This message is not a solicitation or recommendation to buy, sell, or hold securities. This message is meant for informational and educational purposes only and does not provide investment advice.