SPC Could Become Our Second Largest Gainer of Early 2022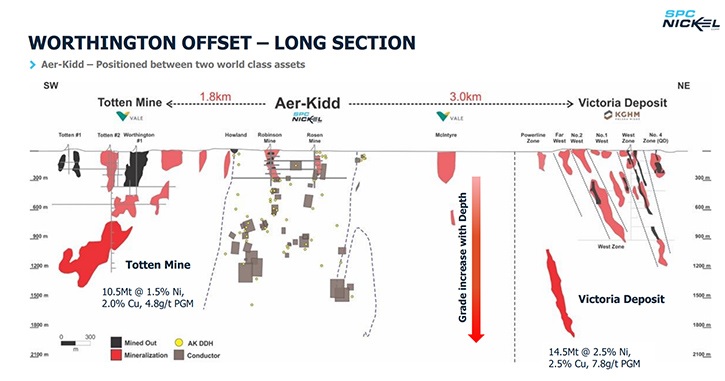 Although it won't gain anywhere close to North Peak Resources (TSXV: NPR) in early 2022, SPC Nickel (TSXV: SPC) from its current price of $0.10 per share could become our second largest gainer of early 2022. We consider SPC to be the world's #1 most undervalued battery metals pure play. SPC's flagship AER-KIDD nickel project is located in the world-class Sudbury mining district of Ontario directly in between and on trend with the two most valuable high-grade nickel deposits in the region: Vale (VALE)'s Totten Mine and KGHM (KGHPF)'s Victoria Mine.
VALE is the world's largest nickel producer with a current market cap of $68.4 BILLION. VALE's directly adjacent Totten Mine launched production in February 2014 after VALE invested $760 million to develop the mine over a period of seven years making it one of six producing mines that VALE owns in the Sudbury region. VALE's Sudbury operations produce 65,000 metric tons of nickel per year worth $1.3 BILLION at nickel's current price of $20,000 per metric ton. VALE's Totten Mine has the company's highest-grade ore out of their six Sudbury mines with probable reserves of 7.897 million tonnes grading 1.47% nickel, 2.07% copper, 2.1 g/t palladium, 2.1 g/t platinum, 0.8 g/t gold, and 0.04% cobalt.
KGHPF is the world's second largest silver producer and a major producer of copper and nickel with a current market cap of $7.21 BILLION. KGHPF's directly adjacent Victoria Mine is currently under development and considered by the company to be its #1 most important investment outside of Poland. KGHPF's decision to move forward with developing the Victoria Mine was made in 2015 by Derek White who was President/CEO of their KGHM International division, but later stepped down to become President/CEO of NIA's Ascot Resources (TSX: AOT), which following NIA's October 31, 2019, suggestion has seen its market cap increase 3.52X higher to $458 million. KGHPF's Victoria Mine has an inferred resource of 13.081 million tonnes grading 2.76% nickel, 2.64% copper, 4.45 g/t palladium, 3.08 g/t platinum, 0.97 g/t gold, 14.4 g/t silver, and 0.06% cobalt.
Mineralization was first discovered on SPC's AER-KIDD nickel property in the late 1880's and near-surface mining from three different zones occurred periodically from 1916 to 1968. AER-KIDD remains virtually untested at depth, but both VALE and KGHPF at their directly adjacent nickel mines have successfully made deep discoveries at 1,000-1,500m below surface that are approximately 10X larger than their near-surface discoveries! SPC believes AER-KIDD has excellent potential to host a significant Ni-Cu-PGM deposit comparable to VALE's Totten deposit and KGHPF's Victoria deposit.
SPC's market cap at $0.10 per share is an insanely low $10.22 million and the company has $5.364 million in cash and no debt for an enterprise value of only $4.856 million.
Past performance is not an indicator of future returns. NIA is not an investment advisor and does not provide investment advice. Always do your own research and make your own investment decisions. This message is not a solicitation or recommendation to buy, sell, or hold securities. NIA's President has purchased 200,000 shares of NPR in the open market. This message is meant for informational and educational purposes only and does not provide investment advice.