South Africa has Closed all Palladium Mines!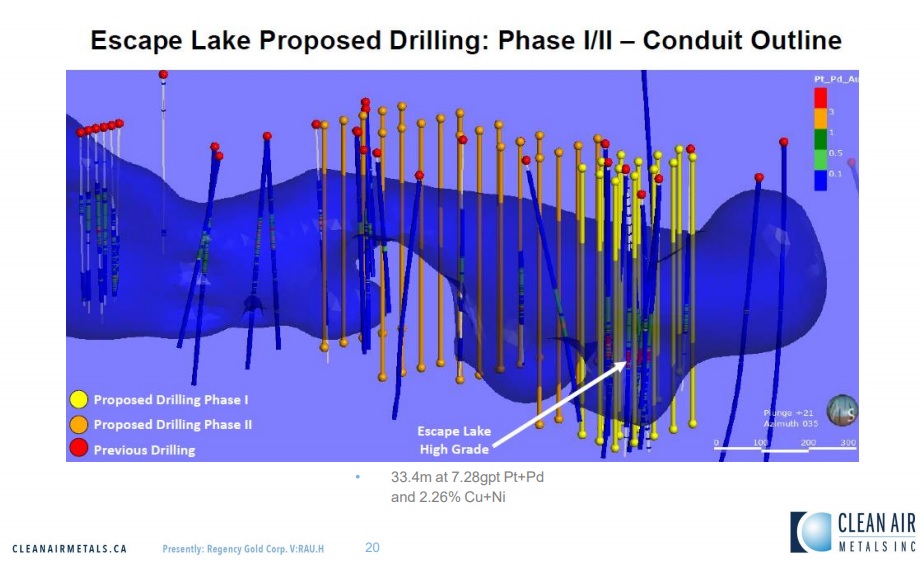 South Africa has just shut down all of its palladium/platinum mines and has placed them all on care and maintenance for at least 21 days to help stop the spread of the Coronavirus. South Africa produces 38.41% of the world's palladium or 2.648 million oz per year! South Africa produces 73.27% of the world's platinum or 4.411 million oz per year!
The #1 way to capitalize on this is with Benton Resources (TSXV: BEX), which owns 19.68% of Clean Air Metals a company going public in early April on the TSX Venture exchange under the symbol AIR. BEX also owns a 0.5% royalty in both of AIR's palladium/platinum projects: Thunder Bay and Escape Lake.
AIR's Thunder Bay project has an open pit indicated resource from 2012 of 8.46 million tonnes grading 0.98 g/t palladium and 1.04 g/t platinum for palladium+platinum grades of 2.02 g/t.
In comparison, North American Palladium (NAP) was acquired in December 2019 by South Africa-based Impala for CAD$1 billion and its Lac des Iles Mine had an underground measured & indicated resource of 72.982 million tonnes grading 2.14 g/t palladium and 0.213 g/t platinum for palladium+platinum grades of 2.353 g/t. NAP's Lac des Iles palladium+platinum grades were only 16.49% higher than AIR's Thunder Bay palladium+platinum grades and Thunder Bay is an open pit project vs. Lac des Iles being an underground mine. Generally speaking, open pit mines have much lower operating costs.
After AIR goes public, the company will launch a 13 hole drilling campaign at its Escape Lake project surrounding the 5 previous drill holes of Rio Tinto that discovered an extremely high grade palladium+platinum deposit averaging 5.10 g/t of palladium+platinum over an average width of 40.786m. On average, Rio Tinto's 5 drill holes intercepted 208 grammeters of palladium+platinum at this high grade deposit, which already appears to be 350m long but remains open in all directions. As a rule of thumb, grammeters of 25 or higher are considered to be economical and grammeters of 100 or higher are considered to be spectacular.
AIR's Escape Lake project appears to contain one of the most spectacular palladium+platinum deposits ever discovered in the world! See the previous and upcoming drill holes in the graphic above!
After NAP sold in December 2019 for CAD$1 billion, the CEO of Benton Resources (TSXV: BEX) approached Jim Gallagher the former CEO of NAP about investing into AIR's private placement. Gallagher was so extremely impressed by what he saw... he immediately agreed to invest but only if he was made Executive Chairman of the new company!
Not only has Jim Gallagher already been made the Executive Chairman of AIR but Abraham Drost has been appointed as AIR's new CEO! Drost is the former President of Sabina Gold and Silver Corporation (SBB:TSX) a $344 million market cap company. He was also Chairman of Premier Gold Mines USA and the CEO of Premier Royalties when Premier Royalties got acquired by Sandstorm Gold (TSX: SLL). He was also the CEO of Carlisle Goldfields when it got acquired by Alamos Gold (TSX: AGI). He was also the CEO of Mega Precious Metals when it got acquired by Yamana Gold (AUY).
Past performance is not an indicator of future returns. NIA is not an investment advisor and does not provide investment advice. Always do your own research and make your own investment decisions. This message is not a solicitation or recommendation to buy, sell, or hold securities. NIA's President has purchased 1.05 million shares of BEX in the open market. He intends to buy additional BEX shares prior to Clean Air Metals going public. Sometime after Clean Air Metals goes public he intends to sell his BEX shares for a profit. This message is meant for informational and educational purposes only and does not provide investment advice.