Silver is up $0.805 or 2.85% to $29.04 per oz this morning and could be getting ready to surpass its August 7th high of $29.915 per oz and breakout above $30 per oz!
This past Friday at 3PMEDT, we alerted you to Defiance Silver (TSXV: DEF)'s strong technicals at $0.42 per share. After breaking out big during the final hour of trading on Friday to close at $0.45 per share, DEF rallied as much as 20% yesterday to reach a new 4-year high at 1:25PMEDT in the afternoon of $0.54 per share for a gain of 45.95% from our August 14th suggestion at $0.37 per share. Afterwards, DEF made a healthy dip and finished the day up 8.89% to $0.49 per share!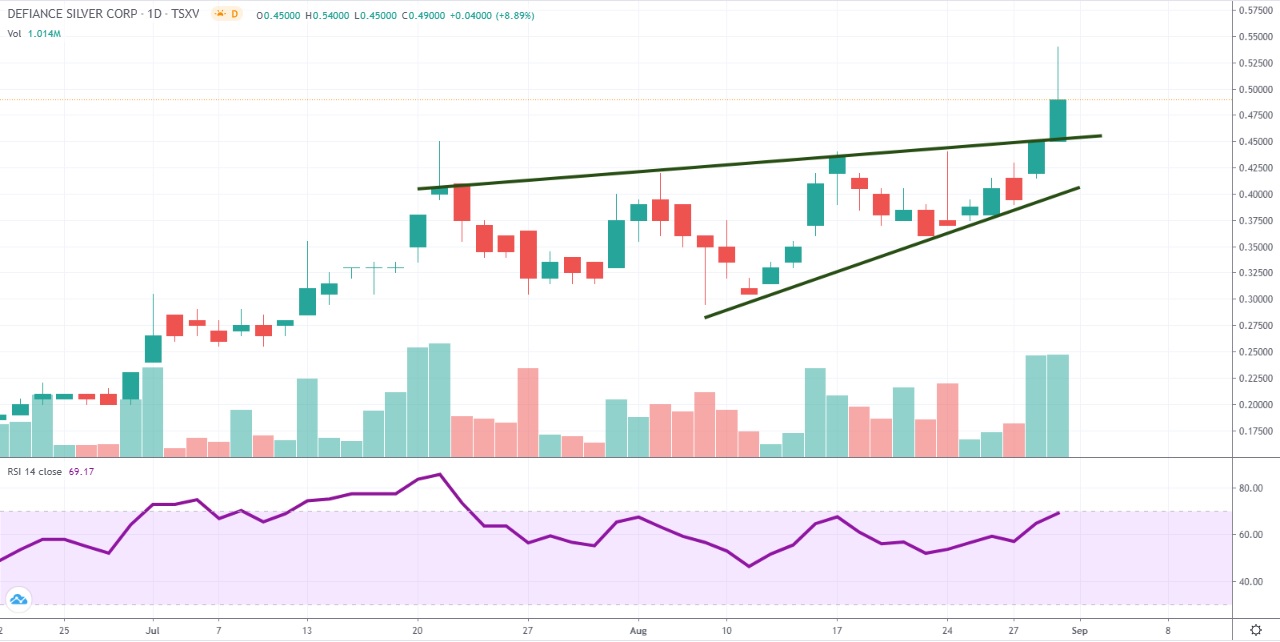 Back on August 10, 2016, DEF reached a high of $0.63 per share. Silver at the time reached new 3-year highs of slightly north of $20 per oz but came no where close to reaching $29.04 per oz. Because of the many healthy dips that DEF has made in recent weeks its 14-day relative strength index (RSI) is only 69.17. Back on July 21st when DEF hit a short-term peak of $0.45 per share and closed at $0.405 per share its RSI reached 85.79.
This message has not been seen, reviewed, or approved by DEF. Past performance is not an indicator of future returns. NIA is not an investment advisor and does not provide investment advice. Always do your own research and make your own investment decisions. This message is not a solicitation or recommendation to buy, sell, or hold securities. NIA has received compensation from DEF of USD$40,000 cash for a six-month marketing contract. NIA intends to invest into DEF's private placement. This message is meant for informational and educational purposes only and does not provide investment advice.