Significance of Today's Augusta Gold (TSX: G) News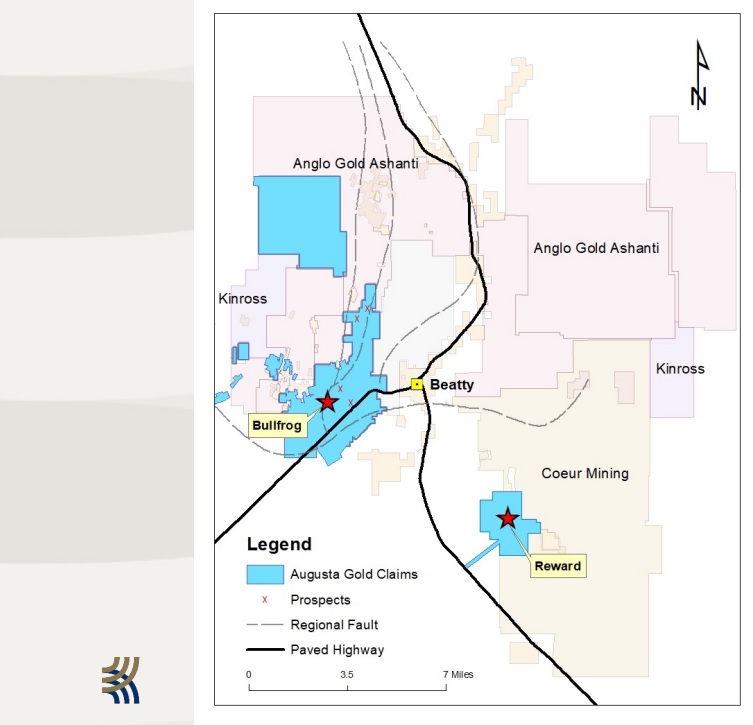 Augusta Gold (TSX: G)'s Reward Gold Project that the company has a definitive agreement to acquire previously had only a "historical" gold resource. Today's news confirms what will be a current 43-101 compliant gold resource for Reward based on G's Reward 43-101 technical report set to be filed within 45 days. G confirmed this morning that its closing of the acquisition of Reward is now imminent! After the deal closes, we expect G to raise a MASSIVE amount of funding in the following weeks and to also announce its Reward development plans, with construction of the mine likely to begin within months! This will be followed by G launching construction at its larger Bullfrog Gold Project next year! G will have the first two producing mines in the Tier 1 Beatty, NV district since Barrick Gold (GOLD) last operated G's Bullfrog Mine throughout the 1990s when it produced 2.3 million oz of gold!
G's Executive Chairman Richard Warke is in a league of his own as far as net worth derived from the sale of multiple mining companies over the past decade that had him in the driver's seat as Executive Chairman! Frank Giustra is the only person who we have had equally HUGE success with (Fiore Gold, Lithium-X, Hive Blockchain, etc).
In some ways Richard Warke's creation of Augusta Gold (TSX: G) reminds us of Frank Giustra's creation of Fiore Gold (single letter symbols, low-cost heap leaching projects in Nevada, and named after their own personal firms). As you know, Frank Giustra's Fiore Gold became one of NIA's largest gaining mining stock suggestions of all-time. Richard Warke's Arizona Mining is one of only a select few NIA mining stock suggestions to produce even larger gains than Fiore Gold. BOTH got acquired at HUGE premiums!
Richard Warke created a mining company once before named after his firm called Augusta Resource Corp and it also got acquired at a HUGE premium! There is no way that Richard Warke would create another mining company named after his firm and not make it an equally HUGE or even BIGGER success!
Past performance is not an indicator of future returns. NIA is not an investment advisor and does not provide investment advice. Always do your own research and make your own investment decisions. This message is not a solicitation or recommendation to buy, sell, or hold securities. NIA's President has purchased 169,200 shares of G in the open market and intends to buy more shares. This message is meant for informational and educational purposes only and does not provide investment advice.