RHT Disrupting Remote Healthcare like VYGR did to Robinhood!
When NIA suggested Voyager Digital (CSE: VYGR) on June 10th at $0.60 per share as its #1 favorite Robinhood play, NIA predicted that VYGR would disrupt the U.S. Crypto trading industry because Voyager provides commission-free trading in 55 Crypto assets vs. Robinhood providing commission-free trading in only 7 Crypto assets. In addition, Voyager allows investors to earn interest on 22 Crypto assets vs. Robinhood not allowing investors to earn interest on any Crypto assets. NIA was always 1,000% confident that VYGR would become a billion dollar company because we recognized that Voyager had a far superior management team than Robinhood with VYGR's CEO Steve Ehrlich previously founding Lightspeed Financial in 2006 and as CEO of Lightspeed he rapidly grew it to become the third-largest brokerage in the United States where by 2009 it was executing 450,000 trades per day!
Robinhood is being run by amateurs including its CEO Vladimir Tenev who was unable to handle a softball interview on CNBC where Andrew Lee Sorkin refused to follow-up on Tenev's obvious lie about Robinhood not having liquidity problems after having maxed out its credit lines. Within 24 hours of his CNBC interview, Robinhood contradicted itself by raising $3.4 billion in emergency capital!
In comparison, VYGR's CEO Steve Ehrlich was a guest on FOX Business with Maria Bartiromo on Monday evening and if you watch the interview by clicking here you will see for yourself why he is the #1 most experienced and transparent CEO in all of Crypto! VYGR has been opening 100 new accounts per minute in recent days! VYGR gained another 7.05% on Tuesday to finish at a record closing high of $11.24 per share on huge volume of 1.056 million shares! VYGR hit a new all-time high on Tuesday of $11.75 per share for a gain of 1,858.33% from NIA's suggestion price!
The technology space that NIA is even more bullish on than Crypto is remote healthcare!
On Tuesday morning at 11:38AMEST, NIA officially announced Reliq Health Technologies (TSXV: RHT) as its #1 favorite remote healthcare play! RHT is disrupting the remote healthcare technology space much like VYGR has done to Robinhood in the Crypto space!
Following NIA's announcement of RHT on Tuesday morning at $0.44 per share, RHT rallied by 25% to close at $0.55 per share on huge volume of 7.64 million shares!
RHT closed above its key breakout point of $0.54 per share!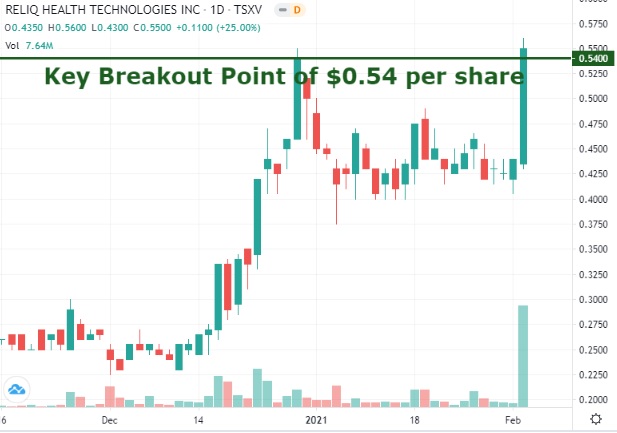 RHT's iUGO Care is a powerful digital platform for care coordination that helps patients and providers stay connected in virtually any setting. RHT's disruptive technology provides real-time access to a patient's health history, demographic information, and real-time biometric data. Care teams can monitor a patient's health status remotely and provide early-stage interventions to prevent costly hospital readmissions and ER visits. RHT allows patients to receive high-quality healthcare at home, improving health outcomes and enhancing quality of life! RHT's iUGO Care integrates with its iUGO Home devices and over 97% of all Bluetooth, WiFi, and SIM card-enabled durable medical equipment!
RHT's Remote Patient Monitoring (RPM) technology allows healthcare providers to access their patients' biometric data in real-time. Using bluetooth, wifi or cellular monitoring devices, RHT's platform automatically uploads the health data collected at home and transmits it to the care team. The care team receives automated alerts if a patient's results are outside of specified norms!
RHT's Chronic Care Management (CCM) technology gives care team members a 360-degree view of a patient. Clinicians can easily track, review, and report on a patient's clinical comorbidities, medications, social circumstances, and functional requirements!
RHT's Behavioral Health Integration (BHI) technology helps primary care providers proactively manage care for their patients with mental, behavioral health, or psychiatric conditions, including addiction. The primary care team can develop behavioral health-specific care plans, monitor patients' progress, and facilitate and coordinate behavioral health treatment!
RHT's Transitional Care Management (TCM) technology allows providers to proactively manage care for patients immediately after discharge from a hospital or other facility, as they transition to a community setting. Providers can use it for care coordination, interactive communication, and medical decision-making!
RHT's Wound Care technology helps healthcare providers accurately measure the wound healing process, reduce the risk of infection, modify treatment protocols, and improve wound healing outcomes!
RHT's Telemedicine technology enables virtual face-to-face consultations between patients and their healthcare providers. Using voice and video technology, telemedicine appointments save time and resources for both patients and providers!
RHT has an extremely experienced management team with the best possible CEO! RHT's CEO Dr. Lisa Crossley was previously the CEO of three major healthcare technology companies: VitalHub Corp., Quantum Dental Technologies, and Natrix Separations!
This message has not been seen, reviewed, or approved by VYGR or RHT. Past performance is not an indicator of future returns. NIA is not an investment advisor and does not provide investment advice. Always do your own research and make your own investment decisions. This message is not a solicitation or recommendation to buy, sell, or hold securities. NIA has received compensation from VYGR of USD$60,000 cash for a one-year marketing contract. NIA has received compensation from RHT of USD$40,000 cash for a six-month marketing contract. This message is meant for informational and educational purposes only and does not provide investment advice.