Research GLAD, You Will Be Glad You Did!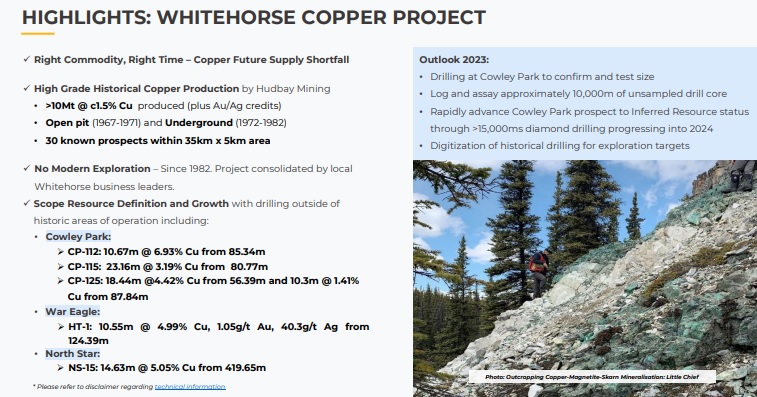 Gladiator Metals (TSXV: GLAD) is about to begin drilling at their high-grade Whitehorse Copper Project and you don't want to miss out on the chance to research this incredible opportunity at the ground-floor. A new modern-day gold rush is taking place in the Yukon with Snowline Gold (CSE: SGD) making some of the largest new discoveries of gold in recent years, but the real opportunity lies in GLAD and its high-grade copper deposits. Copper is a crucial metal for modern technology, used in everything from smartphones to electric vehicles. And with a huge supply deficit of copper expected in the upcoming years, researching GLAD is a no-brainer.
The best part? GLAD is currently trading at an absurdly low market cap in comparison to SGD. Plus, GLAD just raised $3.1M in cash this week for its drilling programs, and already has 10,000m of untested drill core ready to begin sending to the lab. But that's just the beginning - GLAD expects to drill 15,000m over the next year to determine a maiden high-grade copper resource in early 2024. With its high-grade copper deposits, strategic location in the Yukon, and strong management team, GLAD is poised for incredible growth and success.
So don't wait - research GLAD today and you will be glad you did as this incredible opportunity takes off. By researching GLAD, you'll not only be supporting a promising new venture, but also be backing an experienced management team with a proven track record of success. Matthew Roma is the CFO and Corporate Secretary of both Snowline and Gladiator. With his expertise in finance and management, he's a key player in both companies' success.
So what are you waiting for? Research GLAD today and seize the opportunity to profit from the modern-day gold and copper rush in the Yukon!
Past performance is not an indicator of future returns. NIA is not an investment advisor and does not provide investment advice. Always do your own research and make your own investment decisions. This message is not a solicitation or recommendation to buy, sell, or hold securities. NIA has received compensation from GLAD of US$100,000 cash for a twelve-month marketing contract. This message is meant for informational and educational purposes only and does not provide investment advice.