Quinton Hennigh is the #1 Most Brilliant Geologist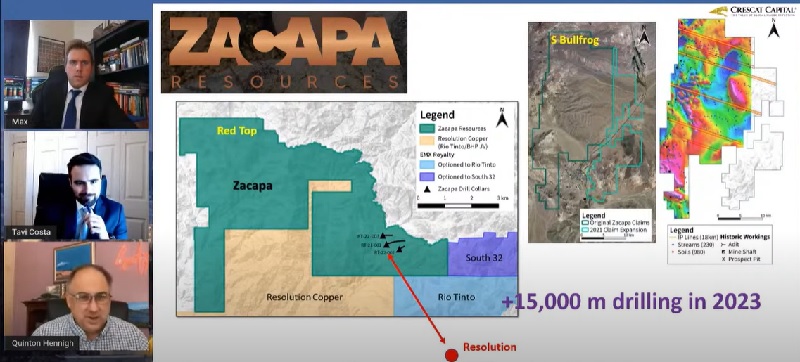 Most of you have probably never heard of Quinton Hennigh before, but he is the #1 most brilliant geologist in the world. He is almost always proven right about every single thing that he says!
Quinton Hennigh believes that Zacapa Resources (TSXV: ZACA)'s Red Top Project in Arizona has potential to contain a copper deposit similar to Rio Tinto's Resolution. If you are not familiar with Rio Tinto's Resolution in Arizona... Resolution is the #1 largest copper deposit in the United States. According to Quinton Hennigh, ZACA's Red Top Project is the closest porphyry target to Resolution!
We believe ZACA's South Bullfrog Project will become its most valuable property because it is directly adjacent to Augusta Gold (TSX: G)'s past producing Bullfrog Project. ZACA's South Bullfrog contains two target areas that are on trend with G's 1.2 million oz Bullfrog gold deposit! In our opinion, G is likely to become a billion-dollar market cap company in the upcoming months!
Quinton Hennigh together with Tavi Costa run Crescat Capital and they are two of the smartest people in the mining industry. They invested into ZACA last month at $0.45 per share and they believe ZACA is worth significantly more than $0.45 per share!
ZACA has a key breakout point of $0.34 per share, which is its 50-day moving average! After ZACA breaks through $0.34 per share it won't have any resistance until its 100-day moving average of $0.50 per share!
Past performance is not an indicator of future returns. NIA is not an investment advisor and does not provide investment advice. Always do your own research and make your own investment decisions. This message is not a solicitation or recommendation to buy, sell, or hold securities. NIA's President has purchased 174,200 shares of G in the open market and intends to buy more shares. NIA has received compensation from ZACA of US$100,000 cash for a one-year marketing contract. This message is meant for informational and educational purposes only and does not provide investment advice.