OPK Hits $4.04 Up 94.23% from NIA's Suggestion Price!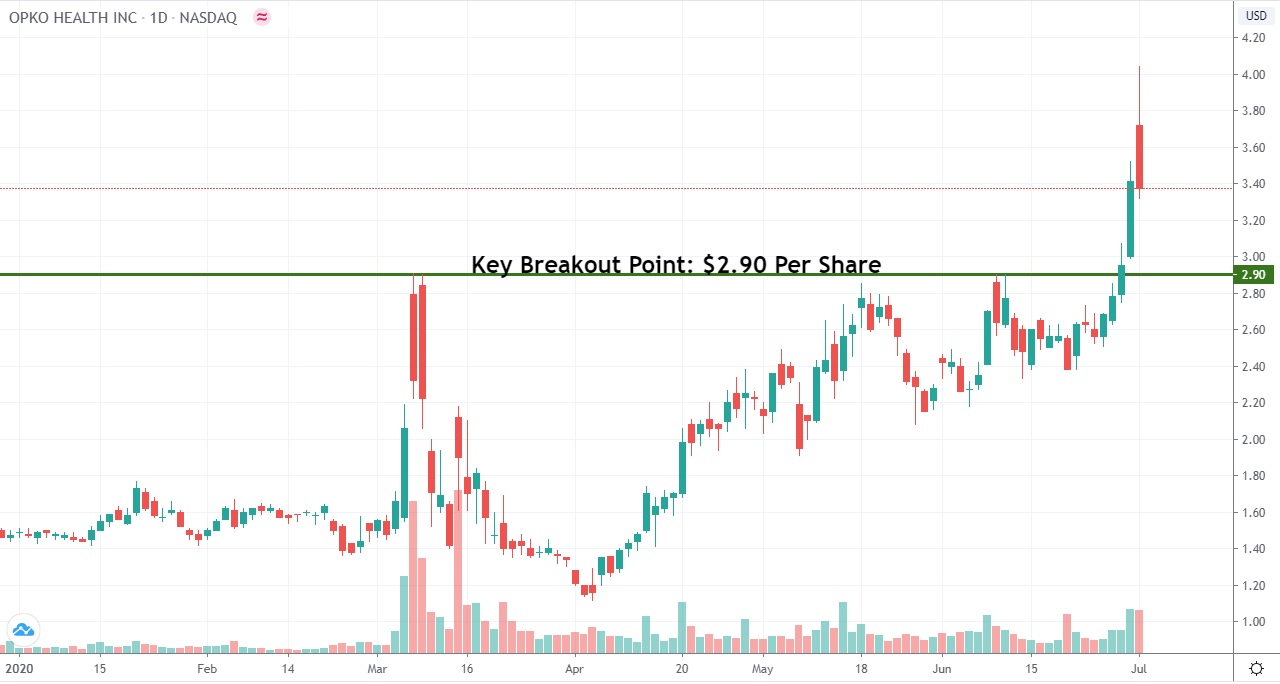 On April 23rd, NIA officially announced OPKO Health (OPK) at $2.08 per share as its #1 favorite COVID-19 testing stock suggestion. NIA predicted in its OPK announcement alert that, "it will rise to $3 per share in the upcoming weeks."
OPK finished last week at a new 52-week closing high of $2.78 per share and NIA said on Sunday evening, "Look for OPK to finally break $3 per share this week." NIA's prediction came true on Monday morning with OPK successfully surpassing its key breakout point of $2.90 per share and hitting a new 52-week high of $3.07 per share for a nine-week gain of 47.6%!
NIA sent out an alert on Monday afternoon saying, "NIA now believes that OPK is likely to rise much higher". NIA explained that, "we haven't yet seen a short squeeze... OPK's short position has grown from 98 million shares when we first suggested it to 117 million shares as of June 15th!"
After finishing Monday up by $0.17 or 6.12% to a closing price of $2.95 per share, OPK gained another $0.46 or 15.59% yesterday to close at $3.41 per share! Yesterday's gains triggered a massive short squeeze at this morning's open... exactly like we predicted! During the first four minutes of today's trading day, OPK exploded by $0.63 or 18.48% to reach a new 21-month high of $4.04 per share!
At this morning's high, OPK had gained by 94.23% from NIA's April 23rd suggestion price of $2.08 per share!
Past performance is not an indicator of future returns. NIA is not an investment advisor and does not provide investment advice. Always do your own research and make your own investment decisions. This message is not a solicitation or recommendation to buy, sell, or hold securities. This message is meant for informational and educational purposes only and does not provide investment advice.