NPR Ready to Make Bullish Breakout from Triangle Pattern
North Peak Resources (TSXV: NPR) has the most bullish chart setup imaginable and is getting ready to make a bullish breakout from a triangle pattern: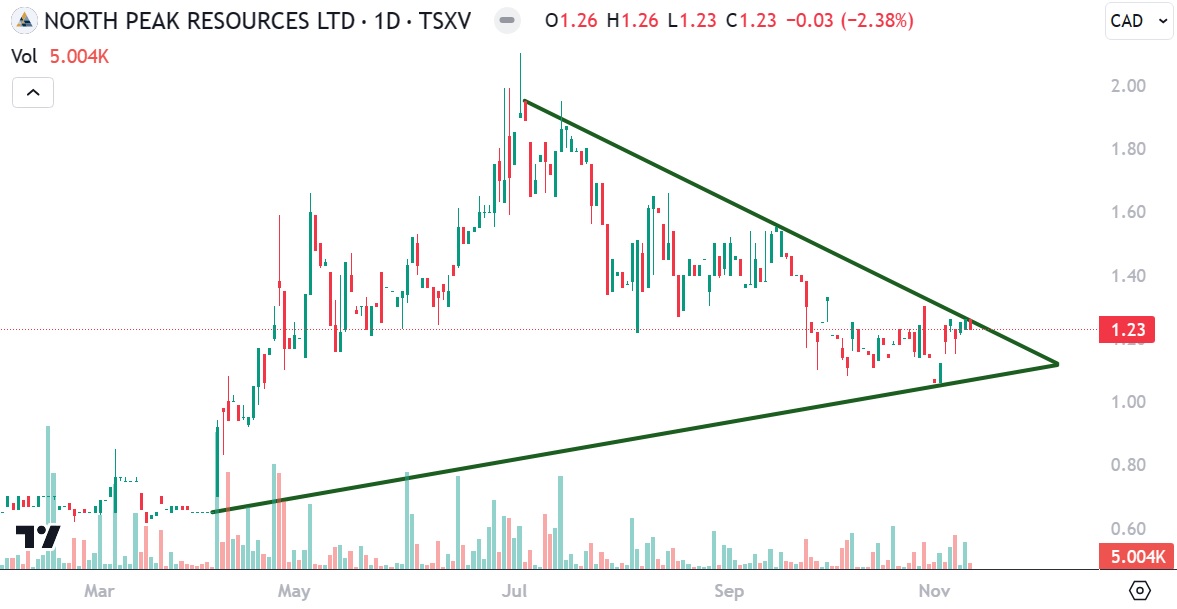 NPR is one of the most tightly held gold stocks because every shareholder knows that Brian Hinchcliffe is about to turn NPR into his next Kirkland Lake Gold, which was the most successful gold company of this century with the highest gold grades. All indications are that NPR's Diamond Mine at the Prospect Mountain Mine Complex has potential to contain higher gold grades than Kirkland Lake Gold's Macassa Mine now owned by Agnico Eagle Mines (AEM) after their $13.5 billion buyout of Kirkland Lake Gold!
Everybody thought that the Macassa Mine had run out of gold, which allowed Brian Hinchcliffe to purchase Macassa in 2001 for $5 million. Within months he discovered Macassa's South Mine Complex, which was higher grade than the original near surface deposit and allowed Macassa to become North America's #1 highest grade producing gold mine! Macassa continues to operate today and remains one of the world's highest grade gold mines!
By Christmas, nobody will care about Hercules Silver (TSXV: BIG) anymore. Everybody will be talking about NPR!
Past performance is not an indicator of future returns. NIA is not an investment advisor and does not provide investment advice. Always do your own research and make your own investment decisions. This message is not a solicitation or recommendation to buy, sell, or hold securities. NIA's President has purchased 60,000 shares of NPR in the open market and intends to buy more shares. This message is meant for informational and educational purposes only and does not provide investment advice.