NPR Likely to Reach New Highs Next Week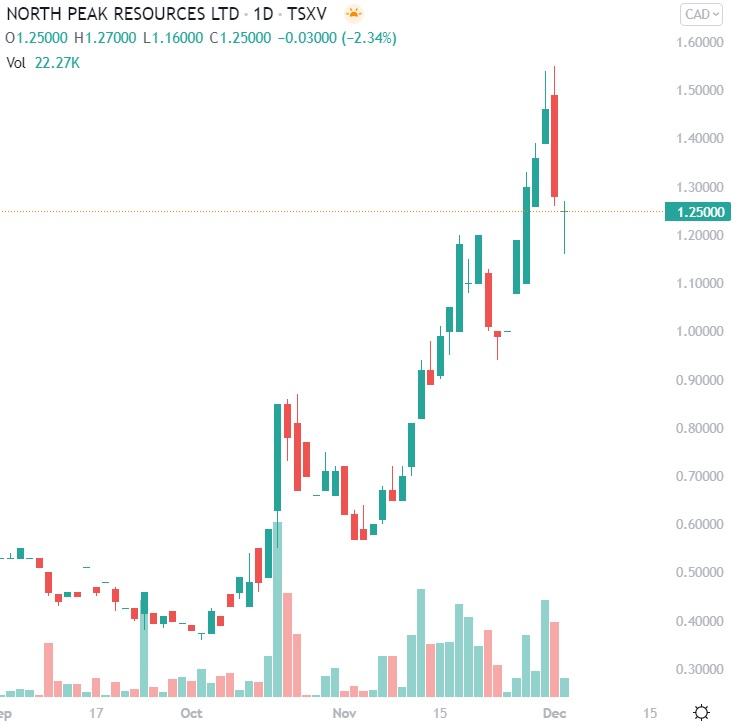 North Peak Resources (TSXV: NPR) dipped to a low yesterday of $1.16 per share then bounced strongly to close at $1.25 per share.
NPR's market cap here at $1.25 per share is an insanely low CAD$25 million or USD$19.6 million!
Unlike ARHT Media (TSXV: ART), NPR has no warrants outstanding!
We expect NPR to begin drilling at the Black Horse Gold Project in January/February and for initial assay results to be ready in March, which we are extremely confident will show wide intercepts of near-surface high-grade gold. March is also when we expect the Fed to begin hiking the Federal Funds Rate, which will ignite gold's largest short-term rally in history.
NPR will almost definitely finish 2021 somewhere in the $2-$3 per share range. No matter how high NPR rises between now and year-end, NIA's President doesn't intend to sell a single NPR share this month knowing what's set to occur early next year!
Past performance is not an indicator of future returns. NIA is not an investment advisor and does not provide investment advice. Always do your own research and make your own investment decisions. This message is not a solicitation or recommendation to buy, sell, or hold securities. NIA's President has purchased 200,000 shares of NPR in the open market. This message is meant for informational and educational purposes only and does not provide investment advice.