NPR Gains by 13.82% to $1.40 and Surpasses Key Breakout Point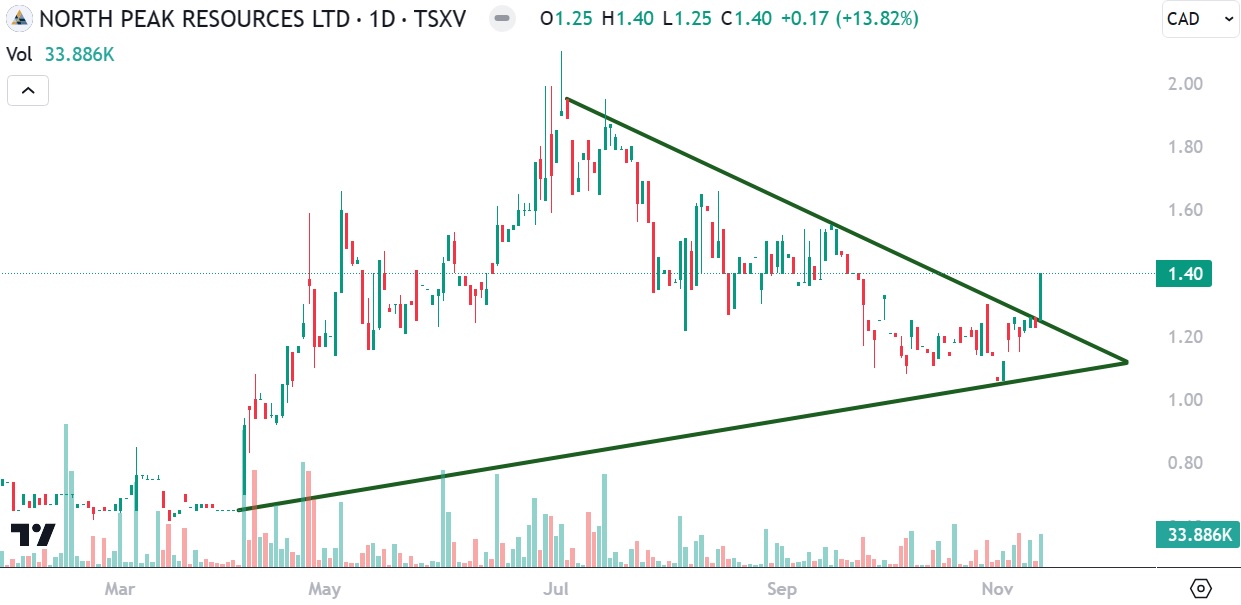 North Peak Resources (TSXV: NPR) gained by 13.82% today to $1.40 per share and surpassed its most important key breakout point by achieving a bullish breakout from its triangle pattern!
Two companies, NPR and i-80 Gold (TSX: IAU), together own the entire Eureka CRD District. IAU gained by 6.78% today to a market cap of $564 million!
One of the world's largest gold miners is interested in purchasing a stake in IAU's Ruby Hill Mine Complex to help bring it into production! IAU's Ruby Hill Mine Complex is directly adjacent to NPR's newly acquired Prospect Mountain Mine Complex! Historically, IAU's Ruby Hill accounted for 2/3 of Eureka CRD District gold production and NPR's Prospect Mountain accounted for 1/3 of Eureka CRD District gold production!
In 2001, Homestake Mining the first mining company to IPO on the NYSE back in 1879 prior to it becoming the world's #1 largest gold mining company and the #1 best performing NYSE stock during the Great Depression, became interested in acquiring NPR's newly acquired Prospect Mountain Mine Complex! Homestake signed an earn-in agreement and agreed to fund all exploration expenditures at the Prospect Mountain Mine Complex to earn a stake in Prospect Mountain.
Unbelievably, after 122 years as a publicly traded NYSE company, as soon as Homestake signed the earn in agreement for Prospect Mountain, Barrick acquired Homestake a few weeks later and immediately shut down the Ruby Hill Mine. Homestake only had time to drill two holes in a totally unexplored section of Prospect Mountain located east of the Jackson Fault, which was the opposite side of the high-grade Diamond Mine that averaged 22 g/t gold production! Despite drilling totally blind drill holes without any IP or MT surveys, Homestake made strong intercepts of gold, but was never able to follow up on their discovery!
NPR will follow up on Homestake's discovery east of the Jackson Fault sometime in the future, but as you can imagine based on NPR's MT anomaly and IP-chargeability anomaly directly below the Diamond Mine, NPR has much bigger targets to go after first that could fundamentally turn NPR into a $200-$300 million market cap company overnight when drilling results begin to get released!
Past performance is not an indicator of future returns. NIA is not an investment advisor and does not provide investment advice. Always do your own research and make your own investment decisions. This message is not a solicitation or recommendation to buy, sell, or hold securities. NIA's President has purchased 60,000 shares of NPR in the open market and intends to buy more shares. This message is meant for informational and educational purposes only and does not provide investment advice.