NPR Gained Another 6.25% on Friday to $1.19!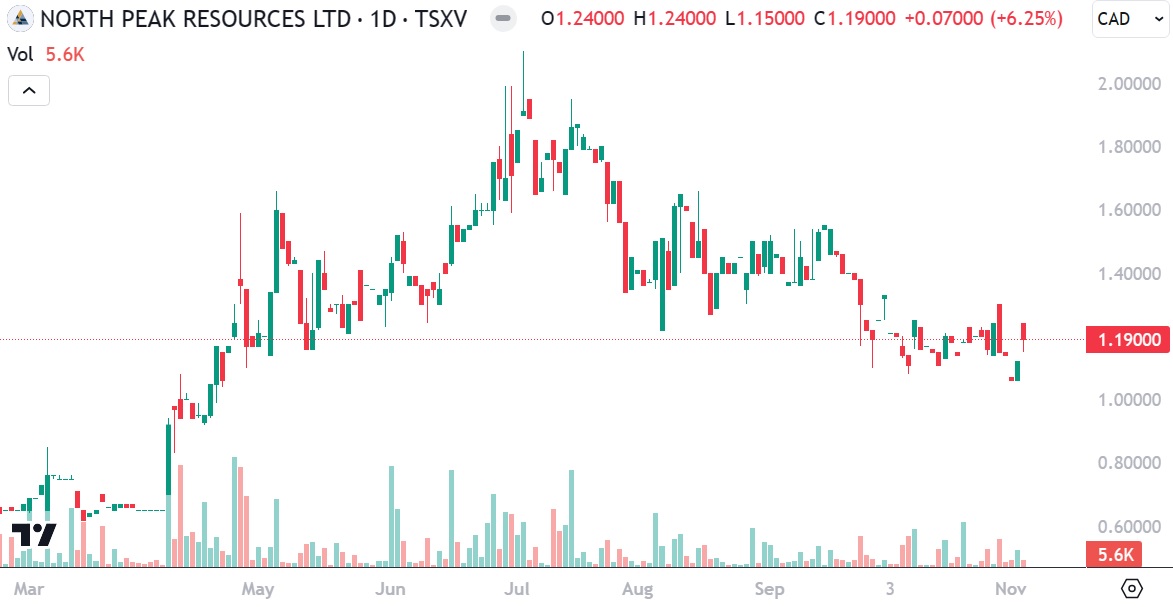 North Peak Resources (TSXV: NPR) gained another 6.25% on Friday to $1.19 per share!
Gold is the greenest of all assets because the energy used to mine and produce gold gets stored in that gold forever as value. If there is an EMP attack and the grid goes down, it has no effect on the gold. It requires no additional energy to retain its value.
Gold's main advantage over silver is that it stores a massive amount of value in a tight space allowing for it to be stored and transferred at low cost. Imagine if Senator Menendez was forced to take his bribes in silver how much more difficult it would have been to take the silver through the airport from Egypt and hide in his home.
Bitcoin must continuously be mined using more energy. If there is an EMP attack and the grid goes down or if people simply choose to stop mining Bitcoin because the block rewards get cut in half after the next halving event and it isn't profitable to do so... Bitcoin will cease to exist, and its value will be permanently destroyed.
In a bubble economy with artificially low interest rates and the money supply growing at record rates... creating excess liquidity... it's understandable why people may speculate on Bitcoin, Crypto, and technology stocks. With higher rates and the money supply declining, it becomes impossible for big tech stocks like Apple (AAPL) to grow. In the years ahead, as wages spiral upward, AAPL will become much less profitable. AAPL won't be able to afford large share buybacks that keep its share price artificially inflated. Without any growth or the ability to buy back stock to support its share price at artificially high levels, it will be impossible for AAPL to continue to trade at an enterprise value of more than 7X revenue.
Similar to how people underestimated the effect that the Fed's buying of U.S. Treasuries had on keeping bond yields artificially low, and they are learning now that without the Fed buying bonds there is no limit as to how high bond yields can rise... people are underestimating the effect that share buybacks are having on keeping AAPL's share price propped up. When AAPL is forced to stop buying back its own stock, it will shock people when they see what happens to AAPL's share price when its largest buyer of shares (itself) goes away. It is no different than FTX using customer funds to buy their own FTT token. As soon as FTX was no longer able to continue buying FTT, it immediately lost 95% of its value.
The large buying in gold mining stocks on Friday occurred immediately after the unemployment rate ticked higher to 3.9% for the highest unemployment rate in 21 months.
If you believe the economy is strong and this is a peak in the unemployment rate, then don't buy any gold stocks.
If you believe the economy is already in a severe recession and the numbers are wrong, but even the fake numbers are going to start rapidly deteriorating in the months ahead... then the time to buy gold stocks is right now and we believe Augusta Gold (TSX: G) and North Peak Resources (TSXV: NPR) are about to become the two largest percentage gainers.
Past performance is not an indicator of future returns. NIA is not an investment advisor and does not provide investment advice. Always do your own research and make your own investment decisions. This message is not a solicitation or recommendation to buy, sell, or hold securities. NIA's President has purchased 224,200 shares of G in the open market and intends to buy more shares. NIA's President has purchased 60,000 shares of NPR in the open market and intends to buy more shares. This message is meant for informational and educational purposes only and does not provide investment advice.