NOB Gains by 10.34% on 11.72X Average Volume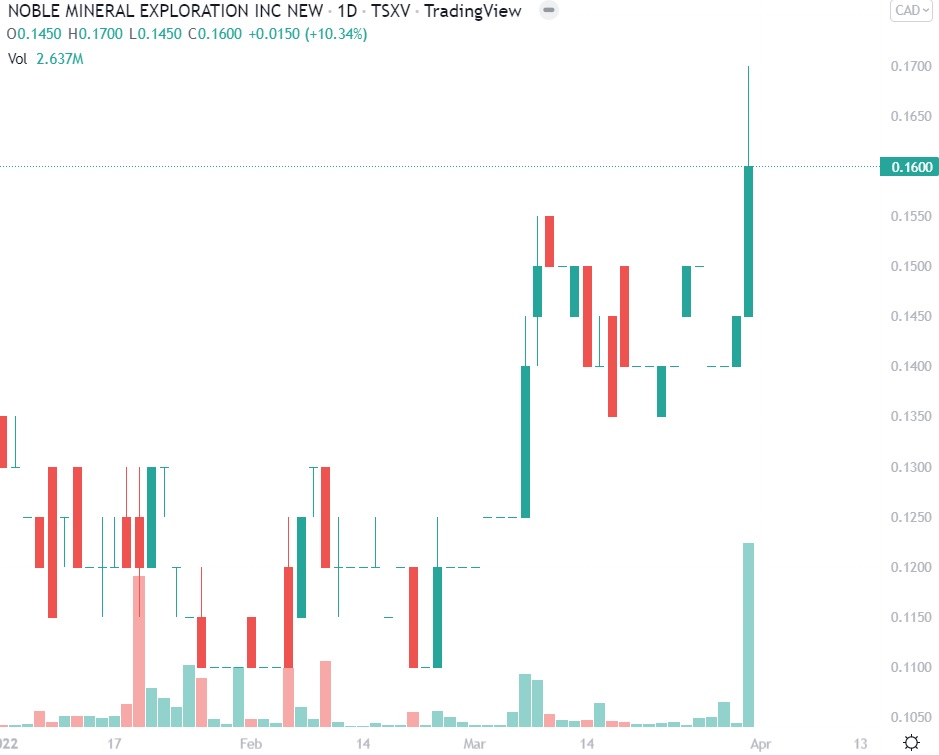 Noble Mineral Exploration Inc. (TSXV: NOB) gained by 10.34% today to $0.16 per share on volume of 2,637,456 shares or 11.72X above average.
On April 25, 2022, NOB will distribute 3,500,000 shares of Canada Nickel Company Inc. (TSXV: CNC) to NOB shareholders on a pro-rata basis.
CNC gained by 4.05% today to finish at its high of day of $3.08 per share on volume of 517,259 shares or 1.69X above average.
After NOB's Special Dividend of 3,500,000 CNC shares, NOB will continue to own 2,413,000 CNC shares. This does not include the 750,000 additional CNC shares that NOB will soon receive for two new agreements that NOB signed with CNC on February 24, 2022.
NOB's market cap at $0.16 per share is $32.89 million. NOB's 3,500,000 CNC shares to be distributed to NOB shareholders next month are currently worth $10.78 million. On a percentage basis, NOB will be distributing a 32.78% Special Dividend in the form of CNC shares.
Based on CNC's Preliminary Economic Assessment, their Crawford Nickel Sulphide Project in Ontario is expected to be among the Top 5 nickel sulphide operations globally with average annual nickel production of 42,000 tonnes. CNC is currently raising $45 million in a Bought Deal where the underwriters have agreed to pay a premium of above CNC's current share price.
Past performance is not an indicator of future returns. NIA is not an investment advisor and does not provide investment advice. Always do your own research and make your own investment decisions. This message is not a solicitation or recommendation to buy, sell, or hold securities. NIA has received compensation from NOB of USD$100,000 cash for a twelve-month marketing contract. This message is meant for informational and educational purposes only and does not provide investment advice.