NNO the Only Remaining EV Battery Technology Pure Play!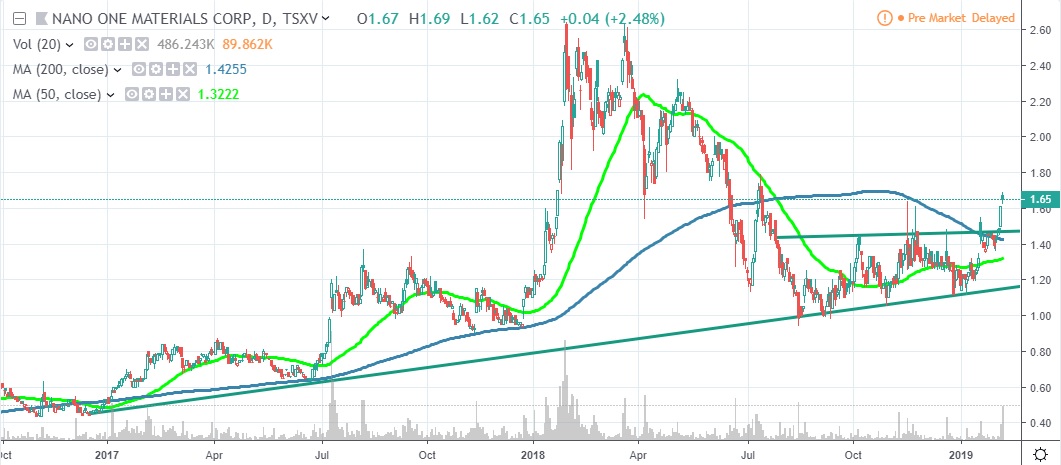 Nano One Materials (TSXV: NNO) gained by $0.04 yesterday to close at $1.65 per share on HUGE volume of 486,200 shares or more than 6X higher than NNO's average daily volume! Over the last two trading days, NNO has gained by $0.17 or 11.5% on total volume of 715,600 shares! The last time NNO surpassed its 50-day and 200-day moving averages along with all major resistance levels on strong volume, NNO made a run all the way up to $2.64 per share.
New all-time highs for NNO of above $2.64 per share could be possible for later on this month, in NIA's opinion! After Tesla (TSLA)'s acquisition this week of Maxwell Technologies (MXWL) for $218 million, with TSLA paying a 55% premium for the company, NNO is the only remaining publicly traded pure play in the battery technology space that is improving the performance while reducing the costs of lithium-ion batteries for electric vehicles (EVs).
There are many different publicly traded lithium and cobalt exploration/mining companies, but NNO is the only standalone public company with the intellectual property and know-how to build better EV batteries using lower grade raw materials and the most efficient production process with 75% fewer steps. NNO is insanely undervalued at its current market cap of only USD$82.4 million. With TSLA paying USD$218 million for MXWL, we believe NNO deserves to be worth at least $218 million, which would value NNO at $4.37 per share.
Past performance is not an indicator of future returns. NIA is not an investment advisor and does not provide investment advice. Always do your own research and make your own investment decisions. This message is not a solicitation or recommendation to buy, sell, or hold securities. NIA has received compensation from NNO of $20,000 cash for a one-month marketing contract. Never make investment decisions based on anything NIA says. This message is meant for informational and educational purposes only and does not provide investment advice.