NIA's Top 5 Stock Suggestions: Part 1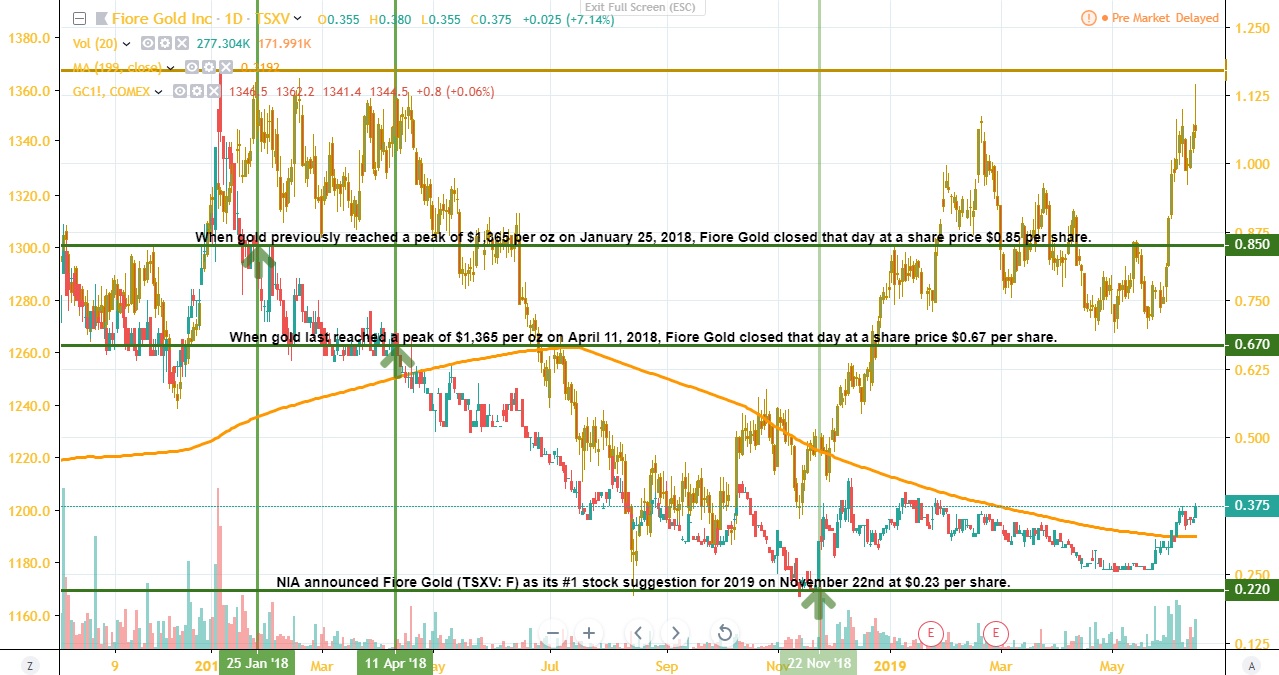 NIA is excited to announce its Top 5 Favorite Stock Suggestions in today's current market, beginning with its Top 2!
NIA's #1 ranked stock suggestion:
Fiore Gold (TSX Venture: F)
Current Price: $0.375 per share
U.S. Symbol: FIOGF
Shares Outstanding: 97.72 million
Market Cap: CAD$36.645 million
Cash: CAD$11.08 million
Debt: None
Enterprise Value: CAD$25.565 million
NIA Confidence Rating: 100
NIA's #1 stock suggestion for 2019, Fiore Gold (TSXV: F), finished last week very strongly closing Friday up by $0.025 or 7.14% to $0.375 per share on volume that was 61.23% above average! Sometime during the final week of June, NIA expects Fiore Gold to officially announce the launch of its long awaited primary crushing circuit at its 100% owned Pan Gold Mine in Nevada. Once the circuit is in operation, Fiore expects to see higher gold production through increased gold recoveries as well as improved mining efficiency as it mines to stockpiles rather than having to blend rock and clay ore directly on the leach pad!
Without its new primary crushing circuit, Fiore's gold production last quarter (fiscal 2Q 2019 ending March 31, 2019) had already reached a new record high of 10,759 oz up 10.18% sequentially from fiscal 1Q 2019 gold production of 9,765 oz and up 23.74% on a year-over year basis from fiscal 2Q 2018 gold production of 8,695 oz! Fiore's fiscal 4Q 2019 begins on July 1st and with its new primary crushing circuit expected to be in operation for the entire quarter, Fiore will almost definitely see a major explosion in gold production to another new record high!
Based on Fiore's fiscal 2019 first half gold production of 20,524 oz, the company was already on track to achieve record annual gold production in fiscal 2019 of 41,048 oz for growth of 19.68% above fiscal 2018 full year gold production of 34,297 oz. Moving forward, we believe Fiore Gold will have the ability to produce approximately 12,500 oz of gold per quarter and could reach fiscal 2020 full year gold production of 50,000 oz!
If NIA is right as usual and Fiore Gold's new primary crushing circuit allows them to produce 50,000 oz of gold in fiscal 2020, imagine if gold's average 2020 price is USD$1,500 per oz... Fiore Gold's fiscal 2020 revenue would reach CAD$100 million!
If gold breaks $1,365 per oz this week, look for Fiore Gold to become this week's #1 largest percentage gainer on the TSX Venture exchange. When gold last reached its $1,365 per oz resistance level on April 11, 2018, Fiore Gold was trading for $0.67 per share, where it was trading with an enterprise value of CAD$57.926 million, which was equal to 1X its latest quarterly revenue of CAD$14.54 million (from fiscal 2Q 2018) on an annualized basis. With Fiore Gold's 2Q 2019 revenue having grown by 28.13% to CAD$18.63 million, if we annualize it to CAD$74.52 million and add Fiore's CAD$11.08 million in cash, look for Fiore Gold's market cap to explode to CAD$85.6 million valuing the stock at $0.88 per share within a few trading days of gold surpassing $1,365 per oz!
NIA's #2 ranked stock suggestion:
Lifeway Foods (LWAY)
Current Price: $2.52 per share
Shares Outstanding: 15.79 million
Market Cap: USD$39.79 million
Cash: USD$2.52 million
Debt: USD$5.78 million
Enterprise Value: USD$43.05 million
NIA Confidence Rating: 95
One of the reasons NIA is so extremely confident that Lifeway Foods (LWAY) will explode back to $6.85 per share in the short-term to trade once again at its trailing three year median enterprise value/revenue ratio of 1.112 is the fact that LWAY's shares are very tightly held. Insiders (directors and management) own a combined 8,117,746 shares or 51.3% of LWAY's shares outstanding.
LWAY's largest independent shareholder is Danone SA (BN.PA) the world's largest yogurt company! Danone owns 3,454,756 LWAY shares for a 21.8% stake in the company! Nearly twenty years ago on October 1, 1999, LWAY was a small company with only 47 employees and annual revenue (in fiscal year 1999) of $7.908 million, with operating cash flow of $1 million and free cash flow of $200,000. LWAY was trading for $1.875 per share and Danone agreed to invest $4.978 million into LWAY to fund its growth. Danone agreed to pay a HUGE premium of 33.33%, paying $2.50 per share to purchase 1,991,068 newly issued shares. Over the following two months, Danone purchased an additional 1,463,688 shares also at $2.50 per share in private transactions with existing LWAY shareholders.
At year-end 1999, Danone owned 3,454,756 LWAY shares at a total cost of $8,636,890. LWAY finished 1999 with 17,273,780 shares outstanding giving Danone an exact 20% stake in the company. Danone's HUGE purchases implied a market cap for LWAY of $43,184,475, which was equal to 5.46X LWAY's revenue, 43X LWAY's operating cash flow, and 215X LWAY's free cash flow! Today, LWAY is trading with an enterprise value of only 0.44X revenue! It won't last for long... we are hearing that following the recent HUGE success of Beyond Meat (BYND) and with Tyson Foods just announcing their own pea protein chicken nuggets, major retailers are eager to get LWAY's Plantiful on their shelves ASAP! LWAY has invested big into its manufacturing capacity in recent years in anticipation of HUGE demand for Plantiful. LWAY has the ability to increase its revenue 5-fold to $500 million without making any significant CAPEX investments!
Despite LWAY rising over the following 15 years (after Danone's investment) to a March 30, 2015 all-time high of $22.38 per share valuing Danone's stake at $77.317 million for a profit of $68.68 million ($69.2 million including dividends) Danone NEVER sold a single share!
Over the last two decades, LWAY has spent $14,186,000 on share buybacks, which has increased Danone's stake in LWAY from 20% in 1999 up to 21.8% today! Danone SA (BN.PA) has performed well in recent years and is now trading with an enterprise value of €59.92 BILLION or 2.43X its trailing twelve month revenues of €24.65 BILLION! This same multiple would value LWAY today at $237.84 million or $15.06 per share!
Past performance is not an indicator of future returns. NIA is not an investment advisor and does not provide investment advice. Always do your own research and make your own investment decisions. This message is not a solicitation or recommendation to buy, sell, or hold securities. NIA has purchased 10,000 shares of LWAY and intends to sell for a profit in the future. Never make investment decisions based on anything NIA says. This message is meant for informational and educational purposes only and does not provide investment advice.