NIA's Top 5 Overall Picks Report: Part 1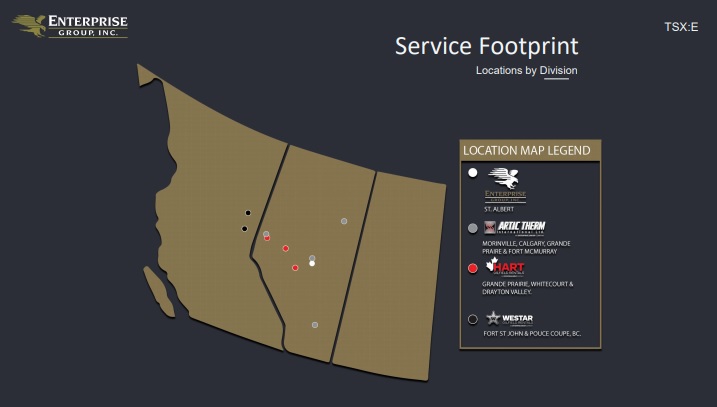 NIA is pleased to release Part 1 of its Top 5 Overall Picks Report featuring NIA's brand new #1 ranked overall stock suggestion!
NIA's #1 ranked favorite overall stock suggestion:
Enterprise Group Inc (TSX: E)
Currently $0.16 per share
Shares Outstanding: 49.91 million
Market Cap: CAD$7.99 million
Cash: CAD$1 million
Debt: CAD$10.21 million
Enterprise Value: CAD$17.2 million 
Enterprise Group has been sitting for many months at a rock bottom share price of $0.16 per share on very low volume. Insiders have been slowly accumulating. The company just renewed its buyback program. After repurchasing 2,561,500 shares over the last 12 months at an average price of $0.16 per share, Enterprise may repurchase up to 3,393,599 shares over the next 12 months.
Enterprise Group provides specialized equipment and services in the build out of infrastructure for the energy, pipeline, and infrastructure construction industries. The innovation and expertise of their operating companies have distinguished them as "best in class" to their blue chip client base. We expect Enterprise to capitalize big on LNG Canada, one of the largest energy investments in Canadian history.
Enterprise owns three major subsidiaries: Artic Therm International a company that provides advanced and patented flameless heaters that produce outputs up to 3.3 million BTUs. Hart Oilfield Rentals a full service oilfield site infrastructure company that provides both site services and custom equipment rentals to energy producers boasting 14 patented designs. Westar Oilfield Rentals a site infrastructure business that fulfills multiple equipment needs for a variety of top tier oil and gas customers.
Enterprise Group has a current book value of $0.775 per share. Their gross margins for the trailing twelve months have reached 27.11% its highest gross margins in over 5 years. Enterprise generated positive free cash flow last quarter of CAD$2.425 million its highest quarterly free cash flow in 5 years. We believe Enterprise Group has 5-10 bagger potential.
Past performance is not an indicator of future returns. NIA is not an investment advisor and does not provide investment advice. Always do your own research and make your own investment decisions. This message is not a solicitation or recommendation to buy, sell, or hold securities. This message is meant for informational and educational purposes only and does not provide investment advice.