NIA's Top 5 Overall Picks Report: Part 1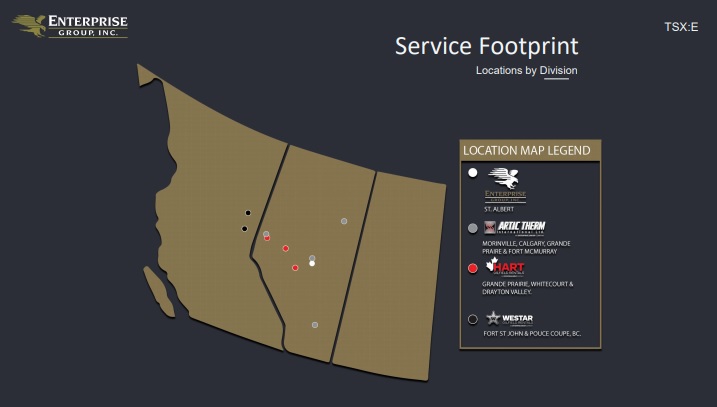 NIA is pleased to release Part 1 of its brand new Top 5 Overall Picks Report, featuring NIA's top 2 ranked overall stock suggestions for between now and year-end:
NIA's #1 ranked favorite overall stock suggestion:
Enterprise Group Inc (TSX: E)
Currently $0.16 per share
Shares Outstanding: 49.91 million
Market Cap: CAD$7.99 million
Cash: CAD$1 million
Debt: CAD$10.21 million
Enterprise Value: CAD$17.2 million 
Enterprise Group has been sitting for many months at a rock bottom share price of $0.16 per share on very low volume. Insiders have been slowly accumulating. The company just renewed its buyback program. After repurchasing 2,561,500 shares over the last 12 months at an average price of $0.16 per share, Enterprise may repurchase up to 3,393,599 shares over the next 12 months.
Enterprise Group provides specialized equipment and services in the build out of infrastructure for the energy, pipeline, and infrastructure construction industries. The innovation and expertise of their operating companies have distinguished them as "best in class" to their blue chip client base. We expect Enterprise to capitalize big on LNG Canada, one of the largest energy investments in Canadian history.
Enterprise owns three major subsidiaries: Artic Therm International a company that provides advanced and patented flameless heaters that produce outputs up to 3.3 million BTUs. Hart Oilfield Rentals a full service oilfield site infrastructure company that provides both site services and custom equipment rentals to energy producers boasting 14 patented designs. Westar Oilfield Rentals a site infrastructure business that fulfills multiple equipment needs for a variety of top tier oil and gas customers.
Enterprise Group has a current book value of $0.775 per share. Their gross margins for the trailing twelve months have reached 27.11% its highest gross margins in over 5 years. Enterprise generated positive free cash flow last quarter of CAD$2.425 million its highest quarterly free cash flow in 5 years. We believe Enterprise Group has 5-10 bagger potential.
NIA's #2 ranked favorite overall stock suggestion:
Silver Viper Minerals (TSXV: VIPR)
Currently $0.66 per share
Shares Outstanding: 70.04 million
Market Cap: CAD$46.23 million
Cash: CAD$5.072 million
Debt: None
Enterprise Value: CAD$41.16 million 
We consider VIPR's La Virginia to be one of Mexico's highest quality gold/silver exploration projects and although it doesn't have a 43-101 resource, the company expects to define its maiden resource in the near-future with the company targeting year-end 2020 for its release using 52,635m of drill core from 188 diamond drill holes generated by the efforts of previous operators between 2010 and 2013 - in addition to VIPR's Phase 1 drilling program totaling 4,753m in 20 drill holes and its currently ongoing Phase 2 program where the company has already drilled over 6,955m in 24 holes all in new areas not drilled by previous operators.
La Virginia is a massive project that originally totaled 37,700 hectares, although VIPR has filed reductions of the large concessions to better focus efforts on the high priority trends. Prior to VIPR, the most recent previous operator of La Virginia was Pan American Silver Corp (PAAS) a $7.3 billion market cap company.
VIPR discovered the El Rubi Discovery Zone in 2018 when drill hole LV18-201 made an intercept of 3.16 g/t gold and 228 g/t silver over 13.3m (true width 6m) only 27m below surface. Earlier this year, VIPR achieved an extremely high-grade intercept at drill hole LV20-218 of 22.63 g/t gold and 1,431 g/t silver over 3m (true width 1.89m). Mineralization at El Rubi has now been intercepted over 500 metres along trend.
VIPR's latest drill hole LV20-245 discovered an entirely new major lode/zone at El Rubi, located 100m west of VIPR's other El Rubi intercepts - when it intercepted 110.5m (true width 55.2m) of 0.76 g/t gold and 38 g/t silver only 75m below surface.
VIPR's management owns 23% of the company!
This message has not been seen, reviewed, or approved by VIPR. Past performance is not an indicator of future returns. NIA is not an investment advisor and does not provide investment advice. Always do your own research and make your own investment decisions. This message is not a solicitation or recommendation to buy, sell, or hold securities. NIA has received compensation from VIPR of USD$30,000 cash for a six-month marketing contract. This message is meant for informational and educational purposes only and does not provide investment advice.