NIA's ITKO Closed at New 52-Week Closing High!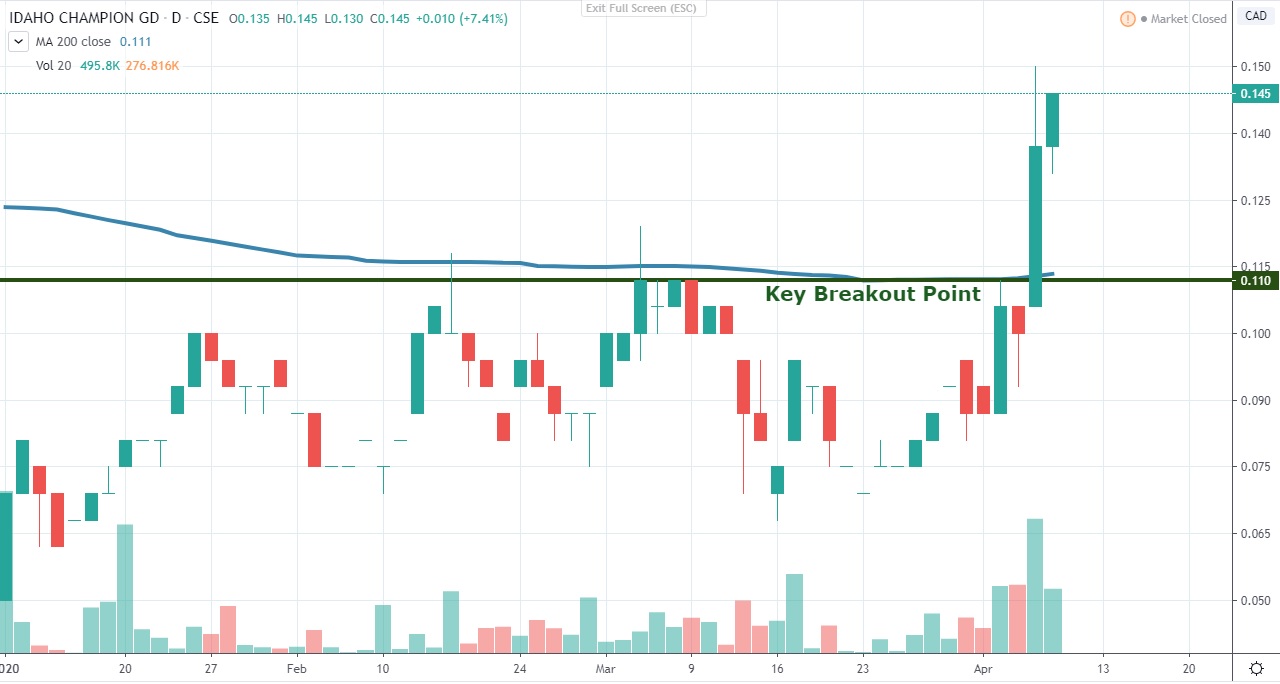 NIA's #1 favorite gold stock suggestion Idaho Champion Gold (CSE: ITKO) closed today at a new 52-week closing high of $0.145 per share! Currently, ITKO has the #1 most bullish chart out of all gold stocks that we follow!
This past Thursday afternoon at 3:15PMEST with ITKO trading for $0.085 per share, NIA sent out an alert saying, "If you are looking for a pure gold play, focus your attention on Idaho Champion Gold (CSE: ITKO)."
ITKO initially rallied by 29.41% to hit an intraday high on Thursday afternoon of $0.11 per share before closing up 23.53% to $0.105 per share on volume of 517,867 shares. After finishing last week at $0.10 per share, NIA sent out an alert Monday morning saying, "ITKO has a long-term key breakout point of $0.11 per share that it could be getting ready to break as soon as today! Not only has $0.11 per share been ITKO's resistance level in 2020, but it has also now become ITKO's 200-day moving average making it especially important!"
As soon as ITKO surpassed its key breakout point and 200-day moving average of $0.11 per share on Monday it exploded to reach a new 52-week high of $0.15 per share before finishing the day up by 35% to $0.135 per share on very strong volume of 1,037,933 shares. Today, ITKO gained another 7.4% to finish at its high of day of $0.145 per share on volume of 495,800 shares. ITKO closed today at a new 52-week closing high!
ITKO only has 63,837,206 shares outstanding for a current market cap at $0.145 per share of CAD$9.256 million or USD$6.61 million. Idaho is now the 8th ranked mining jurisdiction in the world and ITKO is the only publicly traded Idaho-based gold explorer with Idaho in its name. We challenge you to find another gold explorer with a market cap of less than CAD$10 million that intercepted gold in 18 of 19 drill holes in its maiden drill campaign of a project in a Top 10 ranked mining jurisdiction that was never before drilled by any company!
ITKO's Baner project is only 5 miles north of Endomines AB's Friday Gold Mine, which has just entered production! Endomines trades in Sweden and has a current enterprise value of SEK931.9 million or USD$92.82 million. Endomines is focused on mining and developing the 40-kilometer-long Orogrande Mining District in Idaho and in addition to owning the Friday Gold Mine it also owns the Buffalo Gulch and Deadwood projects located north of ITKO's Baner.
Endomines proudly states on its web site that it owns 3 of the 4 largest projects in the district and plans to bring both Buffalo Gulch and Deadwood into production within 2-5 years! See for yourself by clicking here!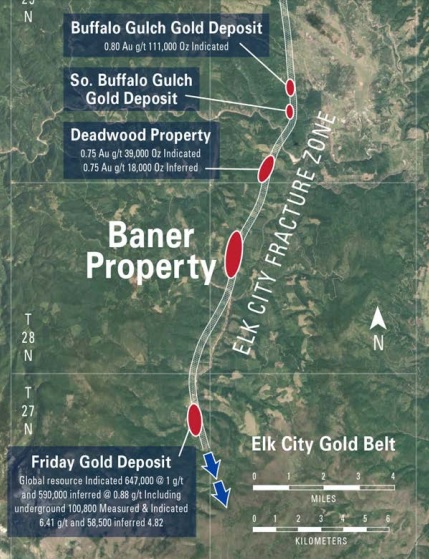 Past performance is not an indicator of future returns. NIA is not an investment advisor and does not provide investment advice. Always do your own research and make your own investment decisions. This message is not a solicitation or recommendation to buy, sell, or hold securities. NIA has received compensation from ITKO of USD$30,000 cash for a six-month marketing contract. This message is meant for informational and educational purposes only and does not provide investment advice.