NIA's EV Battery Recycling Play Hits New All-Time High!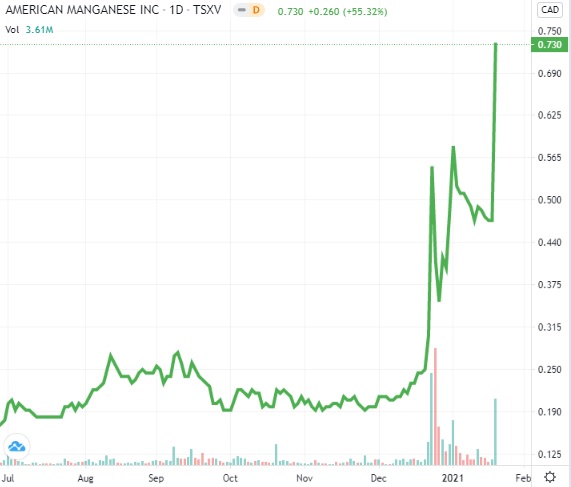 NIA accurately predicted the current boom in EV stocks back on November 25, 2019 when it announced American Manganese (TSXV: AMY) as its #1 technology stock suggestion for 2020 at $0.22 per share. NIA explained at the time that Tesla (TSLA)'s rapid rise in share price would expand to all other innovative/disruptive EV technology companies. NIA pointed out how AMY's EV battery recycling technology was already being actively tested by two of the only four Tier 1 EV battery producers, making NIA 1,000% confident that AMY would become a HUGE winner for its members!
Today was AMY's biggest up day in history with AMY gaining by $0.26 or 55.32% to finish at a record high closing price of $0.73 per share! AMY hit a new all-time high today of $0.74 per share for a gain of 236.36% since NIA's initial November 25, 2019 suggestion at $0.22 per share and a gain of 311.11% since NIA launched its most active period of AMY coverage on July 24, 2020 at $0.18 per share! From July 24th through September 9th, NIA sent out 12 AMY alerts in 47 days, as AMY rallied by 50% to close September 9th at $0.27 per share!
AMY's RecycLiCo Patented Process is a novel environmentally friendly closed loop system that achieves over 99% extraction of lithium, nickel, cobalt, and manganese! It is likely to become the industry standard for recycling spent EV batteries because AMY's competitors use high heat smelting with harmful emissions.
AMY's current market cap of US$111.656 million is still low. Most investors remain unaware of AMY because it doesn't have "battery" in its name.
Most investors who are interested in EV battery recycling technology are being fooled by a fake company called American Battery Metals Corporation (ABML), which has no legitimate technology of its own yet a market cap of US$902.868 million! All ABML has done is purchase land in Nevada, secure water rights, and hire an architect to design an EV Battery recycling plant that will most likely never be built or IF built would use high heat smelting with harmful emissions. ABML has also hired a few former Tesla employees for the purpose of fueling rumors of a Tesla deal that will 100% never happen! You cannot find any information whatsoever about ABML's battery recycling extraction/recovery/purity rates because the company hasn't developed any technology and is a fraud!
Past performance is not an indicator of future returns. NIA is not an investment advisor and does not provide investment advice. NIA previously received compensation from AMY of USD$30,000 cash for a marketing contract which has since expired. This message is not a solicitation or recommendation to buy, sell, or hold securities. This message is meant for informational and educational purposes only and does not provide investment advice.