NIA's EH Hits $77 Up 146% in 5 Days!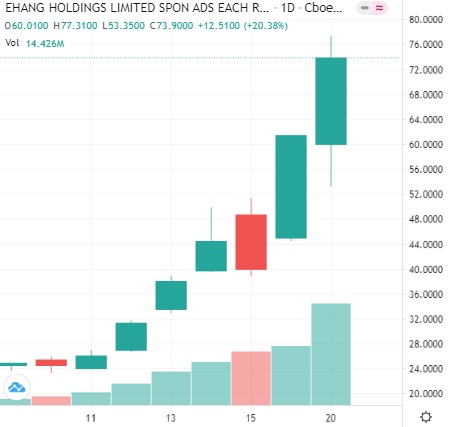 Exactly one week ago on January 13th at 5AMEST, NIA sent out one of its most important alerts in history entitled, 'The Next Mega Bubble Stock'. NIA began this alert by saying, "The next mega bubble stock will be Ehang Holdings (EH) because they make autonomous drones that can fly people. Look for EH to become a $50-$100 stock in the near-future." EH was $31.40 per share at the time of NIA's alert.
EH today gained another 20.38% to finish at a new all-time closing high of $73.90 per share! EH hit a new all-time high today of $77.31 per share for a gain of 146.21% in five trading days! EH traded record volume today of 14.43 million shares and its volume has increased for the last eight straight trading days!
NIA was the very first organization to discover what has quickly become the #1 hottest technology play on the entire NASDAQ!
Past performance is not an indicator of future returns. NIA is not an investment advisor and does not provide investment advice. This message is not a solicitation or recommendation to buy, sell, or hold securities. This message is meant for informational and educational purposes only and does not provide investment advice.