NIA's DM Up 50% Today - Ready to Explode in Upcoming Days!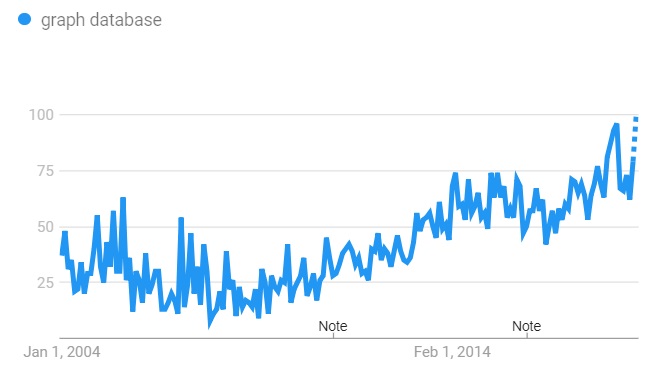 NIA's Datametrex (TSXV: DM) is beginning to breakout big and is currently up by 50% today to $0.075 per share on HUGE volume of 6.9 MILLION shares! This is just the beginning so don't miss out! We believe DM will explode after it surpasses its key breakout point of $0.10 per share!
In 2019, Graph Databases will become the #1 hottest technology space and DM is currently the only publicly traded graph database technology play! According to Google Trends, searches for "Graph Database" have exploded to a new all-time high for the month of November 2018!
Click here to read the November 1st TechCrunch article entitled, "Neo4j nabs $80M Series E as graph database tech flourishes". It is believed that Neo4j after this month's round is now worth approximately $2 BILLION!
It was just announced today that DM's 29.5% owned Graph Blockchain has closed on its reverse takeover transaction that will allow it to become the first ever publicly traded pure play in the graph database technology space! Click here to see for yourself! GBLC will begin to trade in the upcoming days and we believe it could rapidly rise to a market cap of over $100 million!
In addition, DM has just announced this afternoon that both itself and Graph Blockchain have had several discussions with a Multi-National Conglomerate to provide Blockchain and Systems Integration solutions for the safe and secure importation of Canadian Beef throughout its global organization! Already, DM announced a large contract last week with the Canadian government!
DM's most recent private placement occurred in January 2018 at a price of $0.35 per share so we see very little resistance until the stock is trading for many times its current price!
Past performance is not an indicator of future returns. NIA is not an investment advisor and does not provide investment advice. Always do your own research and make your own investment decisions. This message is not a solicitation or recommendation to buy, sell, or hold securities. NIA has received compensation from DM of $70,000 cash for a 3-month investor relations contract. Never make investment decisions based on anything NIA says. This message is meant for informational and educational purposes only and does not provide investment advice.