NIA's BHT Up 172.63% in 5 Days!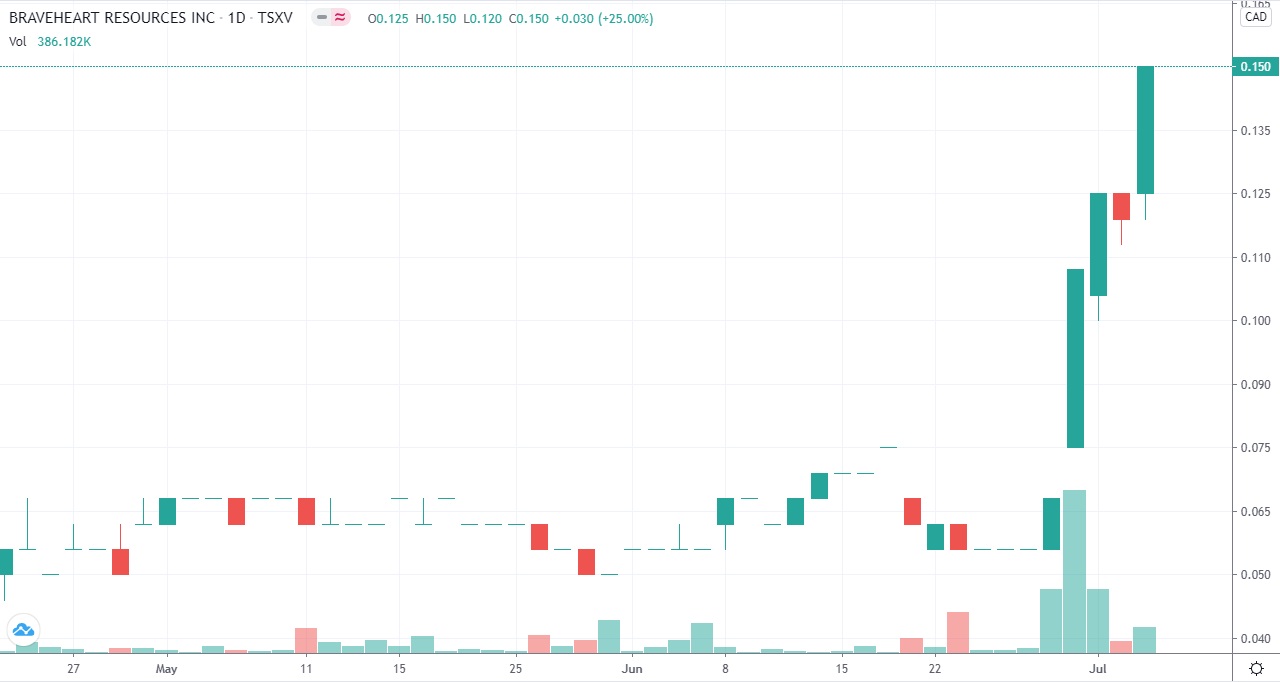 On June 29th at 3:42PMEDT, NIA announced Braveheart Resources (TSXV: BHT) at $0.055 per share as its latest brand new stock suggestion and gave it a perfect confidence rating of 100. NIA explained that BHT is the 100% owner of the Bull River Mine located in British Columbia, Canada, a fully developed past producing copper, gold, and silver project that already has major underground and surface infrastructure and a large NI 43-101 compliant indicated resource!
BHT has so far gained on 4 out of 5 trading days... closing today at $0.15 per share for a gain already of 172.63% from NIA's suggestion price! BHT has traded record volume over the last five days of 5,064,500 shares or 17.78X above average!
Copper settled today up by $0.028 to $2.7745 per lb! This evening, copper is up another  $0.011 to $2.7855 per lb!
BHT's enterprise value at $0.15 per share is still less than USD$20 million!
Do some research on what the cost would be today to drill BHT's 22,000 meters of tunnels across seven levels... providing for direct access to a significant portion of BHT's current NI 43-101 indicated resource of 1,511,000 tonnes grading 1.911% copper, 0.407 g/t gold, and 15.6 g/t silver! BHT has a preexisting 750 tpd mill plus a stockpile of 165,000 tonnes grading 1.70% copper equivalent ready to be processed! Initial CAPEX is estimated by the company to be an extremely low CAD$5 million! The property is connected to grid power and there is year-round access to the site by paved and all-weather roads.
Past performance is not an indicator of future returns. NIA is not an investment advisor and does not provide investment advice. Always do your own research and make your own investment decisions. This message is not a solicitation or recommendation to buy, sell, or hold securities. NIA has received compensation from BHT of USD$30,000 cash for a six-month marketing contract. This message is meant for informational and educational purposes only and does not provide investment advice.