NIA Predicted BlockFi Collapse on December 26th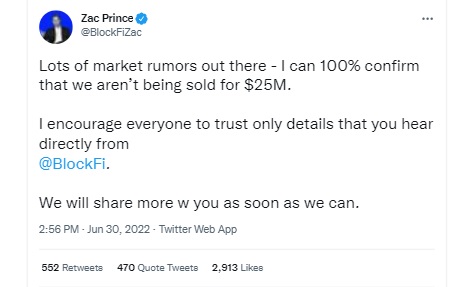 On December 26th, NIA sent out an alert entitled, 'Why Crypto Will Collapse'.
In this alert, NIA explained how BlockFi was able to offer 6% yield to investors. BlockFi was taking people's Bitcoin and transferring the Bitcoin to Grayscale Bitcoin Trust (GBTC), which was trading at a 40% premium above net asset value (NAV). BlockFi would receive restricted GBTC shares that they would purchase at NAV and sell six months later at market value to capture the premium that GBTC was trading at. In December 2020, BlockFi was promoting in a presentation to VC investors that they would generate $322.6 million in revenue from their then $1.07 billion cost basis investment into GBTC based on the assumption that GBTC premiums, "hold at December 2020 levels through July 2021".
The only problem is...
GBTC's premium plunged near the end of February 2021 and has traded at a significant discount below NAV for 16 straight months. At the time of NIA's December 26th alert, GBTC was trading at a 15.13% discount below NAV. Today, GBTC is trading at a 28.48% discount below NAV.
NIA explained how, "In March 2021, Blockfi received a $350 million bailout from VC investors at a reported valuation of $3 billion, but on May 14th BlockFi when attempting to make a payout to clients for a March trading promotion in the form of Tether (USDT), accidentally sent clients massive amounts of Bitcoin. One client who was owed 700 USDT, was accidentally sent 700 Bitcoin worth $35 million. BlockFi tried to reverse these transactions, but many clients withdrew the Bitcoin before the transactions could be reversed."
After BlockFi's March 2021 disaster of giving away Bitcoin instead of Tether, Reuters reported in May 2021 that BlockFi was in late-stage talks to raise an additional $500 million in VC funding at a $5 billion valuation. While Pitchbook falsely reported that the deal closed, NIA explained that BlockFi never received the funding.
NIA said in its December 26th alert, "We suspect that Blockfi leaked out fake news to the media about an imminent $500 million investment in an attempt to halt redemption requests that were accelerating after they gave away an unknown number of Bitcoin possibly worth hundreds of millions of dollars."
NIA warned in its December 26th alert, "Recently, BlockFi changed the structure of the yields they pay on Bitcoin to a way that resembles a ponzi scheme. Blockfi today will pay users a yield on Bitcoin of 4.5% but only on deposits of up to 0.10 BTC. If you deposit between 0.10 and 0.35 BTC the yield Blockfi offers drops to 1.0%. If you deposit more than 0.35 BTC the yield Blockfi offers drops to 0.1%. Clearly, Blockfi does not want any large institutional investors to deposit Crypto on their platform where they would be at risk of insolvency due to a small number of redemption requests. By accepting capital from as many different small retail investors as possible, Blockfi is able to spread out their risk of redemption requests. In recent weeks, Blockfi has made it more difficult for retail investors to withdraw Crypto. Three days ago, Twitter user @btcYooper complained in a tweet, 'I'm being required to do biometric verification to withdraw my #Bitcoin from @BlockFi . This is a wakeup call, I'll be removing the remainder of my funds from them to cold storage. This is way too creepy and intrusive for me.'"
This evening, BlockFi's CEO denied a CNBC report that he is close to selling the company to FTX for $25 million. He would be lucky to sell BlockFi to FTX for $25 million, because FTX would then be responsible for all of their liabilities!
BlockFi will most likely go bankrupt along with Celsius and Voyager Digital (TSX: VOYG). Crypto's collapse has a lot further to go!
Only gold is near a true bottom and ready to make its largest bull rally in history over the next 12 months with Augusta Gold (TSX: G) to make the largest gains in the industry!
Past performance is not an indicator of future returns. NIA is not an investment advisor and does not provide investment advice. Always do your own research and make your own investment decisions. This message is not a solicitation or recommendation to buy, sell, or hold securities. NIA's President has purchased 174,200 shares of G in the open market and intends to buy more shares. This message is meant for informational and educational purposes only and does not provide investment advice.