NIA Announces New Stock Suggestion: RVV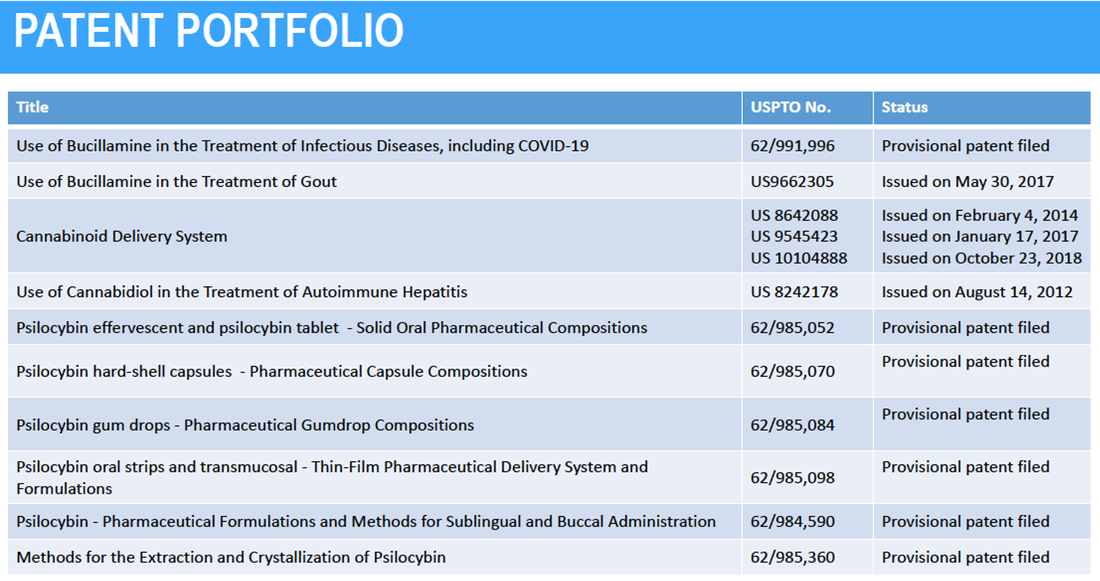 NIA is excited to announce its new #1 favorite psychedelic biotechnology stock suggestion: Revive Therapeutics (CSE: RVV) with a U.S. OTC symbol: RVVTF. In recent months, the COVID-19 pandemic has caused methamphetamine use disorder to spiral out of control across North America. Yesterday, AP News published an article entitled, 'US overdose deaths appear to rise amid coronavirus pandemic'. It discusses how new CDC data confirms that COVID-19 is exacerbating the U.S. overdose crisis - with methamphetamine and fentanyl causing most overdose deaths.
The need to find effective treatments for methamphetamine dependence has been identified as a priority by the United States National Institute on Drug Abuse (NIDA) and by European investigators. There are currently no drugs approved for helping treat methamphetamine addiction.
RVV owns valuable intellectual property related to psilocybin and other psychedelics including its patent-pending oral thin-film delivery system for psilocybin, which offers a unique delivery platform for therapeutic doses of psilocybin into the oral cavity. RVV has received its final set of prototypes and is preparing to scale manufacturing for future clinical studies involving psilocybin and other psychedelic-derived medicines.
RVV's orally dissolvable psilocybin thin-film will not only allow doctors to prescribe exact dosages of psilocybin ranging from 1mg up to 20mg, but it will make psilocybin much easier to consume without the need of water, chewing or swallowing – while allowing it to enter the bloodstream much faster. Psilocybin mushrooms are extremely difficult to chew and swallow and their effects usually don't kick in until up to one hour later. RVV has what we consider to be the industry's #1 solution to these issues! Click here to see a list of RVV's provisional patents filed!
RVV has entered into a Clinical Trial Agreement with the Board of Regents of the University of Wisconsin System to conduct a clinical study entitled "Phase I Study of the Safety and Feasibility of Psilocybin in Adults with Methamphetamine Use Disorder." The clinical study will be conducted at the University of Wisconsin‒Madison School of Medicine and Public Health and the UW–Madison School of Pharmacy, which holds a Wisconsin special authorization and DEA license to perform clinical research with psilocybin.
RVV has also signed a supply agreement with Havn Life Sciences to source naturally-derived psychedelic compounds, such as psilocybin, for use in future Investigational New Drug (IND) enabling studies and clinical trials under Food and Drug Administration (FDA) guidelines. Methamphetamine kills thousands of Americans each year and we believe RVV's psilocybin thin-film could have potential to one day become a major part of the industry standard for treating methamphetamine addiction!
RVV is also in the process of conducting Phase 3 clinical trials for a major COVID-19 treatment that we believe is giving RVV most of its current market cap. In our opinion, RVV is not yet being valued as a psychedelic play that is positioned to capitalize on the upcoming surge in interest in psilocybin that will occur as a result of the November 3rd ballot initiatives in Oregon and Washington DC.
You can visit the FDA's web site by going to: https://clinicaltrials.gov/ct2/show/NCT04504734 and it will tell you all about RVV's 'Bucillamine in Treatment of Patients With COVID-19'. This is a Randomized, Double-blind, placebo controlled trial with up to 1,000 patients. RVV at its current price of $0.245 per share with 236,790,599 shares outstanding has a market cap of only USD$44.22 million.
Past performance is not an indicator of future returns. NIA is not an investment advisor and does not provide investment advice. Always do your own research and make your own investment decisions. This message is not a solicitation or recommendation to buy, sell, or hold securities. NIA has been compensated by RVV USD$30,000 cash and expects to receive 200,000 restricted common shares of RVV stock for a six-month marketing contract. This message is meant for informational and educational purposes only and does not provide investment advice.