NIA Announces #1 Green Energy Stock Suggestion: Atco Mining (CSE: ATCM)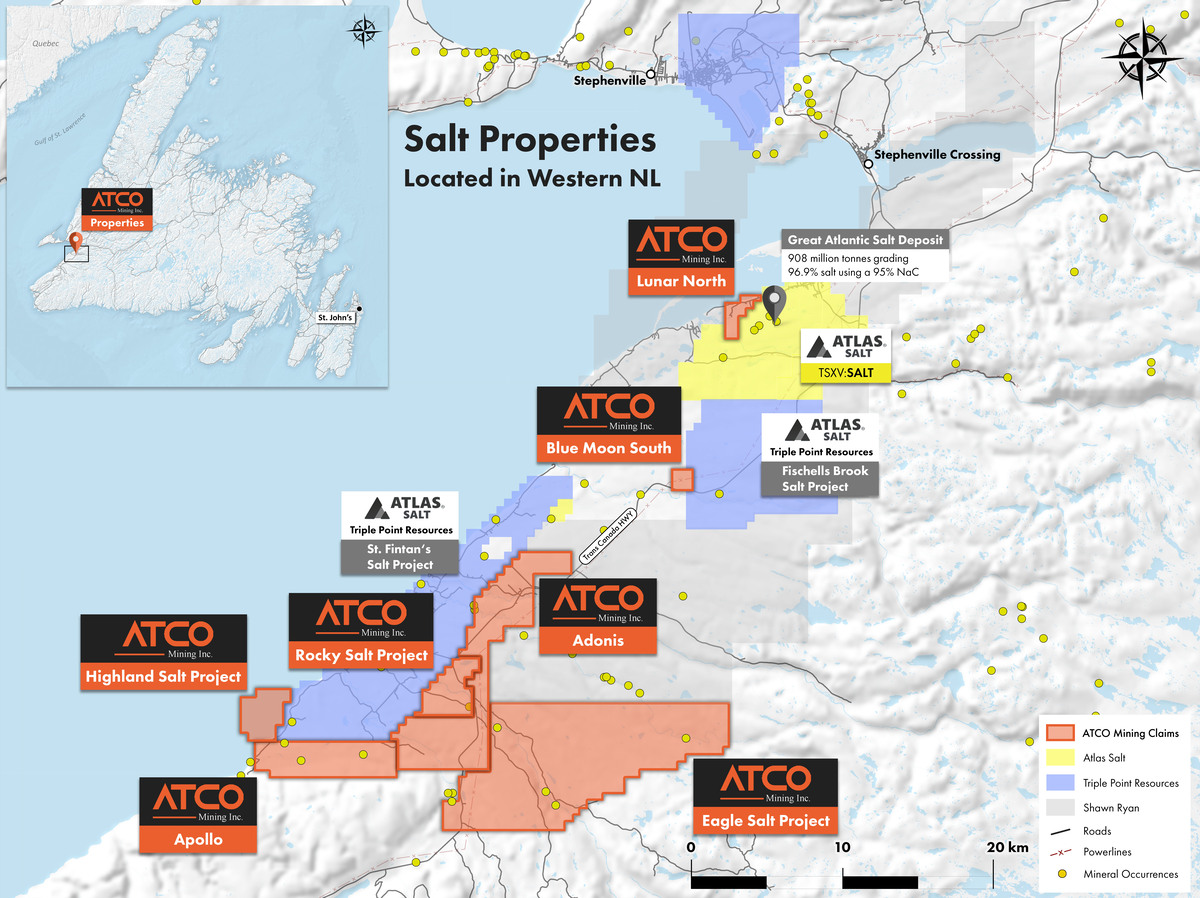 NIA is excited to announce Atco Mining (CSE: ATCM) as its #1 favorite new green energy play of 2023!
The #1 largest gaining stock in North America over the last twelve months with a gain of 2,480% has been Patriot Battery Metals (TSXV: PMET), which made North America's #1 biggest new lithium discovery at its Corvette Project. The geologist who discovered and staked the Corvette Project for PMET's predecessor company was Neil McCallum who recently joined ATCM as a member of its Board of Directors.
Between February 2021 and August 2022 the #1 largest gaining stock in North America with a gain of 3,484% was Atlas Salt (TSXV: SALT), which rose from $0.125 per share to a high of $4.48 per share. SALT only sold off from its August 2022 high of $4.48 per share due to the September 2022 spin-off of its salt dome subsidiary called Triple Point Resources. Triple Point Resources will soon be going public in one of the most anticipated new listings of 2023, which will create huge interest in salt dome stocks for the storage of green hydrogen!
ATCM is the 100% owner of the Blue Moon South Property which is located in the North West Corner of the Fischells Brook Salt Dome where the soon to list company Triple Point Resources is currently exploring for the potential of hydrogen storage. ATCM believes that there is potential for hydrogen storage on its Blue Moon South Property.
ATCM's Blue Moon South Property has a historical drill hole LR-98-01 which was drilled to a depth of 771.23 meters and intersected a salt dome at approximately 668.66 meters through to 706.0 meters. This 37-meter-wide salt dome will be further explored for potential hydrogen storage as it is located at the required depth of between 500 to 1500 meters where most hydrogen is stored.
On January 25th, ATCM completed its airborne gravity survey on its 100%-owned salt projects, located within the St. George's Bay Basin in southwestern Newfoundland. A total of 816 line-kilometers were flown and results are pending. ATCM prioritized the coverage of its highest ranked targets. The results of the survey will help ATCM assess the district-scale salt potential of the broader St. George's Bay district, the prospectivity of this area to host different styles of salt deposits, as well as the potential salt dome targets on ATCM's ground.
Given their unique ability to store renewable energy underground in hollowed-out caverns, salt domes are beginning to play an important role in the clean energy transition as evidenced by the Advanced Clean Energy project in Utah anchored by the Delta dome. The U.S. Department of Energy recently issued a conditional commitment backed by up to $504-million (U.S.) in debt financing for what is expected to be the world's largest industrial green hydrogen production and storage facility located 135 miles south of Salt Lake City.
ATCM's new board member Neil McCallum who previously discovered and staked PMET's Corvette Lithium Project said on January 25th regarding ATCM, "The district is seeing a revitalized effort to find new salt dome structures to compliment the proposed large-scale hydrogen production hub.  The modern survey will help to confirm and prioritize the historical exploration, much of which was done over four decades ago.  That historical information has gravity low features within our project area, and thus suggests the presence of salt dome targets.  I am keenly awaiting the results of this survey in the next couple of weeks so that we can incorporate it into our exploration model."
Past performance is not an indicator of future returns. NIA is not an investment advisor and does not provide investment advice. Always do your own research and make your own investment decisions. This message is not a solicitation or recommendation to buy, sell, or hold securities. NIA has been compensated by Atco Mining USD$25,000 cash for a one-month marketing contract. This message is meant for informational and educational purposes only and does not provide investment advice.